Books

Featured Books

pcb007 Magazine

Latest Issues

Current Issue

The Registration Sweet Spot

Registration is underrated and underappreciated. The key is to ensure proper registration from layer to layer across the entire printed circuit board. It's a holistic process requiring anticipation, prediction, precise attention at each step, and detailed data tracking and monitoring.

High-reliability Fabrication

In this month's issue, our expert contributors discuss the latest in technologies, trends, complexities and resources regarding high-reliability fabrication.

Finding Ultra

New demands on PCB fabrication, namely advanced packaging, ultra high density interconnect (UHDI), and new specialty materials, are converging, changing the landscape of our business. Is it time to start paying close attention to this convergence?

Columns

Latest Columns

||| MENU
Productronica 2023: It's a Wrap!
November 17, 2023 | I-Connect007 Editorial Team
Estimated reading time: 2 minutes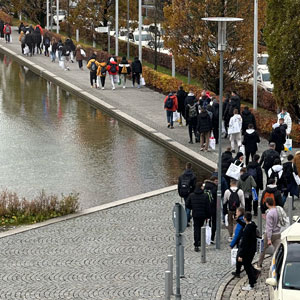 It's the last day of productronica 2023, the doors are closed, and will not reopen until November 2025. The show was a success, however, there is still talk about uncertainty in the economy. Of course, those that service the defense industry are busy, while other industries lag behind. As exhibitors finished up their last conversations, the halls began to empty out, final sales were made, and IPC wrapped up its World Hand Soldering Championship. Even the rain let up for a bit.
On the technology front, it seemed that every aisle displayed robotic arms demonstrating how they can move panels or parts from one process to the next. Clearly, the need to automate is in the forefront of purchase decisions. Along with the mechanization and software, the digital factory was an ongoing conversation as the need to capture and interpret data is growing. As we looked at equipment on the floor, the conversation included the software and the user interface, along with connectivity.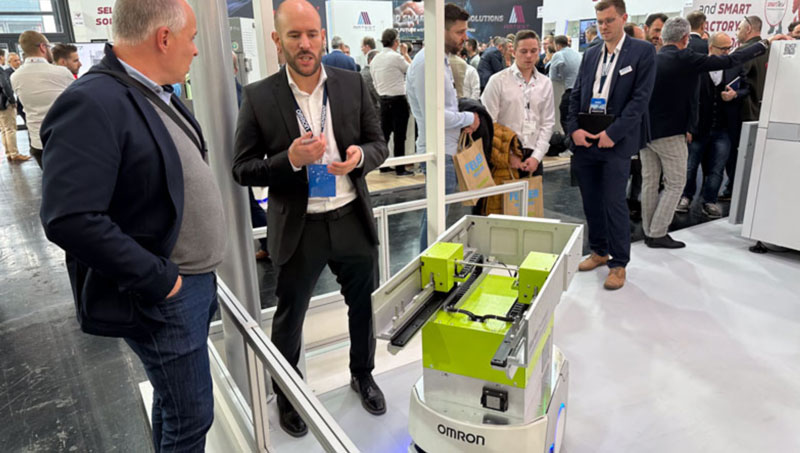 Artificial Intelligence was also talked about in many booths, but one conversation in particular with a new Swiss AOI company piqued our interest as they used the term "neural network" to describe their approach to AI, while other companies are using AI algorithms. They connect their learning AI neural network to their new patented optical heads, and now think that they will change how we approach AOI. We conducted an in-depth interview with the president of this new company that will be published in the coming days. It's certainly something worth paying attention to.
On the bare board fabrication side, we found a growing number of solder mask inkjet machines on the show floor, and I expect we'll see more in the coming shows as this technology continues to improve and becomes more widely accepted. Altix, a Real Time with... productronica 2023 event coverage sponsor, was showcasing its latest inkjet machine. In addition to Altix, we would like to thank all our event coverage sponsors: MYCRONIC, Koh Young America, Cogiscan, Rehm Thermal Systems, and TSK Schill. Be sure to look for their video interviews along with others and our full photo gallery at Real Time with... productronica 2023.
In addition to the exhibition and ongoing forums, IPC wrapped up its 2023 World Hand Soldering Championship. This global competition has been going on for several years and has become an important event that really demonstrate the top skill level of the industry.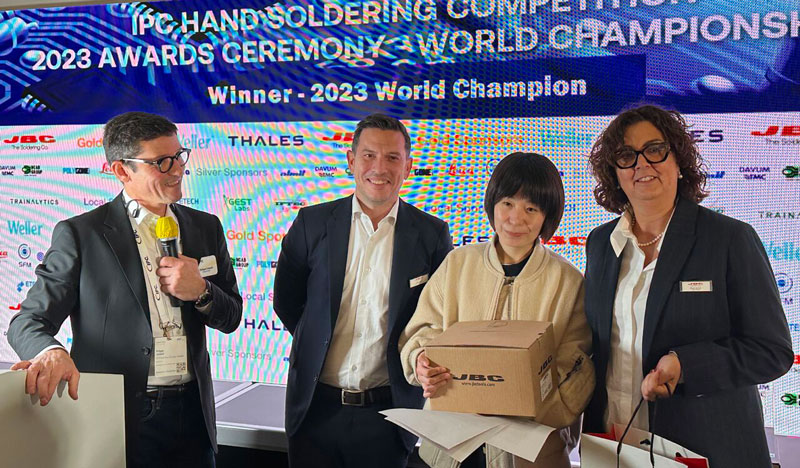 Congratulations to Yao Tang from Shenyang Railway Signal, the 2023 world champion. She received a cash prize, certificate from IPC, a trophy, and multiple gifts from sponsors of the competition.
Friday has traditionally been student day where hundreds of students take in the productronica experience, and this year was no exception. Students interact with the exhibitors to learn about the technology and industry. Of course, the robotic arms and mechanized machines get a lot of attention. The students also enjoy the trade show gifts from a variety of booths, along with the food. This certainly is a great way to introduce youth to the industry.
>> You don't want to miss our video and photo coverage of this event at Real Time with... productronica 2023.
---
Suggested Items
12/06/2023 | Peters
As part of the Peters Coating Innovation Forum (PCIF), Peters presented the new MYC50 coating machine in the showroom.
12/05/2023 | Real Time with...productronica
In this interview, Pete Starkey meets with Bob Bouchard from BTU. With its ability to handle high volume, BTU's Aurora reflow soldering system helps reduce downtime, saves energy, has improved accessibility, and more.
12/05/2023 | Real Time with...productronica
Mark Goodwin announces that Ventec is now in the equipment business, as it were, now offering equipment under representation as well as equipment Ventec is now building. The equipment line matches up well with Ventec's core. Some equipment includes: Legend/solder paste, via fill, press plates, and more. These new offerings just demonstrate how Ventec continues to be a value-add supplier.
12/04/2023 | Real Time with...productronica
John Fix discusses principal challenges in North America and Europe. Environmental concerns are very high visibility in Europe. Fix provides details on melamine mitigation in Taiyo America's products, as well as other environmentally tricky chemicals and wasteful packaging.
12/04/2023 | Gartner, Inc.
Global semiconductor revenue is projected to grow 16.8% in 2024 to total $624 billion, according to the latest forecast from Gartner, Inc. In 2023, the market is forecast to decline 10.9% and reach $534 billion.