Books

Featured Books

pcb007 Magazine

Latest Issues

Current Issue

The Registration Sweet Spot

Registration is underrated and underappreciated. The key is to ensure proper registration from layer to layer across the entire printed circuit board. It's a holistic process requiring anticipation, prediction, precise attention at each step, and detailed data tracking and monitoring.

High-reliability Fabrication

In this month's issue, our expert contributors discuss the latest in technologies, trends, complexities and resources regarding high-reliability fabrication.

Finding Ultra

New demands on PCB fabrication, namely advanced packaging, ultra high density interconnect (UHDI), and new specialty materials, are converging, changing the landscape of our business. Is it time to start paying close attention to this convergence?

Columns

Latest Columns

||| MENU
Marcy's Musings: Productronica 2023 and Coming Home
November 20, 2023 | Marcy LaRont, PCB007 Magazine
Estimated reading time: 4 minutes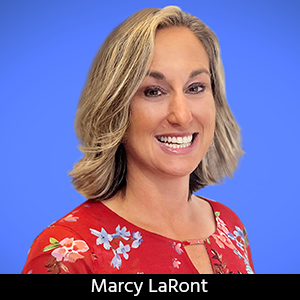 Productronica has concluded and I have wrapped up my first two weeks back on the I-Connect007 team. I'm exhausted, and I am looking forward to bit of a "lie-in," as they say around here. It's time to be home.
It was a great week in Munich. The show had 42,000 visitors, all descending on 88,000 square meters of show space over eight sprawling halls, to see some 1,400 exhibitors, representing 45 countries worldwide and all parts of the PCB/SMT provider supply chain. It appears the show has regained pre-pandemic levels of engagement, and we congratulate them.
Our team walked over 30 miles on an unforgiving concrete floor from Tuesday to Friday. Our sore feet were counterbalanced by opportunities to see many colleagues and industry friends, some whom we will not see again until 2025. For me, I could not have been happier to be thrust immediately into the action, to see first-hand all that is being accomplished in our industry to make our factories and products better, stronger, and faster. Process/factory automation, artificial intelligence (AI), workforce shortage, the CHIPS Act, and the economy were recurring topics as we walked and talked our way through the halls at Messe Munchen. After some time away from the industry, I came into the show with relatively fresh eyes. Here are some things that stood out for me.
Robotic Arms Are Everywhere
If I have one visual take-away from this show, it is that of robotic arms—bright colors, large and small—all moving deliberately at their specific tasks, reducing scrap levels from human error, and filling some of that gap in the workforce. Most of the robotics were for handling boards, but there seemed to be arms for all manner of process applications, again highlighting the industry's need for increasingly more plant automation (the overarching theme of the show, if there was one). Especially as we continue to grapple with a small to nonexistent skilled workforce in United States and Europe, plant automation, Smart plants and ultimately Plant 4.0 are the goals of most manufacturers.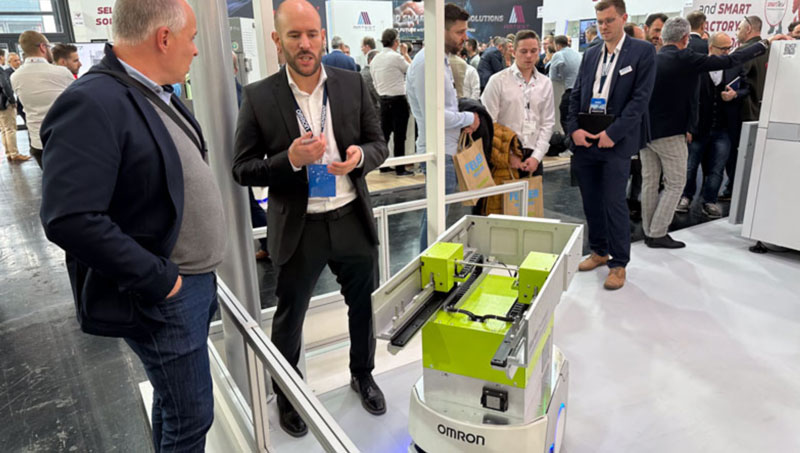 Smart Plants
Consistent to this line of discussion, I saw a lot of cool machinery on display, but particularly enjoyed a demonstration of the Pluritec X-cut S1 which conducts the nine process steps between lamination and drilling in one machine, processing at a rate of approximately two minutes per panel, and all with total traceability through the QR code labeling system. Not only is each individual panel labeled and identifiable, but each individual core as well, with all data stored and easy to access. If an error occurs at this point in the process, the manufacturer will not see it until AOI, resulting in much scrap. Though still programmed by human techs, of course. The X-cut S1 significantly lessens the opportunity for human error within these nine stages of the bord manufacturing process. Lino Sousa told me, "It's a no-brainer," and reported an estimated ROI of two years.
AI, AI, and More AI
Everyone talks about it and almost everyone claims to be using it in some form, but this week, I learned the term "neural network." (I personally like IBM's definition.) Barry Matties and I visited the Delvitech booth, saw their AOI machines, and spoke with owner and founder Roberto Gotti, who states emphatically that they are not so much an AOI machine supplier as they are a technology solution supplier. Naming their line of AOI machines after Greek gods and with two new patented AOI cameras, it is actually their cloud-based AI software they talk about the most, promising that they are (for now), far ahead of the pack when it comes to machine self-learning. Case in point, his patented software and algorithms are something Gotti plans to apply far beyond the electronics industry. Be sure to watch for our interview with Roberto, and I'd love to hear your feedback on his thoughts about the future of AI.
Simple Brilliance
Who doesn't love simple solutions to big problems? Alltemated's product, in essence, is a small, sophisticated adhesive strip that allows a bad component to be replaced on a loaded board as opposed to an entire board being scrapped. The cost-saving potential is staggering.
Being the Machine/Virtual Reality
From the standpoint of sales and marketing, we saw some clever things as well. At the Rehm booth for instance, surrounding their high end VisonXP+ VAC reflow convection soldering system and the CondensoXC vapour phase soldering line was their clever and colorful "the art of" campaign featuring digital iterations of famous art while bringing the message fully back around to Rehm's solutions. But beyond just good old visuals, they also provided booth visitors with 3D virtual reality glasses to experience their machines from the inside. Well done!
As someone coming back into the PCB industry after a break, I have relished each opportunity to see an old friend or bump into a name from the past. I've been pleasantly surprised and touched to be remembered by some. In the end, the time went quickly. As I board my plane back to the United States, it occurs to me that I am "coming home" in more ways than one.
Check out Real Time with... productronica for our complete coverage of productronica 2023.
---
Suggested Items
12/05/2023 | American Standard Circuits
West Chicago, Illinois-based PCB fabricator American Standard Circuits will be exhibiting at this year's Annual Association of Old Crows International Symposium to be held from December 11 through the 13th in National Harbor, Maryland.
12/05/2023 | Nolan Johnson -- Column: Nolan's Notes
In the world of sailing, we talk about headwinds—that strong wind that opposes forward motion—to gain momentum (mostly). But isn't this counterintuitive? How can wind pushing into your sails help you move in the direction you actually want to go? Of course, it's much more easily understood when we apply the principles of aerodynamics—which I think most of us understand—and some sailing techniques that take advantage of the headwinds. So, I wasn't surprised when the term headwinds popped up frequently in our discussions for this issue about the current economic climate.
11/30/2023 | Tim Haag -- Column: Tim's Takeaways
I am, at heart, a die-hard "Star Trek" fan. When I was a kid, I was all about phasers, warp drive, and cool stuff like that. However, these days, I tend to put a higher value on production and storytelling. But like any fan (I'm avoiding "Trekkie" because, frankly, it's kind of embarrassing), I have certain moments from the hundreds (if not thousands) of hours filmed for the various TV shows and movies that are among my favorites. One of those moments is in "Star Trek III, The Search for Spock," when our heroes steal the Starship Enterprise from space dock.
11/27/2023 | PRNewswire
Since its isolation in 2004, graphene has received widespread attention as a 'wonder' material, with the reported potential to enable a whole host of next-generation technologies, some of which would not be out of place in the latest sci-fi blockbuster.
11/13/2023 | Dan Beaulieu -- Column: It's Only Common Sense
We have spent a great deal of time listing all the things that great salespeople should be doing. Now it's time to reverse that and learn through the mistakes of others. So, I sat down this week and listed some of the more common and, dare I say, damaging mistakes that salespeople make.