Books

Featured Books

smt007 Magazine

Latest Issues

Current Issue

Economic Headwinds

This issue takes stock of the current economic outlook and how companies are using current conditions to move themselves through technological evolutions, workforce shifts, and financial changes. Even with these headwinds, there's forward progress to be made.

Attracting New Talent

To get different results in staffing, you must change how you define, promote and recruit your job opportunities. How do you become magnetic to high-quality early-career candidates?

Test and Inspection

Test and inspection methods are undergoing rapid change. In this issue, we consider the influence of AOI, AI, and human eyes. How exactly are these pieces of the puzzle changing the role of test and inspection?

Columns

Latest Columns

||| MENU
Zentech: Expanding EMS Solutions and Supporting Innovation
April 29, 2015 | Barry Matties, I-Connect007
Estimated reading time: 21 minutes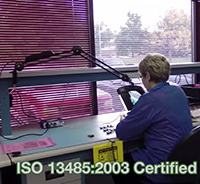 We currently do a lot of Aerospace Specification 9100 and medical ISO 13485, which is heavier weight, quality system work, and having a model that's more of a straight ISO9000 model like CA&D's can help us be a little bit more cost-effective on the smaller volume, quick-turn prototype stuff. And that leads to earlier engagement and positioning within emerging programs. That was attractive to us. I have tasked our VP of Sales and Marketing, John Vaughan, with rolling out a ZenPRO (Prototype and Rapid Order) service near term to our combined customer set, to leverage these new capabilities.
CA&D has a much more extensive cable assembly and wire harnessing offering than we've had at Zentech. We are IPC-certified for cable assembly at Zentech and have IPC-certified operators and inspectors, but we have traditionally limited our cable assembly to supporting box builds for our current programs and not pursuing stand-alone cable assembly opportunities. Now, having a more mature organization that's used to doing high-complexity cable and wire assemblies is certainly going to open up that market to us. On the machine shop side, we currently rely on outside support for machining and sheet metal at Zentech, but when you're trying to shrink the overall lead time of a project, particularly on a prototype, having a captive source can dramatically shrink the lead times. Those are some of the capabilities and growth we're targeting.
Matties: That will help with overall quality as well as lead times, because you then control every facet of the quality in each step. 
Turpin: Absolutely, although to get your supply chain right you have to make sure you deal with suppliers that have good quality. But certainly any time you're collapsing the lead time, which you are oftentimes forced to do because of customer requirements, quality is generally the one area that is at risk. And you're right, having that under your own control helps mitigate that risk and the collapsing lead times.
Matties: It's interesting because we are working on an upcoming issue that is focusing on the supply chain. So we've been conducting surveys, and overwhelmingly we are finding delivery times are a huge issue in each area, and quality is also an issue. You mentioned that, if you source it right, your quality is there, but I'm finding that with regard to sourcing, it is very difficult to get delivery and quality in a complete package. Not saying it is not achievable, but it seems to be one of the largest obstacles we face in the industry. We've also found that supply lines with obsolete components or base materials such as laminates are also challenging. Do you see that in your own supply line?
Turpin: We do. Certainly, when you have to do things quickly and are enabling people to innovate faster and more efficiently, that's generally where you get caught. In a five-year program, you can generally set up your supply so that you mitigate all those risks and shortages and such. But when you have a new product that's coming out and the engineering group doesn't necessarily have their supply chain set up, if you have designers working with that innovation center and know ahead of time what materials or issues you can expect, you're able to do the pre-planning—particularly if you have direct control of the supply chain.
In a perfect world, you don't need to vertically integrate if you are using a good supplier. In a perfect world, you can set up all your systems so you don't have to worry about quality. But we don't live in a perfect world and the world becomes a lot more imperfect when you're collapsing lead times in a robust, innovative environment, where you're trying to get six weeks of work done in two weeks. Generally that is where things fall apart. In that model, vertical integration does make sense.
Matties: It sounds like this is where your acquisition comes into play, bringing all of those features in-house and giving you control.
Turpin: Correct, and certainly it is a benefit to us, but the ultimate beneficiary is our customers. The customer set that we have, fortunately, are investing heavily in new product development and design, particularly as compared to, say, four years ago. The level of design activity is a magnitude higher.
Matties: That is great news.
Turpin: It's great news for everybody and I think it's a sign of a resurging economy too, because it's not just our customers, but people I talk to in the industry. It seems to be a consistent sign that people are doing more and more new product development and investing in things like this. It's in the news; there are more companies, like Zentech, making investments, not just in capital, but in other businesses to help accelerate that whole process.
Matties: As you're making your acquisitions and looking at your competitive position in the marketplace, do you see automation as a key factor in your future?

Turpin: Absolutely, we do see automation in that light. Going back to the re-shoring discussion, there are a couple of things that have helped drive re-shoring and one is the financial industry. The interest rates in the U.S. are a lot lower than they were 15 years ago. Certainly, as compared to Asia, they are a lot different. The labor rate, fortunately or unfortunately, depending on which side you are on, has been more or less stagnant in the U.S. for the last 15 years—but not in Asia. They've grown by leaps and bounds, so that has helped normalize the labor cost. Of course, there is still a labor cost disparity between China and the U.S., and then certainly between the U.S. and Mexico, Indonesia, Vietnam and some other countries. Automation is the number one thing that people like Zentech and our machine and cable shops must do to maintain that productivity advantage compared to China and the other countries. That's the best way we can compete—by being more productive, investing in automation, getting it right the first time and then offering other cost advantages like time-to-market, speed-to-market, and so on.
Page 2 of 4
---
Suggested Items
09/20/2023 | I-Connect007 Editorial Team
Panasonic's Darren Hitchcock spoke with the I-Connect007 Editorial Team on the complexities of moving toward ultra HDI manufacturing. As we learn in this conversation, the number of shifting constraints relative to traditional PCB fabrication is quite large and can sometimes conflict with each other.
09/19/2023 | Anaya Vardya -- Column: Standard of Excellence
In my last column, I discussed cutting-edge innovations in printed circuit board technology, focusing on innovative trends in ultra HDI, embedded passives and components, green PCBs, and advanced substrate materials. This month, I'm following up with the products these new PCB technologies are destined for. Why do we need all these new technologies?
09/18/2023 | ViTrox
ViTrox, which aims to be the world's most trusted technology company, is excited to announce that our trusted Sales Channel Partner (SCP) in Mexico, SMTo Engineering, S.A. de C.V., will be participating in SMTA Guadalajara Expo & Tech Forum. They will be exhibiting in Booth #911 from the 25th  to the 26th of October 2023,  at the Expo Guadalajara in Jalisco, Mexico.
09/18/2023 | Intel
Intel announced one of the industry's first glass substrates for next-generation advanced packaging, planned for the latter part of this decade.
09/18/2023 | Aidan Salvi -- Column: Facing the Future
I have been in and around circuit boards most of my life. I started 20 years ago in my family's PCB shop, leaving after a couple of years to start my own software company. About a year ago, I returned to the family business, and the first thing I noticed was that nothing had really changed. We were doing the same things in the same way as the day I left. After talking to several experts in the industry, I realized it was worse than that: The manufacturing of PCBs had not changed in 70 years.