Books

Featured Books

smt007 Magazine

Latest Issues

Current Issue

Economic Headwinds

This issue takes stock of the current economic outlook and how companies are using current conditions to move themselves through technological evolutions, workforce shifts, and financial changes. Even with these headwinds, there's forward progress to be made.

Attracting New Talent

To get different results in staffing, you must change how you define, promote and recruit your job opportunities. How do you become magnetic to high-quality early-career candidates?

Test and Inspection

Test and inspection methods are undergoing rapid change. In this issue, we consider the influence of AOI, AI, and human eyes. How exactly are these pieces of the puzzle changing the role of test and inspection?

Columns

Latest Columns

||| MENU
Rework and Repair Standard Getting Updated
December 13, 2016 | Bob Wettermann, BEST Inc.
Estimated reading time: 2 minutes

The IPC-7711/21 Rework of Electronic Assemblies/Repair and Modification of Printed Boards and Electronic Assemblies is being "upreved" from version "B" to version "C" and will soon be released to the industry. There are a couple of notable changes that strengthened, modernized and brought together changes from the previous "B" version, which was approved in 2007.
Several of the changes from the previous version deal with the manner in which leadless devices are being reworked. Leadless devices have become the most widely placed in terms of units worldwide. In addition to the methods previously described when the initial version of the IPC7711/21 "B" came out, the new "C" version includes three new methods, summarized below:
Method 5.8.1.1: Prebumping the leadless device using a polyimide stencil
Method 5.8.1.2: Prebumping the device using polyimide stencils with the "bumped" component then fitting in to stay-in-place capturing stencil on the rework location on the PCB
Method 5.8.1.3: Hand bumping center ground and hand soldering the IO connection method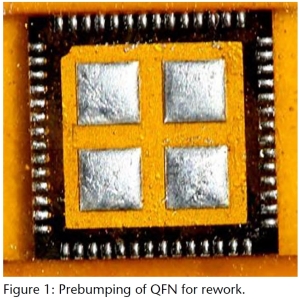 Another area in which some newer rework techniques are memorialized in the new "C" version are the various pad repair techniques including:
Method 4.7.4: Land repair land with integral via repair film method which leans on the previous repair film method for pad repair 
Method 4.7.5: SMT/BGA land repair with integral via repair circuit extension film adhesive method
Other areas of change for this "C" version include:
Method 3.9.1.2 focused IR for BGA rework and Method 5.7.12 focused IR placement of BGAs. These changes mirror the inroads that IR rework have made since the B standard as the focused heating is important for ever higher board part densities and the continuing proliferation of underfilled devices, very small devices and highly temperature sensitive devices finding their way onto PCBs. 
In addition to the above procedure upgrades there are a variety of other changes due to operations running in a mixed alloy environment of both lead-free and tin-lead solders. One of the changes with the IPC 7711/21 has to do with the segregation of the hand soldering equipment limiting cross-contamination. These changes are due to there being significant rework differences between the processing of these two alloy types. The major differences in processing these alloys which impact rework operations are the fluxes being used, the cleaning materials being used and the longer soldering dwell times which may or may not require the addition of the nitrogen in to the rework/repair operations. The higher reflow temperatures of the lead-free solders requires that the device in proximity to the rework location needs to be protected from thermal damage.
There are also a couple of newer proposed methods up for consideration which did not make this version of the standard and will have to wait for Version "D" or beyond. These include:

New micro blasting method for coating removal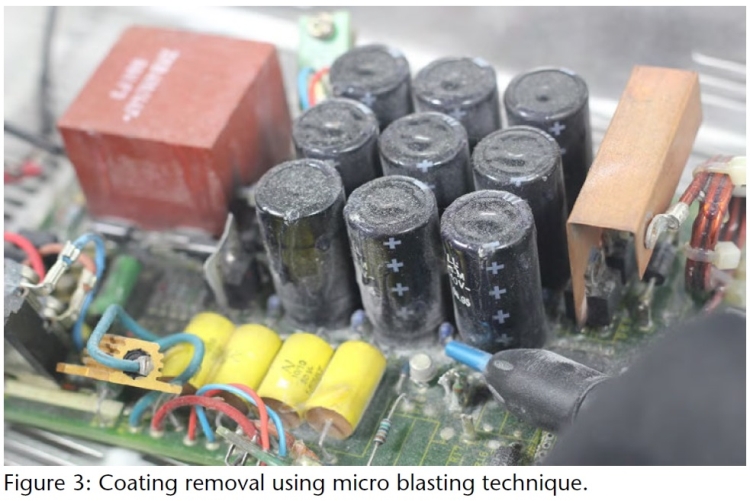 New method for solder mask replacement
Keep a watch out on the IPC website as this revised standard makes its way to being available or speak with your training services provider.
To read this entire article, which appeared in the December 2016 issue of SMT Magazine, click here.
---
Suggested Items
12/11/2023 | Altus Group
Altus Group, a leading supplier of capital equipment for the electronics industry, has further enhanced its product portfolio with the addition of the ASSCON VP810 Vapor Phase Soldering System, the latest innovation in vapor phase technology launched at this year's Productronica trade fair in Munich.
12/08/2023 | Indium Corporation
Indium Corporation Senior Area Technical Manager for East China Leo Hu is scheduled to deliver a presentation on the application of new soldering thermal interface materials (TIMs) in advanced packaging at SiP China Conference 2023 on December 13 in Shanghai.
12/08/2023 | Hentec Industries/RPS Automation
Hentec Industries/RPS Automation, a leading manufacturer of selective soldering, lead tinning and solderability test equipment, is pleased to announce that Agility Manufacturing Inc. has finalized the purchase of their second Hentec/RPS Vector 460 selective soldering system.
12/06/2023 | Indium Corporation
Indium Corporation is proud to announce the addition of Sales Engineer Meik Fratzel to its European team.
12/04/2023 | Transition Automation
Transition Automation, Inc. recently received a large order for Advanced Holder and Blade Assemblies compatible with DEK printers from Rotec BV in Belgium.