Books

Featured Books

pcb007 Magazine

Latest Issues

Current Issue

The Registration Sweet Spot

Registration is underrated and underappreciated. The key is to ensure proper registration from layer to layer across the entire printed circuit board. It's a holistic process requiring anticipation, prediction, precise attention at each step, and detailed data tracking and monitoring.

High-reliability Fabrication

In this month's issue, our expert contributors discuss the latest in technologies, trends, complexities and resources regarding high-reliability fabrication.

Finding Ultra

New demands on PCB fabrication, namely advanced packaging, ultra high density interconnect (UHDI), and new specialty materials, are converging, changing the landscape of our business. Is it time to start paying close attention to this convergence?

Columns

Latest Columns

||| MENU
Weiner's World
December 29, 2016 | Gene Weiner, Weiner International Inc.
Estimated reading time: 7 minutes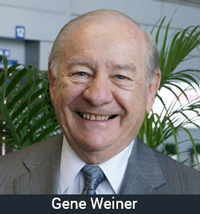 Editor's note: This blog was originally published at www.weiner-intl.com December 2016 and is being reprinted here with special permission from the author.
Best wishes for a Happy Chanukah, a Merry Christmas, and a happy, healthy New Year to all our friends and readers!
REMINDER: Discounted advance registration fees for the February 13 IPC's San Diego Executive Forum ends January 13, 2017. Register now to get the 20% discount for the event sponsored by members of the Raymond E. Pritchard Hall of Fame.
Designed specifically for executives of PCB and flexible circuit makers and their supply chains, its speakers and panel members have been selected to help you plan ahead and succeed in these rapidly changing and challenging times.
Rather than joining the annual forecast fray by attempting to provide guidance or guesses as to the outlook for the PCB and electronic assembly businesses in 2017, I thought I would provide a different year-end assessment. Here are a few thoughts for the New Year and beyond from a long-term colleague and friend of the past half century, Harvey Miller, electronics market researcher, consultant and founder of Fabfile Online:
Is it 1980 Again? Disruptive Electronic Manufacturing Transformations Ahead!
Moore's Law is winding down in ways that will obsolete some industries and open enormous opportunities for others. But Moore's Law is winding down asymmetrically 51 years after Gordon Moore projected an exponential increase in density resulting in exponential decrease in per-transistor cost in that famous 1965 ELECTRONICS article.
Today, the 51-year exponential decrease in cost per transistor has stopped and even begun to reverse as the cost of a new wafer fab approaches $10 billion. Yet, density increases continue for now, largely driven by Intel's competition with Nvidia and Qualcomm.
Look how far stacked die have come. Now there's a new buzzword, heterogeneous integration, which includes photonic chips in the mix. High growth for embedded die wafer level fan out packages (WLFOP) are predicted by the Yole Developpement group as well as by Dr. Nakahara's unparalleled antennae. They confirm high growth for WLFOP packages.
But the most disruptive development of all, driven by Moore's Law, will be embedded die in printed circuits. There are problems, but the cost and density rewards are so great they will come, and they will eventually displace much of today's SMT and solder paste processes and materials. Performance and reliability improvements are another bonus.
Watch Apple. It needs product encores in the worst way, and has the power and motivation to transform electronic interconnects in its race with Samsung, Amazon and Microsoft and the many Chinese up-and-comers.
Embedded die will lead to the merging of PCB fab and assembly!
Maybe we'll even see integrated OEMs again."
—HM"
It will be interesting to see if America's independent printed circuit fabricators have an improved outlook as a result of the U.S. elections. One measure would be to see how many of the more than 150 shops and suppliers that are not IPC members take advantage of the Executive Forum's February 13 program in San Diego (for board builders and their supply chain) offer of a 75% discount for first year's membership in the IPC.
It was interesting to note that in Europe, Lackwerke Peters (a supplier of conformal coatings and solder masks) re-joined the EIPC for 2017 after an absence of several years.
Observations from Shenzhen
The HKPCA/IPC International Printed Circuit & APEX South China Fair in Shenzhen was busy from its opening right through to Friday morning. Crowds seemed substantially "heavier" than the past few years. The transition to local staff by Western and global companies seemed nearly complete with few faces from America or Europe in evidence in the booths of Orbotech, MacDermid, Technic, Dow, DuPont, etc.
There were new exhibitors, an increase in the number of chemical suppliers and direct imaging machines, several product improvements, but nothing of game changing technology overtly displayed. There were reports of multiple sales of mechanical and laser drilling machines as well as other systems. Schmoll was said to have received orders for more than 20 machines. ESI was said to have sold two laser drilling systems. The resurrected Aquamer® dry film photoresist was exhibited by Zhuhai Dynamic Technology Optical Industry.
Discussions frequently included speculation by those with little or no knowledge on the topic as to whether there would be a trade war between the U.S. and China as a result of the U.S. elections. In one conversation, we learned from a team that just returned from Europe that there are four companies in Poland near the German border building "quality" wet process and other systems for prices lower than in China.
The team of four plus an interpreter from Iran's Alfa Madar Sanat, a PCB fabricator in Tehran, showed up again trying to buy products that they could not source elsewhere (e.g., dry film photoresist, Yamaha equipment, etc.). They claim to be making circuits for consumer products such as radios, but...
Of the approximately 550 exhibitors, 110 had company names that began with "Shenzhen" listed in the show directory's English Exhibitor Profile (e.g., Shenzhen Boardtech Co., Ltd., Shenzhen Chinarunsun Chemical Technology Co., Ltd., Shenzhen Gallon Technology Co., Ltd., Shenzhen Huajin CNC Technology Co., Ltd., Shenzhen Guanbia Automation Equipment Co., Ltd., Shenzhen JianjianPCB Equipment Co., Ltd., etc.)
PhiChem introduced a new fluoropolymer-based conformal coating to make electronic circuits and devices water resistant. Schmoll appointed WKKD as a distributor in Greater China. Mutracx, maker of the direct imaging digital printing system (with a built in AOI) at Whelen and Philips, shook hands with WKKD to appoint it a distributor in Greater China.
During the third quarter, 112.3 million smartphones were shipped in the China market, up more than 5% from last year's period. This accounted for 30.9% of the world's total, according to Digitimes Research. Oppo had the largest market share of Chinese-based company shipments with a 19.9% market share. This was followed by Vivo with 15.9%, Huawei Technologies with 12.1%, Xiaomi Technology with 6.3%, GiONEE with 5.5%, LeEco with 3.8%, Meizu with 3.7%, ZTE with 2.1%, Coolpad with 1.9%, Lenovo with 1.6% and Hisense with 1.2%. Apple, Samsung Electronics, and HTC were the three largest international suppliers with 9.3%, 5.1% and 0.4%, respectively.
Sales of smartphones in India will fall 17+% this quarter resulting in factory slowdowns and closures as well as layoffs. Inventory pile-ups have mobile phone companies such as Lava, Karbonn, and Intex planning 10% lay-offs while Micromax has already slowed production in two facilities.
Page 1 of 2
---
Suggested Items
12/06/2023 | Indium Corporation
Indium Corporation is proud to announce the addition of Sales Engineer Meik Fratzel to its European team.
12/04/2023 | Transition Automation
Transition Automation, Inc. recently received a large order for Advanced Holder and Blade Assemblies compatible with DEK printers from Rotec BV in Belgium.
11/30/2023 | AIM
AIM Solder, a leading global manufacturer of solder assembly materials for the electronics industry, is pleased to announce its new NC259FPA Ultrafine No Clean Solder Paste, which it revealed recently during the Productronica Germany trade show.
11/27/2023 | Real Time with...productronica
Koh Young's Harald Eppinger talks about the company's technology for the semiconductor and advanced packaging market and how they address the challenges introduced by reflective components and micro solder deposits.
11/27/2023 | HyRel
HyRel Technologies, a global provider of quick turn semiconductor modification solutions, announces the achievement of International Traffic in Arms Regulations (ITAR) registration.