Global IT Robotic Automation Market: Improved Efficiency Encouraging Adoption
March 17, 2017 | Transparency Market Research
Estimated reading time: 2 minutes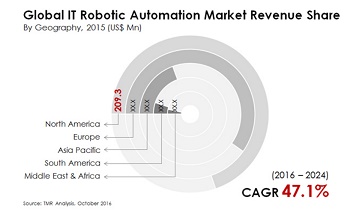 A recent report by Transparency Market Research (TMR) observes that the IT robotic automation technology is in nascent stage and highly consolidated, with a few players holding control over the global market. These players have made significant innovations in implementing robotic automation in the IT industry. The two dominating players in the IT robotic automation marketplace are IPsoft, inc. and Blue Prism. These firms provide end-to-end services for robotic automation in different IT applications such as business process outsourcing (BPO), application management, and infrastructure management. IPsoft develops virtual engineers which provide automatic approach for process engineering while Blue Prism offers enterprise robotic process automation (ERPS) platform that provides a virtual workforce and is capable of executing business rules in different IT environments such as data centers and enterprise cloud. 
Other players operating in the market operating in the global IT robotic automation market include Be Informed B.V. and Appian Corporation, which are making significant developments to provide automation at different points in the IT industry value chain. The report also identifies a few other notable players such as Tata Consultancy Services (TCS) Ltd., Infosys Ltd., Cognizant Tech, and Genpact Ltd. According to the report, the global IT robotic automation market will have an opportunity worth US$4,977.2 mn by 2020.
North America Most Lucrative Region 
Based on the type of services, the global IT robotic automation market for tools is segmented into model-based application tools and process-based application tools. Out of these, model-based application tools currently serves the maximum demand, although process based application tools re expected to witness faster growth rate in the coming years, since the penetration of robotic process automation in faster in process automation. The IT robotic automation market for RPA service is segmented into professional and training service. The former has been further sub-segmented into integration and development, consulting, and business process outsourcing (BPO) service. The RPA professional services segment is currently dominated by integration and development services, and is projected to expand at most prominent growth rate. 
Geographically, North America serves the maximum demand, closely followed by Europe, The early adoption of new technology and initiatives taking by the RPS tool providers to create awareness makes North America the most lucrative region in the global IT robotic automation market. Asia Pacific is also expected to witness high growth in the coming years in line with the growth of RPA service market in India. 
Cost Benefits Driving Demand 
Key factors driving the global IT robotic automation market include cost benefits and improved efficiency over manual process handling, ability to leverage other application software without integration, increasing adoption in finance and accounting (F&A) sector and potential alternative to offshore outsourcing among others. The robotic process automation reduces the need for human intervention in routine repetitive tasks and thus creates a virtual workforce capable of handling large number of repetitive tasks. 
Further, the automation occurs at the GUI layer, thereby eliminating the need for integration with other systems. Moreover, robots can work non-stop, eradicating the constraints of human labor to work for limited hours. Thus, significant reduction in cost, time, and labor can be achieved by implementing robotic process automation. On the contrary, robotic process automation is facing challenges as the technology is considering as a threat for employed professionals or workers. Robotic workforce replaces human workforce and thus creates the threat of large-scale unemployment.
---
Suggested Items
09/27/2023 | IFR
The new World Robotics report recorded 553,052 industrial robot installations in factories around the world – a growth rate of 5% in 2022, year-on-year.
09/26/2023 | Kirk Thompson, Isola Group
Despite being a leader in R&D investment in semiconductors and packaging with greater than $50 billion per year, the U.S. has seen its market share decrease to less than 3% in areas like advanced packaging and advanced substrates. The cause for this market share erosion was a laser focus in Asian countries to attract semiconductors and advanced packaging investment through ecosystem development and incentives. If the U.S. is serious about changing the momentum to onshore advanced packaging and advanced substrates, an ecosystem approach to innovation and manufacturing incentives must be employed. It is not enough to have the most innovative technology if the supply chain and manufacturing economics do not deliver competitive commercial opportunities.
09/26/2023 | IDC
The global PC monitor market remained steadfast in its efforts to manage inventory levels amidst a significant drop in demand during the second quarter of 2023 (2Q23).
09/26/2023 | GlobalFoundries
GlobalFoundries (GF) announced it has applied for U.S. CHIPS and Science Act Funding, with two full applications submitted to the CHIPS Program Office of the U.S. Department of Commerce.
09/26/2023 | TrendForce
The latest "Automotive Display Market Analysis" from TrendForce indicates that the overall demand for automotive display panels (automotive panels) is gradually stabilizing and shows an upward trend as the automotive market as a whole slowly recovers, and promotional activities related to smart cockpits continue to expand.