Books

Featured Books

smt007 Magazine

Latest Issues

Current Issue

Chips Don't Float

In Europe and the U.S., legislation is under way to revitalize PCB fabrication and packaging. What is the status of this work, and how specifically does this change the industry landscape for EMS companies? What will help keep us afloat?

Flying High With Digital Twin

The opportunity to use manufacturing simulation as a test bed for job planning and process optimization brings continuous improvement into the modern age. This may be an all-or-nothing type of project, but it's worth the investment.

Artificial Intelligence

In this issue, we (and AI) explored how and when artificial intelligence plays a role in manufacturing today. Whether on the factory floor, or in the front office, AI applications are emerging and changing how we approach planning, processes and problem solving.

Columns

Latest Columns

||| MENU
QFN Center Pads on PCBs
August 9, 2017 | Duane Benson, Screaming Circuits
Estimated reading time: 1 minute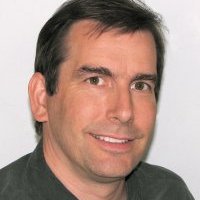 The QFN (quad-flat no-leads) package can no longer be considered exotic. It was about a decade ago, but not anymore. In fact, with the wafer scale BGA, it's one of the more common packages for new chip designs.
Not all QFNs come with an exposed metal pad underneath, but most do, and that can still cause problems with reflow solder. The pad itself isn't the problem, but improper solder paste stencil layer design can be.
The default stencil layer in the CAD library footprint might have an opening the full size of the metal pad. If that's the case, you'll need to modify the footprint so that you get 50-75 percent coverage with solder paste. If you don't, you may very well have yield problems. With a 100 percent open area, you'll most likely end up with too much solder in the middle. The part will ride up or float, and may not connect with all of the pads on the sides of the part.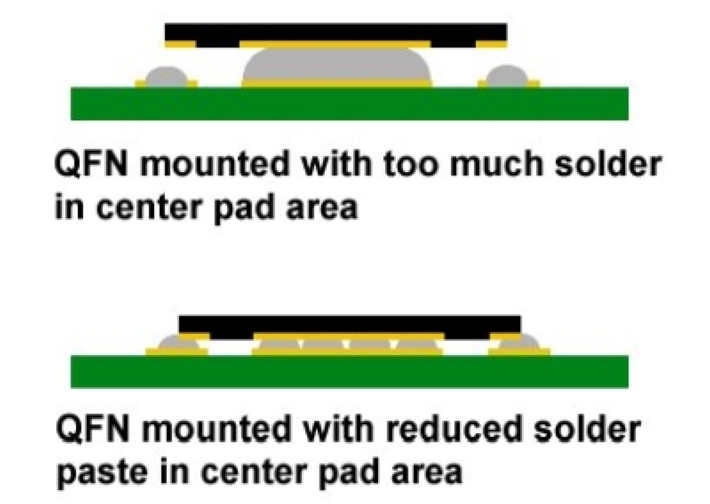 The figure below shows a stencil with too large an opening in the center, a segmented paste layer in the CAD footprint, and the resultant segmented stencil. You may note that I said to shoot for 50-75 percent coverage and ask: "Well, is it 50 percent or 75 percent? What gives?"

True, that is a bit of ambiguity. However, anything in that range should be fine for prototype boards. If you're going for volume production, you'll want to work with your manufacturer to tweak the design for best high-volume yield.
Good news on this front is that many QFN manufacturers and parts library creators have taken notice of this. It's far more likely now than it was 10 years ago to find a datasheet correctly illustrating this, and footprints created correctly. But, always check your footprints to make sure.
Duane Benson is the Chief Technology Champion at Screaming Circuits, a prototype PCB assembly electronic manufacturing company in Canby, Oregon.
---
Suggested Items
09/21/2023 | Thermaltronics USA, Inc.
Thermaltronics USA, Inc., a globally acclaimed manufacturer of Precision Soldering Robots and innovative Curie point soldering systems, is excited to announce its participation in the highly anticipated SMTA Guadalajara Expo & Tech Forum, scheduled to take place from October 25-26, 2023.
09/20/2023 | ULT AG
At this year's productronica, the world's leading trade show for electronics manufacturing, ULT will present a brand new extraction solution for solder fumes and vapor.
09/20/2023 | Hentec Industries/RPS Automation
Hentec Industries/RPS Automation, a leading manufacturer of selective soldering, component lead tinning and solderability test equipment, announces that it has added assembly and production staff members to its team to accommodate its recent increase in sales and order demand.
09/19/2023 | SMTA
SMTA is honored to announce Qais Qasaimeh, a graduate student at Auburn University, has been selected as the winner of the 2023 Charles Hutchins Educational Grant.
09/14/2023 | SHENMAO
SHENMAO America, Inc. is proud to introduce its latest innovation in response to the growing demand for ultra-thin packages in the electronics industry.