Books

Featured Books

smt007 Magazine

Latest Issues

Current Issue

Economic Headwinds

This issue takes stock of the current economic outlook and how companies are using current conditions to move themselves through technological evolutions, workforce shifts, and financial changes. Even with these headwinds, there's forward progress to be made.

Attracting New Talent

To get different results in staffing, you must change how you define, promote and recruit your job opportunities. How do you become magnetic to high-quality early-career candidates?

Test and Inspection

Test and inspection methods are undergoing rapid change. In this issue, we consider the influence of AOI, AI, and human eyes. How exactly are these pieces of the puzzle changing the role of test and inspection?

Columns

Latest Columns

||| MENU
Seica to Exhibit at productronica
October 12, 2017 | Seica SpA
Estimated reading time: 5 minutes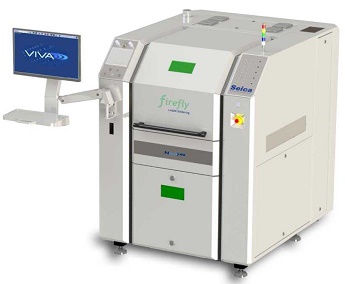 Seica S.p.A. will be showcasing the latest innovations in its testing solutions at the productronica 2017 exhibition in Munich, Germany. New products will complement some restylings of solutions presented in the past, almost completely renewing the portfolio of Seica proposals, enhancing the level of technology applied to testing of electronic boards and equipment.
Seica will put into display in Hall A1 Booth 445 the new Pilot V8 next > series flying prober, which feature a renovated and stylish look. In its most complete configuration, the Pilot V8 next > series tester will provide up to 20 mobile test resources for an electronic board, ranging from probes which can supply today up to 2 A current each, high-resolution cameras for automatic optical inspection, barcode reading and datamatrix, LASER, capacitive probes, pyrometers, optical fiber sensors for LEDs, minifixtures for boundary scan and On Board Programming, up to high-frequency probes for measures over 1.5 GHz (an absolutely unique performance on the market).
To confirm its nature, highly oriented to medium/high volume production, the Pilot V8 next > series will be available in a fully-automated version, making its vertical architecture perfectly suitable to be combined with board loading/unloading modules, capable of hosting from 1 to 12 board racks (even of different types) or with handling and "tilting" modules, to make it perfectly compatible with any standard assembly line with horizontal architecture. All of the automation modules are available in the catalog of Seica Automation, which will be showcasing its products in Hall A3, booth No. 337. The HR version of the Pilot V8 next > series projects the system towards minimized size of objects, around 30 μm, while the XL version extends the work area from the standard 610 x 540 mm to 800 x 650 mm, providing unique solutions for testing "extra-large" boards.
In a world's preview, the A1-445 Seica booth will showcase the brand-new DRAGONFLY next > series, an AOI system providing optical inspection capabilities for the "standard" (THT) components of electronic boards, as well as of the conformal coating, increasingly used today to protect the products after manufacturing. Both the THT and CC versions of the DRAGONFLY feature the opportunity to inspect one or both sides of the board, which is conveyed on a standard SMEMA compliant rail conveyor, driven by an intuitive and streamlined management software which will allow commissioning and application program development in few hours. The DRAGONFLY technology will be made available to Seica customers also with possible customized solutions, to promote the best integration in the existing automated production lines, with additional conveyors dedicated to boards for repair, in-line or stand-alone repair stations, as well as the opportunity to adjust the system footprint according to the available area.
Another completely restyled solution which will be present at Productronica 2017 in booth A1-445 is the Pilot FX next > series, the innovative flying fixture system by di Seica, representing the missing link between flying probing technology and the traditional in-circuit bed of nail testing. Following the success of the first version, showcased at Productronica 2015, the system now features a restyled appearance and enhanced capabilities in electrical test, with the possibility to increase the amount of resources for parallel test (job) but also reduced footprint, to meet the requirements of customers with limited areas available in production environments. Oriented both to the in-circuit and to the functional testing, the Pilot FX next > series tester is proposed with a new look and improved performances, offering its "mechanical multiplexer" capabilities towards cost-effectiveness of testing, combining the speed of a bed of nail tester with the flexibility of a flying prober, again, addressing medium/high volume test requirements.
Yet the news does not end there: Compact Digital, the Seica tester equipped with a vacuum-type receiver with manual loading/unloading of the UUT, but ready for integration in robotized assembly lines, will be showcased at the booth A1-445, combined and fully-integrated with a COBOT, that is a collaborative robot, capable of working with a human being, multiplying productivity, with a special focus to the operator protection. As usual, the Compact Digital can be equipped with resources for analog measurements, and powerful digital channels, extending the test capabilities from MDA/ICT up to the functional test of complex digital boards, overcoming the use of vectorless techniques. Moreover, the Compact Digital is proposed as a tester which is ready to communicate with the most common MES and traceability systems (Manufacturing Expert System), thanks to an open software architecture, and to the interface packages already developed by Seica for the most common platforms on the market.
To see the last news of Seica in LASER selective soldering, the guests of Productronica 2017 should visit the booth A3-337, of our subsidiary Seica Automation, where Seica will showcase the last born product, the Firefly next > series system, a piece of jewelry in engineering, featuring an attractive, stylish and renewed appearance if compared to the Firefly version available on the market for over ten years, but capable of providing an outstanding Technological leap. Under the new shiny and bright "dress" made of steel and other prestigious materials, the Firefly next > series combines its 4 essential innovations: new high-efficiency LASER source, new spot angle on the board to be soldered, fully-programmable donut spot and perfect axial integration of the LASER generation, vision and temperature feedback of the solder joint, all to provide an outstanding throughput in terms of applicability and reliability of this solution, if compared to the past generation and current competitors.
And finally…all the systems showcased in the booth A1-445 (Seica S.p.A.) and A3-337 (Seica Automation) will be remotely monitored through the Industrial Monitoring solution "4.0 ready" by Seica, to monitor current absorption, supply voltage, temperature, light indicators and other parameters useful to indicate the correct operation, to ensure predictive maintenance and make the systems compatible with the new standards of the fourth industrial revolution ongoing nowadays.

About Seica
Founded in 1986, Seica S.p.A. is a global supplier of automatic test equipment and selective soldering systems, with an installed base of more than 1900 systems on 4 different continents. Seica offers a complete line of test solutions, including bed of nails and flying probe testers able to perform MDA, in-circuit and full functional tests of assembled electronic boards and modules and printed circuit boards, as well as LASER-based selective soldering systems for electronic board manufacturing and a full range of test application services. Company headquarters are located in Strambino, Italy, with direct offices in USA, Germany, China, Mexico and France, supported by a vast distribution network covering the rest of the world. Since 2014, Seica S.p.A. is supported by a sister company Seica Automation, located in Milan, and producing board handling systems and other automation equipments for the electronic manufacturing industry. For more information, click here.
---
Suggested Items
11/30/2023 | AIM
AIM Solder, a leading global manufacturer of solder assembly materials for the electronics industry, is pleased to announce its new NC259FPA Ultrafine No Clean Solder Paste, which it revealed recently during the Productronica Germany trade show.
11/27/2023 | Real Time with...productronica
Koh Young's Harald Eppinger talks about the company's technology for the semiconductor and advanced packaging market and how they address the challenges introduced by reflective components and micro solder deposits.
11/27/2023 | HyRel
HyRel Technologies, a global provider of quick turn semiconductor modification solutions, announces the achievement of International Traffic in Arms Regulations (ITAR) registration.
11/24/2023 | Mek (Marantz Electronics)
Mek (Marantz Electronics), a leader in Automated Optical Inspection (AOI) solutions, used last weeks' Productronica show in Munich to proudly introduce the SpectorBOX X series, a modular full 3D AOI system for THT solder joints and THT components.
11/21/2023 | Pete Starkey, I-Connect007
Productronica 2023 played host to the IPC World Hand Soldering Competition, bringing talented regional solder champions from all over the globe to compete for the title of World Champion. Each competitor was given sixty minutes to assemble a complex printed circuit board with their performance judged in accordance with IPC-A-610 Class 3 criteria. Each competitor's efforts were rated on the merits of the results achieved, scored on the quality of the assembly process, the electrical functionality of the assembly and the speed at which the assembly was produced.