Books

Featured Books

smt007 Magazine

Latest Issues

Current Issue

Economic Headwinds

This issue takes stock of the current economic outlook and how companies are using current conditions to move themselves through technological evolutions, workforce shifts, and financial changes. Even with these headwinds, there's forward progress to be made.

Attracting New Talent

To get different results in staffing, you must change how you define, promote and recruit your job opportunities. How do you become magnetic to high-quality early-career candidates?

Test and Inspection

Test and inspection methods are undergoing rapid change. In this issue, we consider the influence of AOI, AI, and human eyes. How exactly are these pieces of the puzzle changing the role of test and inspection?

Columns

Latest Columns

||| MENU
Saki Joins the ASYS PULSE Community for PCB Assembly Line Productivity
November 30, 2017 | Saki Corporation
Estimated reading time: 1 minute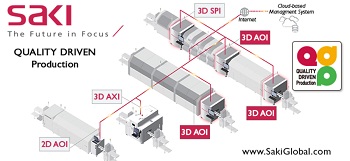 Saki Corporation has joined the ASYS PULSE Community to network its automated inspection and measurement systems with electronic production equipment from other PULSE member companies.
ASYS (Dornstadt, Germany) created the PULSE Community to bring together system manufacturers in the electronics sector with products that are "PULSE-capable". These systems have custom connections that connect to the PUSLE open interface.
"Our aim is to give customers a solution for the entire production line, and we're following that up across the board," said Erwin Beck, senior vice president product management and marketing at ASYS. "In our eyes, it means we will be able to respond appropriately to our customers' requirements in the future in an open way that is not manufacturer-dependent."
Herbert Natterer, product manager of the ASYS Industrie 4.0 solution commented, "It's great that we can include Saki's inspection systems within the PULSE line so operators can monitor and control the operation of these systems through the PULSE network. We are looking forward to the collaboration and professional exchange. Thanks to the membership of Saki, we have approached our goal to establish one solution for the whole production operation."
"Joining the Pulse Community expands Saki's opportunity to maximize production-line productivity. PULSE provides a very practical, convenient, and visual way to monitor the assembly process. It complements the quality assurance and process controls built into our inspection and measurement systems. We are excited to be part of the PULSE Community," said Jarda Neuhauser, deputy general manager at Saki.
About ASYS Group
The ASYS Group is a global technology company and a leading manufacturer of handling, process and special machines for the electronics, solar and life science industries. The corporate headquarters in Dornstadt near Ulm, Germany controls the activities of the subsidiaries in more than 40 countries. The ASYS Group employs over 1000 staff worldwide and supplies both standard products and customized solutions.
About Saki
Since its inception in 1994, Saki has led the way in the development of automated recognition through robotic vision technology. Saki's 3D automated solder paste, optical, and x-ray inspection systems (SPI, AOI, AXI) have been recognized to provide the stable platform and advanced data capture mechanisms necessary for true M2M communication, improving production, process efficiency, and product quality. Saki Corporation has headquarters in Tokyo, Japan with offices, sales, and support centers around the world.
---
Suggested Items
12/04/2023 | Transition Automation
Transition Automation, Inc. recently received a large order for Advanced Holder and Blade Assemblies compatible with DEK printers from Rotec BV in Belgium.
11/30/2023 | AIM
AIM Solder, a leading global manufacturer of solder assembly materials for the electronics industry, is pleased to announce its new NC259FPA Ultrafine No Clean Solder Paste, which it revealed recently during the Productronica Germany trade show.
11/27/2023 | Real Time with...productronica
Koh Young's Harald Eppinger talks about the company's technology for the semiconductor and advanced packaging market and how they address the challenges introduced by reflective components and micro solder deposits.
11/27/2023 | HyRel
HyRel Technologies, a global provider of quick turn semiconductor modification solutions, announces the achievement of International Traffic in Arms Regulations (ITAR) registration.
11/24/2023 | Mek (Marantz Electronics)
Mek (Marantz Electronics), a leader in Automated Optical Inspection (AOI) solutions, used last weeks' Productronica show in Munich to proudly introduce the SpectorBOX X series, a modular full 3D AOI system for THT solder joints and THT components.