Books

Featured Books

smt007 Magazine

Latest Issues

Current Issue

Economic Headwinds

This issue takes stock of the current economic outlook and how companies are using current conditions to move themselves through technological evolutions, workforce shifts, and financial changes. Even with these headwinds, there's forward progress to be made.

Attracting New Talent

To get different results in staffing, you must change how you define, promote and recruit your job opportunities. How do you become magnetic to high-quality early-career candidates?

Test and Inspection

Test and inspection methods are undergoing rapid change. In this issue, we consider the influence of AOI, AI, and human eyes. How exactly are these pieces of the puzzle changing the role of test and inspection?

Columns

Latest Columns

||| MENU
PNC Inc. Invests in MIRTEC 3D AOI System
December 21, 2017 | PNC Inc.
Estimated reading time: 2 minutes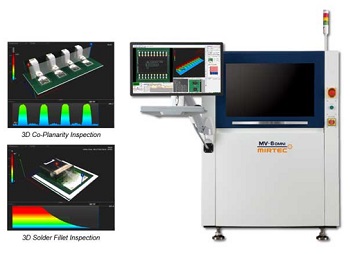 PNC Inc. has recently come to an agreement with MIRTEC to purchase the MV-6 OMNI 3D AOI system. To be used in their assembly division, this purchased has bolstered their state-of-the-art equipment list even further.
The award-winning MV-6 OMNI 3D AOI machine is configured with MIRTEC's exclusive OMNI-VISION 3D Inspection Technology which combines our 15-megapixel CoaXPress camera technology with MIRTEC's revolutionary digital multi-frequency Quad Moiré 3D system in a newly designed cost-effective platform. MIRTEC's 15-megapixel CoaXPress vision system is a proprietary camera system designed and manufactured by MIRTEC for use with our complete product range of 3D inspection systems. MIRTEC's digital multi-frequency Quad Moiré Technology, provides true 3D inspection using a total of four programmable digital Moiré Projectors to yield precise height measurement data used to detect lifted component and lifted lead defects as well as solder volume post reflow.
Fully configured, the new MIRTEC MV-6 OMNI machines feature four 10-megapixel side-view cameras in addition to the 15-megapixel top-down camera. There is little doubt that this new technology has set the standard by which all other inspection equipment is measured. MIRTEC will have two MV-6 OMNIs on display, one configured with a 10um lens for high-performance applications and the other with a 15um lens for high-speed applications.
"With the volume of orders we have been receiving and the growth PNC has shown in 2017, we thought this purchase was the right step forward for next year," explain PNC Inc. President Sam Sangani. The MV-6 was recently awarded numerous honors for its performance across the globe. This, in addition to other key contributors such as its efficiency and flexibility were some of the reasons PNC's leadership decided on making this their next equipment purchase.
About PNC Inc.
PNC Inc. is located in Nutley, NJ and is one of the country's leading providers of rigid, rigid-flex and flex PCB's and the largest of their kind in the region. After adopting the Total Concept philosophy, PNC is now able to provide customers with PCB design, fabrication and assembly solutions all under one roof. They are a one-stop shop for all things related to PC boards. They are continuously expanding their extensive list of state-of-the-art equipment while maintaining a focus on energy and cost efficiency in order to provide the best product at the best price possible.
PNC Inc.'s ownership recently acquired Accurate Engineering Inc. in Sun Valley, CA. AEI's primary focus is on high quality flex and rigid-flex PC boards for highly complex applications including aerospace and defense. Their customers include Northrop Grumman, Boeing, Lockheed Martin, NASA and Raytheon.
---
Suggested Items
12/06/2023 | Indium Corporation
Indium Corporation is proud to announce the addition of Sales Engineer Meik Fratzel to its European team.
12/04/2023 | Transition Automation
Transition Automation, Inc. recently received a large order for Advanced Holder and Blade Assemblies compatible with DEK printers from Rotec BV in Belgium.
11/30/2023 | AIM
AIM Solder, a leading global manufacturer of solder assembly materials for the electronics industry, is pleased to announce its new NC259FPA Ultrafine No Clean Solder Paste, which it revealed recently during the Productronica Germany trade show.
11/27/2023 | Real Time with...productronica
Koh Young's Harald Eppinger talks about the company's technology for the semiconductor and advanced packaging market and how they address the challenges introduced by reflective components and micro solder deposits.
11/27/2023 | HyRel
HyRel Technologies, a global provider of quick turn semiconductor modification solutions, announces the achievement of International Traffic in Arms Regulations (ITAR) registration.