Technologies Enabling Smart Cities Initiatives to Reach $28.3 Billion in 2018
March 23, 2018 | IDC
Estimated reading time: 3 minutes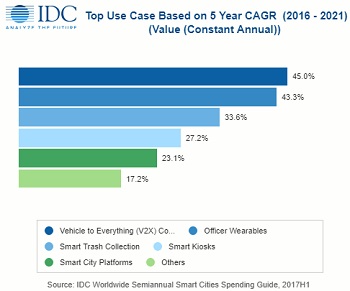 The market for technologies that enable Smart Cities initiatives in Asia/Pacific (excluding Japan) is expected to reach $28.3 billion in 2018, according to the first-ever IDC Worldwide Semiannual Smart Cities Spending Guide. In its inaugural release, IDC provides a comprehensive outlook at the technology investments associated with a range of Smart Cities priorities and use cases. As these initiatives gain traction, IDC expects spending to accelerate over the 2016-2021 forecast period, reaching to $45.3 billion in 2021.
"For the first time since 2006, when IDC first discovered and documented the birth of Smart Cities, we are proud to launch our global Smart Cities tracker and spending guide. This research spans an exhaustive compilation of worldwide Smart City projects across a wide 41 categories of use cases. This is expected to aid both technology buyers as well as market suppliers to have a greater grasp of the broad trends, niche opportunities, as well as best practices in both regional and global Smart City programs," said Gerald Wang, Head of Public Sector at IDC Asia Pacific.
Wang adds, "Key investments for Asia Pacific Smart Cities are notably in intelligent transportation, data-driven public safety, and resilient energy and infrastructure, although a deeper dive suggests different prioritization across 1st, 2nd and 3rd tier cities in the region."
Intelligent traffic transit and Fixed usual surveillance are seeing maximum impetus from the government sector for stream lining the traffic and towards more secured cities, the two use cases, representing more than 36% share of the overall spending throughout the forecast period (2017-21). However, over the forecast period (2017-21), Vehicle to Everything (V2X) Connectivity and Officer Wearables (Fitbit/smart glasses) use cases will grow exceptionally at a five-year CAGR of 45% and 43.3% respectively.
Services accounts for the highest spending with 32.5% share of the overall spending in 2017, and the trend is likely to observe a linear growth with a five-year CAGR (17-21) of 21.2% and reach $16.7 billion by 2021. Hardware is the second largest technology group with $31.7 billion spending followed by Software (18.0%) and Connectivity (17.8%) for 2017. Throughout the forecast period, software is expected to grow fastest at a five-year CAGR of 17.7% and reach $8.3 billion by 2021. In all the four segments of technology groups, State/Local Government and Transportation are the two leading industries with the maximum usage of Fixed Visual Surveillance and intelligent transportation use cases. These use cases attract considerable investments in all the countries of APeJ.
Fixed Visual Surveillance will be the leading use case in China, accounting for 21.1% share with the ongoing popularity of cloud services in the telecom sector. China has planned to transform its 500 cities to smart city, of which 290 cities have started the smart city pilot projects backed by the agreements signed with IT companies and other major Chinese telecommunication companies (Ant Financial and Tencent). Whilst, other countries like Singapore, Korea and India are the other countries emerging with smart city initiatives.
"With the fast influx of population to urban areas in APeJ, It would be a challenge for all the government to supply Sufficient fresh water; universal access to cleaner energy; the ability to travel efficiently from one point to another and a sense of safety and security, these are the kinds of promises smart cities must fulfil if they are to stay competitive and provide a decent quality of life to their citizens," said Ashutosh Bisht, Research Manager, IDC Asia Pacific.
IDC's Worldwide Semiannual Smart Cities Spending Guide quantifies the expected technology opportunity around smart cities initiatives from a region and worldwide level. Spending data is available for nine regions with a focus on 15 use cases across five strategic priorities, as well as the overall Smart Cities market size. The spending guide is designed to provide IT vendors with insights into this rapidly growing market and how the market will develop over the five-year forecast period.
About IDC Spending Guides
IDC's Spending Guides provide detail on key technology markets from a regional, vertical industry, use case, buyer, and technology perspective. The spending guides are delivered via pivot table format or custom query tool, allowing the user to easily extract meaningful information about each market by viewing data trends and relationships.
About IDC
International Data Corporation (IDC) is the premier global provider of market intelligence, advisory services, and events for the information technology, telecommunications, and consumer technology markets. With more than 1,100 analysts worldwide, IDC offers global, regional, and local expertise on technology and industry opportunities and trends in over 110 countries. IDC's analysis and insight helps IT professionals, business executives, and the investment community to make fact-based technology decisions and to achieve their key business objectives. Founded in 1964, IDC is a wholly-owned subsidiary of International Data Group (IDG), the world's leading media, data and marketing services company that activates and engages the most influential technology buyers.
---
Suggested Items
09/26/2023 | Kirk Thompson, Isola Group
Despite being a leader in R&D investment in semiconductors and packaging with greater than $50 billion per year, the U.S. has seen its market share decrease to less than 3% in areas like advanced packaging and advanced substrates. The cause for this market share erosion was a laser focus in Asian countries to attract semiconductors and advanced packaging investment through ecosystem development and incentives. If the U.S. is serious about changing the momentum to onshore advanced packaging and advanced substrates, an ecosystem approach to innovation and manufacturing incentives must be employed. It is not enough to have the most innovative technology if the supply chain and manufacturing economics do not deliver competitive commercial opportunities.
09/25/2023 | StenTech
StenTech Inc., the leading multinational SMT Printing Solutions company, is pleased to announce plans to exhibit at the SMTA Guadalajara Expo, scheduled to take place Oct. 25-26, 2023 at the Expo Guadalajara in Guadalajara, Jalisco, Mexico.
09/22/2023 | ACN Newswire
Nanofiber Quantum Technologies Inc. raised $8.5m from leading venture capital investors. Phoenix Venture Partners (PvP) in the US, and Japan's JAFCO Group Co Ltd, SPARX Group Co Ltd, Keio Innovation Initiative, Inc. (KII), and Waseda University Ventures (WUV) financed the round through convertible notes.
09/26/2023 | Joe Fjelstad -- Column: Flexible Thinking
Despite what some seem to believe, rigid-flex circuits are not a new technology. In fact, they are more than a half-century old. At the time of the invention, my friend Thomas Sterns was working at Sanders Associates, the pioneering flex circuit manufacturer. Like many products in the first decades of printed circuit technology, they were working on a military application. The objective was to provide a reliable method for reducing the size, bulk, weight, and questionable reliability of wire harness assemblies while simultaneously reducing cost and assuring that human error might be minimized. These were all vitally important concerns for military and aerospace products.
09/21/2023 | ViTrox
ViTrox, which aims to be the world's most trusted technology company, is pleased to announce the addition of Hayden Dalton to our team as a Field Support Engineer who based in Milwaukee, WI, effective August 21, 2023.