Global Semiconductor Sales Up 20% Year-to-Year in Q1
May 2, 2018 | SIA
Estimated reading time: 2 minutes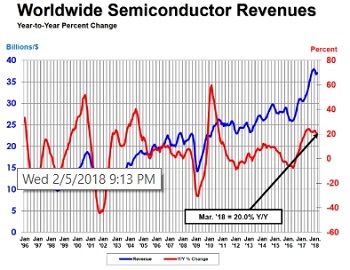 The Semiconductor Industry Association (SIA), representing U.S. leadership in semiconductor manufacturing, design, and research, today announced worldwide sales of semiconductors reached $111.1 billion during the first quarter of 2018, an increase of 20% compared to the first quarter of 2017, but 2.5% less than the fourth quarter of 2017. Sales for the month of March 2018 came in at $37.0 billion, an increase of 20% compared to the March 2017 total of $30.8 billion and 0.7% more than the February 2018 total of $36.8 billion. All monthly sales numbers are compiled by the World Semiconductor Trade Statistics (WSTS) organization and represent a three-month moving average. 
"The global semiconductor market has demonstrated impressive growth through the first quarter of 2018, far exceeding sales through the same point in 2017, which was a record year for semiconductor revenues," said John Neuffer, president and CEO, Semiconductor Industry Association. "Sales in March increased year-to-year for the 20th consecutive month. All regional markets experienced double-digit growth compared to last year, and all major semiconductor product categories experienced year-to-year growth, with memory products continuing to lead the way."
Year-to-year sales increased across all regions in March: the Americas (35.7%), Europe (20.6%), China (18.8%), Asia Pacific/All Other (13.3%), and Japan (12.4%). Month-to-month sales increased in Europe (3.9%), China (2.2%), Japan (0.5%), and Asia Pacific/All Other (0.2%), but decreased slightly in the Americas (-2.0%). 
For comprehensive monthly semiconductor sales data and detailed WSTS Forecasts, consider purchasing the WSTS Subscription Package. For detailed data on the global and U.S. semiconductor industry and market, consider purchasing the 2017 SIA Databook.
About SIA
The Semiconductor Industry Association (SIA) is the voice of the U.S. semiconductor industry, one of America's top export industries and a key driver of America's economic strength, national security, and global competitiveness. Semiconductors – microchips that control all modern electronics – enable the systems and products we use to work, communicate, travel, entertain, harness energy, treat illness, and make new scientific discoveries. The semiconductor industry directly employs nearly a quarter of a million people in the U.S. In 2017, U.S. semiconductor company sales totaled $189 billion, and semiconductors make the global trillion-dollar electronics industry possible. SIA seeks to strengthen U.S. leadership of semiconductor manufacturing, design, and research by working with Congress, the Administration and other key industry stakeholders to encourage policies and regulations that fuel innovation, propel business and drive international competition. Learn more here. 
About WSTS
World Semiconductor Trade Statistics (WSTS) is an independent non-profit organization representing the vast majority of the world semiconductor industry. The mission of WSTS is to be the respected source of semiconductor market data and forecasts. Founded in 1986, WSTS is the singular source for monthly industry shipment statistics.
---
Suggested Items
11/28/2023 | IPC
Neil Shah, senior technical director at alliantgroup, a tax and business consultancy, will present a technical education workshop,
11/27/2023 | Dan Beaulieu -- Column: It's Only Common Sense
Being the best is never easy. When you study the life of elite athletes, for example, you will find a list of characteristics that typically puts plain old hard work at the top. These athletes work harder than anyone else. They're the first ones there in the morning and the last to leave at the end of the day. They literally live and breathe what they are doing. They don't allow themselves any breaks, excuses, or cop outs. They are, as we say, all in.
11/27/2023 | GOEPEL Electronics
The US branch of GÖPEL electronic is proud to announce the addition of David Kalaidjian as the new National Sales Development Manager.
11/27/2023 | Linköping University
Linköping university has been granted six million SEK from the Swedish Innovation Agency (Vinnova) for the research project Catena-D (Circular and resource-efficient value chain systemically enabled with AI and digital thread).
11/24/2023 | Messe München
Messe München's electronics network with the world's leading trade fairs electronica and productronica is expanding its partnership with SEMI, the global semiconductor industry association, in India.