Books

Featured Books

smt007 Magazine

Latest Issues

Current Issue

Attracting New Talent

To get different results in staffing, you must change how you define, promote and recruit your job opportunities. How do you become magnetic to high-quality early-career candidates?

Test and Inspection

Test and inspection methods are undergoing rapid change. In this issue, we consider the influence of AOI, AI, and human eyes. How exactly are these pieces of the puzzle changing the role of test and inspection?

Chips Don't Float

In Europe and the U.S., legislation is under way to revitalize PCB fabrication and packaging. What is the status of this work, and how specifically does this change the industry landscape for EMS companies? What will help keep us afloat?

Columns

Latest Columns

||| MENU
CFX: The Next Step Toward the Future of Factories
May 7, 2018 | Stephen Las Marias, I-Connect007
Estimated reading time: 7 minutes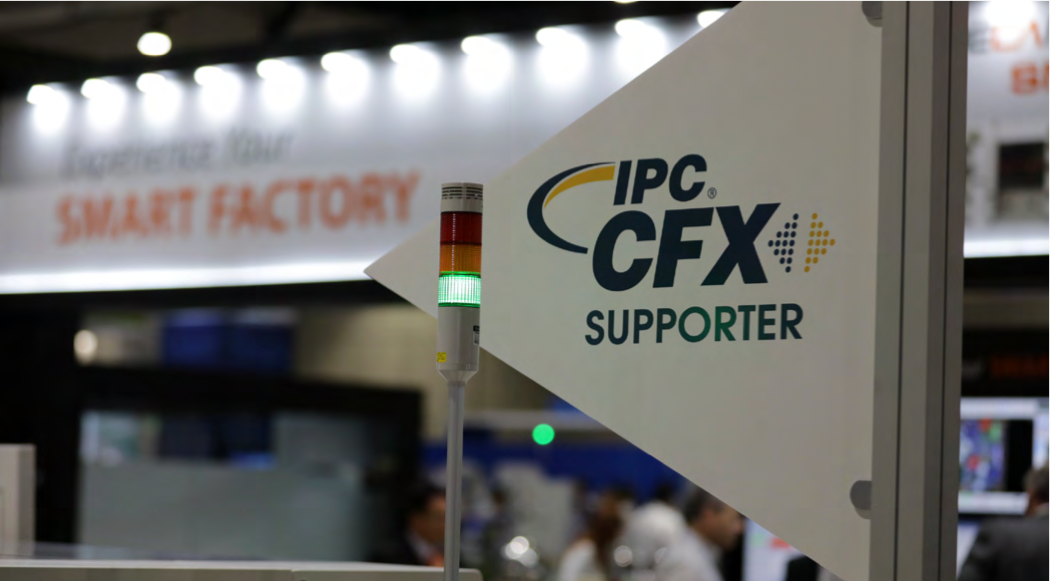 For the past two to three years, almost every exhibitor in almost every trade show focused on the electronics manufacturing industry has an "Industry 4.0 Compatible" sign in their booth. As of today, the best question to ask is, "Compatible with what?" There has really been no standard yet developed toward this goal, and Industry 4.0 has been just a buzz word.
But for the first time in the industry, a common machine communications standard for the electronics assembly supply chain is a reality, edging the industry closer to the vision of a smarter factory.
At the recent IPC APEX EXPO in San Diego, California, the IPC Connected Factory Exchange (CFX) Showcase provided a technical demonstration operating in real time with standardized machine data delivered from participating exhibitors through the cloud and onto visitors' cellphones. This showcase was supported by more than 25 vendors who, in the words of Aegis Software's Michael Ford, "have stepped up to create the world's first conversion of a show-floor into a digital factory shop-floor."
This marks the industry's introduction to a true Industrial IoT standard. Rather than being constrained by legacy data formats and content that machine engineering teams created many years ago, which were all OK in their day before the modern digital needs of customers was conceived, IoT data is now available that can support the most ambitious of Industry 4.0 projects. 
I went around the show floor and talked to some of the CFX demo participants to know more about the CFX from their perspectives, the importance of the demo, the next challenges to overcome, and the impact of the demo to the industry. 
Importance of the Demo 
Major manufacturers traditionally ask for specific interfaces between their vendor's equipment and their manufacturing systems. This has become more and more time consuming and difficult to implement. 
Nearly two years ago, selective soldering specialist Pillarhouse International was asked to be involved with CFX. The company worked with the committee to put together a standard that would work across the industry. At last year's IPC APEX EXPO, Pillarhouse demonstrated the base system, which they did in six weeks. Working with the CFX team this year, the company was able to put together a demonstration in four days. "We implemented all the modifications on one selective system, over a four-day period. And we have been running live for the last two weeks and showing this information. It's very simple and very easy to integrate and work with," says Simon Smith, marketing manager at Pillarhouse. 
"We were introduced into CFX only about four weeks before the Michael Ford of Aegis Software," said David Fenton, group customer support manager of pick-and-place provider Europlacer. "He presented to the wider management team at Europlacer, and we all felt that we needed to be involved in Industry 4.0. We've been investigating it for over a year. Until now, we realized that there was no standard. People were talking about Industry 4.0, but, nobody really knew what it was. People were advertising 4.0-ready, and we thought that can't be right because there is no standard to be ready for. So, when Michael spoke to us about CFX, we could really see that somebody had put a lot of work into trying to create a true standard—and Aegis made it very easy for developers like ourselves to be part of this demonstration.
They created a software developer kit to be part of this demo, with very easy instructions and methods. We decided that we needed to do this, so we set our R&D team to work. Within 48 hours, we had a test running with the Aegis server and messages from our software were being allowed, interpreted, and relayed back. After another week, we modified our machine software, and we were then running through live demo. So, within a week—we went from zero to soft- ware that is running correctly; Aegis helped us with that, and Michael especially. Here at the show, we have both machines, the Atom 4 and the iineo, both uploading livestream data to the CFX cloud server at the show." 
"Four weeks ago, we know nothing about CFX. And here we are today with a fully working model. We think CFX is the way to go. I know there are some other standards out there, but the easier it is made for the R&D team to write and code software, I think the more people will get on board with it. We took CFX seriously as a company and wanted to not miss this opportunity at APEX to show that Europlacer is willing to put our R&D efforts into new things; we're not standing back and watching it happen around us. Because when it does happen, it will be another tick box on the tender sheet. 
If we can't tick it, we may not get the order. So, that's why we jumped into it when we knew about it. It is important to get as many vendors' end users and software companies involved so that the industry can all talk the same language and make it easier, according to Smith. "There is no such thing as a production line that is supplied by a single hardware vendor; that does not exist. Multiple people are doing multiple things. CFX brings them all together and makes it a very simple to understand that everybody can use not only as a hardware vendor, but as an end user. You can be a head of production for a multinational company, and you can see line status, in any factory anywhere in the world. But the same system could also send an SMS message to a technician in a factory and tell them your machines are about to run out of a commodity. Those are a really good way of putting everyone together."
"This demo is to prove to the industry that no matter how big or small an equipment provider is, they can easily adopt this particular standard," said Khoo Yak Hua, R&D manager at vision inspection company ViTrox Corporation Bhd. According to him, CFX is a very flexible and easy to use format and protocol, and the company only took a few days to create the whole demo.
"The importance of this demo is to show people that there is a standard developing, but people don't really know the benefits yet of having the standard," said Fenton. "The reaction to the demo has been mixed; nobody is getting too excited about it yet. But that is because I think people haven't given it enough thought at the moment. Industry 4.0 is just a buzzword for everybody. But for me, there is a big opportunity for machine integrators. Right now, if you want to talk to a storage system, you must develop your own interface protocols; whereas in the future with CFX, it will be very easy to integrate another manufacturer's equipment into a line because we won't have to develop a communications protocol. A common protocol would make a big difference."
Today, all the information that is necessary for operating a production line, and then controlling and monitoring it, is available in all machines and equipment in the electronics assembly supply chain. But unfortunately, all these machines are talking in different languages. With CFX, the industry is getting to one common language.
"The big benefit of CFX would be that all the vendors, all the machines, will speak the same language, and we can easily build applications," said Thomas Marktscheffel, Director Product Management SW-Integration Platform, SMT Solutions, at ASM Assembly Systems. "So, software companies can easily build applications that will work with all the machines. They don't need to focus on just translating data. They can focus on features. That's the opportunity we have for CFX."
"The information is already there. As far as our equipment and machines are involved, that information is harnessed, and then we could give more guidance to our customers," noted Tom Foley, quality manager, SMT Solutions, at ASM Assembly Systems. "One analogy can be the tracking services of couriers. If a customer wants to know about their order, for instance 50 circuit boards for a job add, they can just go to a web portal and they can see where their order is in the factory, and if there are any issues, problems, or delays. And they can find that out through their phones. But that's just a small example of it. It is a brand-new standard that is developing, so, more to come!" 
To read the full version of this article, which appeared in the April 2018 issue of SMT007 Magazine, click here.
---
Suggested Items
11/30/2023 | PRNewswire
VPT, Inc., a HEICO company, VPT, Inc., a trusted provider of power conversion solutions for aerospace and defense, proudly announces its latest achievement of obtaining SAE AS9100 Revision D certification. SAE AS9100 Revision D enhances VPT's existing suite of certifications, including MIL-PRF-38534, MIL-STD-883, J-STD-001 (Space), IPC-A-610, and IPC-A-600, further cementing our commitment to excellence in quality and reliability.
11/29/2023 | TRI
Test Research, Inc. (TRI), the industry's leading provider of Test and Inspection systems for the electronics manufacturing industry, is pleased to announce the expansion of its Malaysian office, which opened in 2010.
11/29/2023 | Dana Korf -- Column: Dana on Data
November's issue of Design007 Magazine had an excellent theme that evolved around design simplification. There were exceptionally good articles about how to reduce over-constrained or needlessly complex designs. One significant time-consuming category is the creation of many design files and drawings which lead to lengthy creation and interpretation time along with the considerable time to resolve conflicting or erroneous information.
11/27/2023 | IPC
IPC welcomes the actions outlined today by the U.S. Government "to strengthen supply chains critical to America's economic and national security."
11/22/2023 | TTM Technologies, Inc.
TTM Technologies, Inc., a leading global manufacturer of technology solutions including mission systems, radio frequency (RF) components and RF microwave/microelectronic assemblies and printed circuit boards (PCBs) was honored with three awards at the IPC China Electronics Manufacturing Annual Conference held in Shanghai on October 27, 2023.