Books

Featured Books

pcb007 Magazine

Latest Issues

Current Issue

Finding Ultra

New demands on PCB fabrication, namely advanced packaging, ultra high density interconnect (UHDI), and new specialty materials, are converging, changing the landscape of our business. Is it time to start paying close attention to this convergence?

Developing a Strategy

A solid strategy is a critical part of success. This month, we asked some of the top industry leaders and business strategy "gurus" to share their thoughts on developing strategies.

Winning With TQM

In this issue, we explore how TQM has entered the DNA of continuous improvement disciplines, and the role leadership transformation plays in this. If you've ever competed against a TQM company, you understand their winning advantage.

Columns

Latest Columns

||| MENU
Book Review: Combo Prospecting
June 29, 2018 | Dan Beaulieu
Estimated reading time: 2 minutes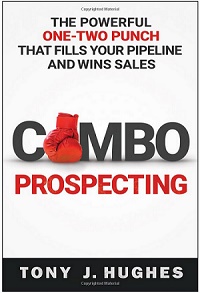 Combo Prospecting: The Powerful One-Two Punch that Fills Your Pipeline and Wins Sales
Author: Tony J. Hughes
Amacom, 2018
$18.95
How do you get to the people who matter? How do you get to the C-level decision-makers who are literally deluged with request for their attention coming at them from all avenues? From old-fashioned phone calls to cold calling to social media, these people are being attacked from all sides.
In this book, Tony J. Hughes has come up with a series of unique techniques combining social media and traditional methods to get to the right people with the right message using the right techniques. By combining today's communication tools with yesterday's proven strategies, the author has created a sales process that, if followed properly, is guaranteed to work.
Covering topics from relationship selling, to creating your own on-line brand, to social listening, getting though to not only CEOs but board members as well, this important book equips today's salespeople with every tool they will need to make their forecasts, and more.
One of the more valuable insights in the book is the section on becoming a trusted advisor of any customer, which I personally have always believed is the ultimate goal of any salesperson. As for what is the problem with most salespeople, here is some insight from a CEO: "The number one problem with salespeople is not having enough in the pipeline…"
More root issues from the book:
Enough know-how in driving sales success through old-school high levels of effective activity combined with new school digital engagement
Lack of customer industry knowledge or poor understanding of the client
Inability to leverage personal networks and technologies to find the right path for connection with decision-makers
Inadequate insight and value narrative needed for senior engagement
Other valuable insights from the book include these from a CEO (condensed):
I only meet people after a warm introduction from someone I know and trust
Cultivate multiple stakeholders in my company and educate them on your solution, too
Don't be personal; stick to business
Do your research; seeking a conversation with me without doing your homework is unprofessional and shows a lack of respect
Know my industry
Don't appear arrogant
Take the time to know how I define success
Aspire to be a trusted advisor…act in our best interest
This is good advice from a person who knows what he's talking about. In this case, an executive who has taken the time to educate us as salespeople on who to work with in his company. This book is filled with this kind of valuable information. But I warn you this book is only for people who are dead serious about being successful, people who are willing to invest a great deal of time and energy into being the best. If that is you, then this is the book for you!
---
Suggested Items
09/25/2023 | Dan Beaulieu -- Column: It's Only Common Sense
I'm reading Walter Isaacson's biography of Elon Musk and it's great because you get an in-depth description of what the richest man in the world is really like. It's worth the time, and I strongly recommend it. Believe me, I'll be doing a book review once I'm finished. In almost every meeting, especially when Musk feels that his workers are getting off track, he will recite what he calls "The Algorithm." Most of his workers know it so well they sometimes mouth the words along with him. Here's how it goes.
08/07/2023 | Dan Beaulieu -- Column: It's Only Common Sense
The key to successful salespeople is they go deep. They go beyond the transactional, normal steps. Great salespeople have that certain "je ne sais quoi." Customers love them for it. They can't wait for them to visit. They hope they'll be asked to have lunch with them. Customers can't wait to introduce them to the rest of their team. In short, customers are proud to call them their friends.
07/18/2023 | Dr. Jennie Hwang -- Column: SMT Perspectives and Prospects
Each year, the one-of-a-kind Berkshire Hathaway Annual Shareholders Meeting draws tens of thousands of attendees from all walks of life who make the pilgrimage to Omaha, Nebraska. It is a yearly ritual for me as well to attend in person so I can listen to the wise duo of Warren Buffett and Charlie Munger, while observing the dynamics of the aspiring and the admiring attendees. This year's attendance was reportedly overwhelmingly higher than usual; people stood in line as early as 5 a.m. waiting for the start of the event at 8:30 a.m. An impressive percentage of attendees came from overseas; the person sitting next to me was from Australia.
07/06/2023 | Kimball Electronics
Kimball Electronics Mexico (KEMX) employees took time to organize, deliver, and serve food for a special meal at the Senda de Vida shelters.
06/28/2023 | Barry Matties, I-Connect007
The title of John W. Mitchell's new book, Fire Your Hiring Habits, says it all. Hiring and retaining talent is an ongoing challenge for our industry that requires unconventional thinking, casting a wider net, and addressing the real issues at hand. John shares his thoughts behind the book and why we need to rethink the entire hiring process.