Books

Featured Books

pcb007 Magazine

Latest Issues

Current Issue

Finding Ultra

New demands on PCB fabrication, namely advanced packaging, ultra high density interconnect (UHDI), and new specialty materials, are converging, changing the landscape of our business. Is it time to start paying close attention to this convergence?

Developing a Strategy

A solid strategy is a critical part of success. This month, we asked some of the top industry leaders and business strategy "gurus" to share their thoughts on developing strategies.

Winning With TQM

In this issue, we explore how TQM has entered the DNA of continuous improvement disciplines, and the role leadership transformation plays in this. If you've ever competed against a TQM company, you understand their winning advantage.

Columns

Latest Columns

||| MENU
Summer Issue of Flex007 Magazine Available Now
July 25, 2018 | Andy Shaughnessy, Flex007 Magazine
Estimated reading time: Less then a minute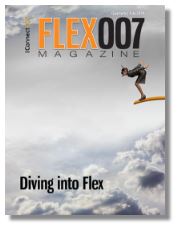 An increasing number of OEMs are being forced into using flexible and rigid-flex circuits, for a variety of reasons: Sometimes rigid boards won't fit the shrinking enclosures anymore, or the companies just need rugged, reliable circuits. 
In the July 2018 issue of Flex007 Magazine, our contributors discuss some of the hurdles they faced when they dove into flex and rigid-flex circuits, and they offer advice to anyone considering a move into the flexible arena.
Check it all out this month in Flex007 Magazine, now on the virtual newsstand and available for delivery in your e-mailbox each month by subscribing here.
Be sure to download the PDF copy or future reference. The PDF is great for beach reading!
---
Suggested Items
09/20/2023 | Andy Shaughnessy, Design007
Z-zero founder Bill Hargin has been studying stackup design techniques for years. He developed the company's PCB stackup planning software, and he wrote an I-Connect007 eBook, The Printed Circuit Designer's Guide to… Stackups: The Design within the Design. In this interview, Bill shares his thoughts on designing rigid-flex stackups, the challenges they bring, and what rigid board designers need to know about designing stackups in 3D. "Flexperts" Mark Finstad of Flexible Circuit Technologies and Nick Koop of TTM Technologies also offer insight into the many tradeoffs that rigid-flex designers face.
09/15/2023 | Andy Shaughnessy, Design007 Magazine
We've had a hot week in this industry. In my picks for this week, we introduce a new SMT007 columnist, and we have a look at the CHIPS Act one year later. We have a great article about sourcing diversification, and a look at the latest electronics news coming out of India. And columnist Vern Solberg explains DFM best practices for flexible circuits.
09/14/2023 | Vern Solberg -- Column: Designer's Notebook
Flexible circuit applications can be as basic as furnishing electrical interconnect between two conventional circuit board assemblies, or to prove a platform for placing and interconnecting electronic components. During the planning and pre-design phase of the flexible circuit, there will be several material and process related questions that need to be addressed. Most flexible circuit fabricators welcome the opportunity to discuss their customers' flexible circuit objectives prior to beginning the actual design process.
09/14/2023 | John Watson -- Column: Elementary, Mr. Watson
Electronics are continually evolving, driven by innovations in printed circuit board technology. Flexible PCBs have emerged as a revolutionary force, reshaping the PCB industry and influencing the design and functionality of countless electronic devices. Some believe that flexible PCBs are a relatively newer technology, but as we will see, that is not true. Since I'm an instructor, here's a short history lesson on how we got here and what we can expect.
09/11/2023 | PRNewswire
Can digital and/or high throughput manufacturing be applied to circuit boards? Can stretchable electronics be produced without sacrificing processing capabilities?