Sensor Technology to Improve Safety and Health in Aged Care
July 30, 2018 | RMIT University
Estimated reading time: 2 minutes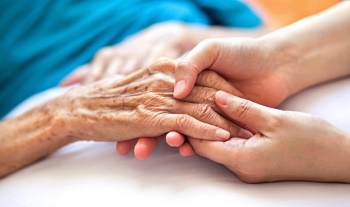 Flexible sensors developed at RMIT will be integrated into new health monitoring technology to improve aged care, in a project supported through a $1.7 million Federal Government grant.
The $1.7 million Cooperative Research Centre Projects (CRC-P) grant has been awarded to Melbourne-based research and advanced manufacturing company Sleeptite, which is leading the development of the non-invasive health care monitoring program.
Assistant Minister for Science, Jobs and Innovation, Senator  Zed Seselja, today announced the CRC-P grant at RMIT's Micro Nano Research Facility.
The Sleeptite collaboration brings together a multi-disciplinary team in sensing, micro-technology, health data analytics and bedding manufacturing that will deliver new Australian-made products for the aged care and assisted living sectors.
RMIT researchers led by Associate Professor Madhu Bhaskaran will work to integrate their flexible, unbreakable electronics into bedding products to enable the real-time monitoring of health and sleep.
Bhaskaran said while some technologies existed to improve monitoring, they were either too expensive for wide implementation or unreliable.
"What we're developing is a cost-effective way to improve the supervision and monitoring of people living in aged care and assisted living facilities, especially at night," she said.
The new technology is designed to give nurses, carers and aged care facility managers greater insight into the health and wellbeing of patients within their care.
By alerting health care workers to movements or potential areas for concern, the technology aims to minimise night time disruption and deliver better quality of life for residents.
An Australian Research Council DECRA Fellow and co-leader of the Functional Materials and Microsystems Research Group at RMIT, Bhaskaran said she was thrilled that an Australian company was leading the drive to take her team's work from the lab out into the real world.
"To have an Australian partner that truly understands research and is passionate about getting our home-grown technology out to the public, where it can benefit society, it's very special."
The RMIT researchers will work closely with other project partners Hexoskin (biometric data analytics) and Sleepeeze (advanced manufacturing), with the aim of delivering a product that is approved for medical use within three years.
Sleeptite CEO Cameron van den Dungen said the aged care industry was entering a new era, with greater than ever demand for excellence in functionality, design and care.
"Australia has the chance to become world leaders when it comes to increasing the quality of health care provided to its elderly through technology; technology that not only supports the valuable care workers but enables them to provide greater care than they believe is possible, and at a cost that is more affordable than the assistance currently on offer, this is why Sleeptite exists," he said.
Acting Deputy Vice-Chancellor Research and Innovation, Professor Denise Cuthbert, said the funding announcement was a testament to the strong collaborative relationships between RMIT researchers and industry.
"At RMIT, we're strongly focused on working with industry partners to ensure our research continues to shape the world for the better," Cuthbert said.
"We're excited at this opportunity for our leading research in sensor technology to make a real and positive difference to our communities."
Story: Gosia Kaszubska
---
Suggested Items
11/28/2023 | Lockheed Martin
Lockheed Martin will soon launch a unique wideband Electronically Steerable Antenna (ESA) payload demonstrator to show the company's investment in advanced technology to perform missions faster once on orbit. The payload demonstrator, which will launch aboard Firefly Aerospace's Alpha rocket, extends Lockheed Martin's significant investment in scalable wideband ESA technology development to showcasing an actual on-orbit capability. This technology is critical to future remote sensing architectures.
11/27/2023 | Cambridge University
The Cambridge Open Zettascale Lab is hosting Dawn, the UK's fastest artificial intelligence (AI) supercomputer, which has been built by the University of Cambridge Research Computing Services, Intel and Dell Technologies.
11/27/2023 | HyRel
HyRel Technologies, a global provider of quick turn semiconductor modification solutions, announces the achievement of International Traffic in Arms Regulations (ITAR) registration.
11/24/2023 | PRNewswire
Every decade, a new telecom generation emerges, with 5G currently being commercialized, offering faster data rates, low latency, and enhanced reliability. 6G is characterized by Tbps data rates, microsecond latency, and extensive network dependability.
11/23/2023 | PRNewswire
MDA Ltd., a leading provider of advanced technology and services to the rapidly expanding global space industry, has revealed plans to more than double its UK workforce and operational footprint over the next 12 months.