Books

Featured Books

pcb007 Magazine

Latest Issues

Current Issue

The Registration Sweet Spot

Registration is underrated and underappreciated. The key is to ensure proper registration from layer to layer across the entire printed circuit board. It's a holistic process requiring anticipation, prediction, precise attention at each step, and detailed data tracking and monitoring.

High-reliability Fabrication

In this month's issue, our expert contributors discuss the latest in technologies, trends, complexities and resources regarding high-reliability fabrication.

Finding Ultra

New demands on PCB fabrication, namely advanced packaging, ultra high density interconnect (UHDI), and new specialty materials, are converging, changing the landscape of our business. Is it time to start paying close attention to this convergence?

Columns

Latest Columns

||| MENU
R&D Altanova Chooses Ultra-Precision atg S3-8 - Flying Probe Technology for High-Speed Electrical Test of Substrate Products
August 17, 2018 | R&D Altanova
Estimated reading time: 1 minute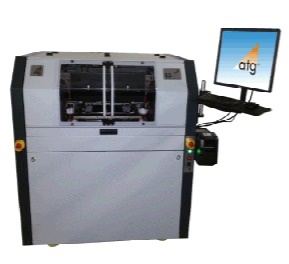 atg Luther & Maelzer GmbH, confirms delivery of high-speed bare board testing technology to R&D Altanova, the leading provider of automated test equipment interface boards for the semiconductor test market.
With the company's continuous development and achievements in the area of super fine line/fine pitch processes, the high accuracy S3-8, 8 head, double-sided, high speed, flying probe test system represents the latest addition to R&D Altanova's test department. According to Seyed Paransun, President & CEO of R&D Altanova, "this recent atg acquisition helps advance R&D Altanova's strategy of developing the most advanced PCB technologies for the semiconductor test market by enabling our engineering teams to test the most challenging current and future PCB designs."
atg's S3-8 is able to test pad sizes down to 10 micron and is capable of testing boards with a test area up to 350 mm x 310 mm / 13.8" x 12.2". The S3-8 eliminates limitations due to test point density or fine-pitch contacts and also features embedded component test. In addition to the fast test speed of up to 140 measurements/second, the S3-8 provides positional placement resolution of ± 0.1 µm / ± 0.004 mil, and a repeatable accuracy of ± 1.5 µm / ± 0.06 mil.  
About R&D Altanova, Inc.
Celebrating fifty years of excellence in leading-edge, technology driven, quick-turn PWB manufacturing, R&D Altanova specializes in advanced automated test equipment solutions for the semiconductor test market. Solutions include the simulation, design, layout, fabrication, and component & mechanical assembly of wafer sort and final test interface boards. With offices and manufacturing facilities located around the world, R&D Altanova is the leading provider of full turn-key test interface solutions to many of the world's largest integrated device manufacturers, fabless semiconductor companies and semiconductor foundries. Learn more at www.rdaltanova.com
About atg Luther & Maelzer GmbH
With more than 180 employees worldwide, atg Luther & Maelzer is the leading supplier of electrical testing solutions for the printed circuit board industry. We have solutions for every application regardless of product type, batch size or technology deployed. Our atg flying probe tester products are renowned for automation, speed, accuracy, versatility and ease of use, while the Luther & Maelzer universal grid tester product range is known worldwide for high throughput, repeatability, gentle handling and precision accuracy. 
---
Suggested Items
12/06/2023 | Keysight Technologies, Inc.
Keysight Technologies, Inc. has received an $18.5 million U.S. Air Force contract to integrate and deliver two Electronic Warfare Threat Simulator (EWTS) systems, with sustainment support consisting of software patch management, field engineer support, non-critical spare parts, critical spare parts, and storage.
12/06/2023 | Happy Holden -- Column: Happy's Tech Talk
Registration is one of the most important features for any PCB fabricator, but the capability for multilayers is a lot of work on the fabricator's part. CAM settings, multilayer lamination, X-ray analysis, AOI measurements, imaging capability, and drill accuracy all play an important part in this capability. Software and panel parametric coupons are important because they aid in registration performance.
12/05/2023 | Amkor Technology
Amkor Technology, Inc., a leading provider of semiconductor packaging and test services, has announced its plan to build an advanced packaging and test facility in Peoria, Arizona.
12/04/2023 | BUSINESS WIRE
Sierra Space, a leading pureplay commercial space company building the first end-to-end business and technology platform in space, announced the commencement of a comprehensive testing campaign for the Shooting Star™ cargo module at NASA's Neil Armstrong Test Facility in Sandusky, Ohio.
12/01/2023 | GÖPEL electronic
Having been responsibly committed to a clean environment for many years, GÖPEL electronic GmbH has taken an important step towards greater climate protection by obtaining its initial certification in accordance with DIN EN ISO 14001:2015.