Books

Featured Books

smt007 Magazine

Latest Issues

Current Issue

Economic Headwinds

This issue takes stock of the current economic outlook and how companies are using current conditions to move themselves through technological evolutions, workforce shifts, and financial changes. Even with these headwinds, there's forward progress to be made.

Attracting New Talent

To get different results in staffing, you must change how you define, promote and recruit your job opportunities. How do you become magnetic to high-quality early-career candidates?

Test and Inspection

Test and inspection methods are undergoing rapid change. In this issue, we consider the influence of AOI, AI, and human eyes. How exactly are these pieces of the puzzle changing the role of test and inspection?

Columns

Latest Columns

||| MENU
Koh Young's Joel Scutchfield on Smart Factory Connectivity
November 20, 2018 | Barry Matties, I-Connect007
Estimated reading time: 14 minutes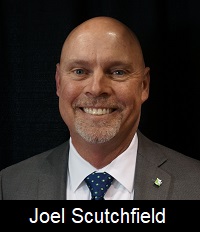 Joel Scutchfield of Koh Young speaks about the struggles system providers currently face in implementing the machine-to-machine connectivity needed for a smart factory with no common platform or protocol in place yet. Joel also emphasizes the importance of process control and having machine learning and data collection technology powerful enough to make use of the massive amount of data made available through machines like Koh Young's 3D inspection systems.
Barry Matties: Why don't we just start with an overview of Koh Young and what you guys do?
Joel Scutchfield: Sure, Barry. Thank you for the opportunity to talk with you today. As most people know, Koh Young has been the market leader in 3D inspection technology for many years. From the beginning, we've focused on 3D technology, which is a unique approach from everyone else that's playing in the SPI and AOI arenas. Since the beginning, we have used quantitative parametric-based measurement data for true 3D results, which is the mechanism behind our leadership position. It is very different than anything that has been done before and since Koh Young entered the marketplace.
Going forward, we're continuing in our leadership role by using true-3D parametric data to fuel our AI engine, which now provides the ability to create tools that allow manufacturers to realize a real smart factory. By using machine learning concepts and automating programming, for example, our systems will become much more productive, intuitive, and easier to use. Also, data analysis becomes easier and more automated, thereby creating a situation and environment where actionable results can be extracted and used very quickly to make a positive change in real time.
That's where we've come from, where we're at, and where we're heading. We are in a unique position to be able to do this because we have a specialized approach that uses a parametric, quantitative dataset, which is extracted the right way. Having the relevant data needed to fuel this AI engine, we can now move forward faster on the only real avenue to realize a true smart factory.
Matties: When we talk about the smart factory, you mentioned the information coming from your technology. How does that integrate into the lines, like making adjustments in the manufacturing process in real time?
Scutchfield: There are a couple of pieces to that puzzle. We began this process by taking care of our own backyard first and being mindful of how we could share information with other systems in the future. The first goal was to use the measurement-based data our systems are generating and make our own systems as efficient, productive, and useful as possible. We accomplished this by creating the ability to communicate between our AOI and SPI machines across multiple locations in the line. For example, we can link post-print SPI with pre-reflow and post-reflow AOI machines to quickly identify anomalies in the process and help the customer understand what's going on in real time while providing the data and information needed to correct the issue. This also includes using our dataset and machine learning to create true AOI auto-programming tools. We want to focus on using AI and machine learning to make our Koh Young users as efficient as possible.
The second piece is what we're all striving to reach. By using the various developed M2M protocols like CFX/Hermes, we are working to allow our machine to communicate with everyone in the factory. We have projects on multiple fronts and are moving to the point where we can effectively communicate with all our partners involved with printing, mounting, and more. Additionally, we have undertaken our own projects to create a level of connectivity. The issue we all face though is the fact that there is simply no common protocol at this point. There's no common platform for all system providers to communicate beyond a very basic level. Everything has to be done specifically with that partner, and the results achieved apply to that partner. So, again, what we're striving for here is to be able to communicate on a broad scale in an all-inclusive fashion.
When I say communicate, I'm talking in terms of real machine-to-machine communication. When we find an anomaly or an issue with one of our inspection tools, we can give immediate feedback to the mounter and tell if there's an issue with a feeder or nozzle, for example. Or we can direct information back to the screen printer and provide detail far beyond just an offset adjustment to trending information like volume. In addition, we want to provide information that tells the operator what went wrong, and then expand to tell them the changes needed to address the problem quickly. Eventually, we will do all of this automatically without any human intervention. This is where we get to the point where we really treat the entire line as a single machine.
The goal in my mind behind the whole Industry 4.0 initiative is to reduce manufacturing costs; that's really what this is all about. We want to provide the customer with a solution that truly improves first-pass yield and reduces the need for human intervention. Again, that can be multiple machines or an entire line working in conjunction with all the required software, so the system is the driving factor here.
Everything else is encompassed in achieving those two results. If we can deliver a system to our customers that allows them to lower their manufacturing costs and maximize quality, they will certainly become more profitable, which provides them profits to reinvest and grow their business. In addition, if the efficiencies are evident, legacy products can be converted and upgraded, which helps the whole industry expand. That's the objective here. We're not doing this just for fun; we're trying to leverage the available and planned technology to improve the industry for everyone.
Page 1 of 3
---
Suggested Items
11/24/2023 | Mek (Marantz Electronics)
Mek (Marantz Electronics), a leader in Automated Optical Inspection (AOI) solutions, used last weeks' Productronica show in Munich to proudly introduce the SpectorBOX X series, a modular full 3D AOI system for THT solder joints and THT components.
11/23/2023 | ViTrox
The award was announced during the award ceremony at Productronica in Munich, Germany, on November 14, 2023.
11/20/2023 | Marcy LaRont, PCB007 Magazine
Productronica has concluded and I have wrapped up my first two weeks back on the I-Connect007 team. I'm exhausted, and I am looking forward to bit of a "lie in" as they say around here. It's time to be home. It was a great week in Munich. The show had 42,000 visitors, all descending on 88,000 square meters of show space over eight sprawling halls, to see some 1,400 exhibitors, representing 45 countries worldwide and all parts of the PCB/SMT provider supply chain. It appears the show has regained pre-pandemic levels of engagement, and we congratulate them.
11/17/2023 | MVP
MVP, a pioneer in advanced AOI expertise, proudly commemorates three decades as a premier total solutions provider. Specializing in the Semiconductor, Microelectronics, Packaging, and Surface Mount industries, MVP remains dedicated to delivering cutting-edge solutions to a diverse clientele, including automotive, telecoms, commercial, medical devices, and military sectors.
11/10/2023 | MIRTEC
MIRTEC, 'The Global Leader in Inspection Technology,' announces the development of groundbreaking inspection technologies that it will unveil at productronica 2023, scheduled to take place Nov. 14-17 at the Messe München in Munich, Germany.