Books

Featured Books

smt007 Magazine

Latest Issues

Current Issue

Attracting New Talent

To get different results in staffing, you must change how you define, promote and recruit your job opportunities. How do you become magnetic to high-quality early-career candidates?

Test and Inspection

Test and inspection methods are undergoing rapid change. In this issue, we consider the influence of AOI, AI, and human eyes. How exactly are these pieces of the puzzle changing the role of test and inspection?

Chips Don't Float

In Europe and the U.S., legislation is under way to revitalize PCB fabrication and packaging. What is the status of this work, and how specifically does this change the industry landscape for EMS companies? What will help keep us afloat?

Columns

Latest Columns

||| MENU
Understanding the Benefits of CFX
November 30, 2018 | Stephen Las Marias, I-Connect007
Estimated reading time: 5 minutes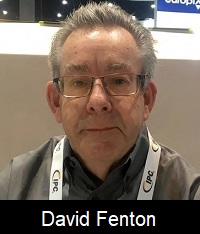 David Fenton is the group customer support manager for Blakell Europlacer. He is responsible for all of the service teams worldwide, including in China, Germany, Italy, France, the U.K., and U.S. In this interview with SMT007 Magazine, Fenton discusses technical challenges and the impact of the IPC Connected Factory Exchange (CFX) initiative on the PCB assembly industry, and what manufacturers can expect from this electronics assembly connectivity standard.
Stephen Las Marias: David, what has been your experience so far while working on and supporting CFX?
David Fenton: There has been talk around Industry 4.0 and smart factories for many years. Until very recently, we felt that it was just a lot of noise. Nobody knew what to expect out of Industry 4.0, and then other companies started to release their own standards under the Industry 4.0 banner. Europlacer stood back, listened, and waited to see what would happen. Then, we had an opportunity to listen to Michael Ford of Aegis Software in one of the exhibitions. We became interested in what they were doing with the IPC CFX standard. We realized Aegis was taking it very seriously, and that they had the power of IPC behind it. We've been working with Aegis for many years, so we know them very well. Once we saw they were involved, we started following the CFX standard to see how it was going. We regularly contact Michael. When we saw the original draft standards from IPC, we realized it was a standard that should be very easy to implement for our programmers, and could be a truly global standard. Thus, we started working with Michael and made some test code using a program provided by Aegis. For me, that was the key to making this work.
Aegis has done a lot of the groundwork to make it simple for vendors like Europlacer to take part in CFX. We had test codes up and running within 48 hours with receipt of the software development (SD) kit from Aegis. We realized this was going to be easy for us to do, so why not try it?
We have seen it gain traction. Vendors are being added to the list all the time, and we realized some of the big players were going down the CFX route. Then, we had the demonstration at IPC APEX EXPO, which went off without a hitch. The cloud server worked well and required minimal effort. We recently participated in the demonstration at SMT Hybrid Packaging Nuremberg, which also went very well.
In all of these cases, we used a cloud server provided by Aegis and IPC. Recently, we've gone out on our own such that we don't necessarily need to involve any third party if the customer wants an entirely internal system without a cloud-based interface. We've taken that product standard further to have an in-house broker system. Again, it was relatively easy to develop. We also recently had an industry open day where Michael talked about Industry 4.0 and CFX. At the same time, we were able to demonstrate the Europlacer system in our facility.
That's where we are today. We've offered to help IPC create messages for pick-and-place equipment. They are always looking for vendors to help construct the format of CFX to add new messages all the time. By getting in first, our messages will become a part of it. By doing this, we felt there would be less work for our programmers. If we'd gone down a path that wasn't included in the standard, we would need to recode that. Volunteering on the committee writing the message standards will help us in the future.
We can also customize the messages to a certain degree for our equipment. For example, we have multiple heads on the machines.
The standard as it existed didn't have any facilities to create messages for multiple-headed machines or give information on an individual head's performance. We have sent those unique messages to IPC. Hopefully, they will be accepted to the draft standards.
Las Marias: What do you think is the challenge that CFX is trying to address?       
Fenton: That is an interesting question because I am not sure that customers know they have a challenge yet. CFX is still an industry standard that is ahead of the demand. We have many customers worldwide, and it's not something that is on their radar. The more we promote it, the more they realize there is a need. It's slightly backward. As far as our customers in the small- to medium-end markets are concerned, they have never pushed us for this type of data gathering until very recently.
However, the challenge is that it would hopefully sell and be able to take in data from anybody's machine—not just Europlacer's—and display it on a standard dashboard without having to write custom front-end data for the dashboards. Over time, the challenge will be to combine data from multiple vendors into one common platform.
Las Marias: What can you say about the state of interest in CFX?
Fenton: To be perfectly honest, it is lower than I thought. We saw hundreds of people over the course of the previous show, and when we spoke with the various demonstrators, engineers, and salespeople, very few attendees had asked about CFX or Industry 4.0. At the moment, I still think it's a bit of a tick box that the industry needs to promote the benefits. As the months go by, people will start to realize what CFX can do. Our customers are still confused as to what Industry 4.0 can do. CFX is not something that is as important to them as machine uptime, speed, and productivity.
Las Marias: In a nutshell, how is CFX impacting the PCB assembly industry and what are its benefits?
Fenton: Once the data gathering is established, the customer will be able to look at their overall efficiency, overall equipment effectiveness (OEE), underboards, bridges, and first-time yield, among others—which is something that they struggle with at the moment because the data is not in a standard format.
If they look at the OEE data from their automated optical inspection (AOI) machine, printer, or oven, they have to gather separate types of information and may have several different dashboards or ways to read the data. Overall, the effect of CFX will be to make productive decisions easier because users will be able to look at factory-wide statistics as opposed to individual machines. As a result, users will be able to turn the data from individual machines into a picture of what their overall factory efficiency is. I see this as the primary benefit. If you make something easy for a customer, they will start to use it, and then they'll see the benefit of making changes in material handling or operator training. This is the type of thing where they will be able to make small changes to their methods and see the data immediately from any machine in the factory.
To read the full article, which appeared in the October 2018 issue of SMT007 Magazine, click here.
---
Suggested Items
11/30/2023 | PRNewswire
VPT, Inc., a HEICO company, VPT, Inc., a trusted provider of power conversion solutions for aerospace and defense, proudly announces its latest achievement of obtaining SAE AS9100 Revision D certification. SAE AS9100 Revision D enhances VPT's existing suite of certifications, including MIL-PRF-38534, MIL-STD-883, J-STD-001 (Space), IPC-A-610, and IPC-A-600, further cementing our commitment to excellence in quality and reliability.
11/29/2023 | TRI
Test Research, Inc. (TRI), the industry's leading provider of Test and Inspection systems for the electronics manufacturing industry, is pleased to announce the expansion of its Malaysian office, which opened in 2010.
11/29/2023 | Dana Korf -- Column: Dana on Data
November's issue of Design007 Magazine had an excellent theme that evolved around design simplification. There were exceptionally good articles about how to reduce over-constrained or needlessly complex designs. One significant time-consuming category is the creation of many design files and drawings which lead to lengthy creation and interpretation time along with the considerable time to resolve conflicting or erroneous information.
11/27/2023 | IPC
IPC welcomes the actions outlined today by the U.S. Government "to strengthen supply chains critical to America's economic and national security."
11/22/2023 | TTM Technologies, Inc.
TTM Technologies, Inc., a leading global manufacturer of technology solutions including mission systems, radio frequency (RF) components and RF microwave/microelectronic assemblies and printed circuit boards (PCBs) was honored with three awards at the IPC China Electronics Manufacturing Annual Conference held in Shanghai on October 27, 2023.