Books

Featured Books

pcb007 Magazine

Latest Issues

Current Issue

Finding Ultra

New demands on PCB fabrication, namely advanced packaging, ultra high density interconnect (UHDI), and new specialty materials, are converging, changing the landscape of our business. Is it time to start paying close attention to this convergence?

Developing a Strategy

A solid strategy is a critical part of success. This month, we asked some of the top industry leaders and business strategy "gurus" to share their thoughts on developing strategies.

Winning With TQM

In this issue, we explore how TQM has entered the DNA of continuous improvement disciplines, and the role leadership transformation plays in this. If you've ever competed against a TQM company, you understand their winning advantage.

Columns

Latest Columns

||| MENU
Ventec's Marketing Strategy and Their Newly Appointed Technology Ambassador
December 5, 2018 | Pete Starkey, I-Connect007
Estimated reading time: 9 minutes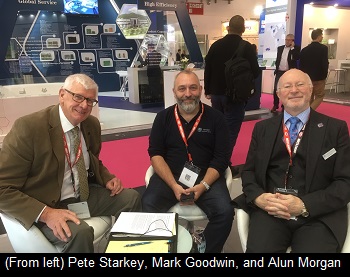 At electronica 2018, Mark Goodwin, chief operating officer at Ventec International Group, discusses the company's marketing strategy along with their newly appointed technology ambassador, Alun Morgan, and how he sees the world.
Pete Starkey: Mark, it's great to be here amongst old friends. We've known each other and worked together for a long time, and Alun and I have known each other and worked together for probably even longer. I'm very impressed that you've decided to appoint a technology ambassador. What was the rationale behind that appointment?
Mark Goodwin: Ventec is heading in the direction of increasingly becoming a technology company. All of the new products we're bringing to the market have a technology driver, not primarily a cost driver. Cost, price, and supply chain are always important, but we don't want to be a me-too FR-4 laminator forever. We aren't anymore. We're a very strong market leader in thermal management and have ambitions to be leaders in other interesting high-technology niche markets too—I use the word "niche," but those niches are quite big today.
Starkey: I think certainly you're recognized as the sort of company that you've just described—a technology company.
Goodwin: Yes, and we're also recognized as a company that can deliver fast and reliably at a competitive price. It's no good having technology but no supply chain and not being competitive; you have to have all of these.
Starkey: Looking at the number of technologists and product specialists that you have on the team now, that paints a very positive picture as well.
Goodwin: It does, and Alun's role is to help me and the management team at Ventec bring that message of technology and our technical know-how to a wider audience at the PCB level, and more importantly, at the OEM level. We know all of our customers in Europe, but we don't know all our customers' customers—we don't know all of the OEMs. Our materials are becoming more integral parts of their products with functionality, not just real estate or a mechanical structure for holding components. We have to talk to these individuals directly.
Starkey: What is your ongoing market strategy?
Goodwin: Our ongoing market strategy is to develop our existing products that everybody knows—our standard-Tg, mid-Tg, and high-Tg epoxies—in the direction of market sectorization. This includes product families for automotive applications and those demanded by the aerospace industry, for example. We're working with UL on long-term thermal aging (LTTA) to get products FR15 and FR15.1 listed, which is the extended LTTA to give a maximum operating temperature (MOT) of 150°C minimum. This is the direction of our epoxy business. We continue to push on our polyimide business, making very clean polyimide. You probably saw Amphenol Invotec's announcement very recently. They requalified again with ESA (European Space Agency), and that is with Ventec VT-901. That's not a secret; if you go on the ESA website, it's all there. It's Amphenol Invotec's qualification, but Ventec's product supports it. It's a good collaboration for us and a win-win situation for both companies.
The tec-speed 20.0 series is a product line that is not new to the market, but it solves the difficult supply chain issues faced by the market and has an interesting price point. Anyone who knows me knows I'm a bit disruptive, and I'm planning on disrupting this market sector a little bit as well, carving out a position for Ventec. I was told I couldn't do it with polyimide, and I have, so this is my next challenge!
Starkey: Alun, you're a fresh pair of eyes coming into a company that you've seen from the outside in an industry and a technology in which you are recognized as a leading expert. How do you see your role as a technology ambassador? What do you think you can bring to the party?
Alun Morgan: Well, I'll pick up on the point Mark made earlier, which is about the niches in the market. Mark said these are not small niches, and I think Ventec is a company that is strong in a number of specializations. Polyimide was mentioned. That is a market that probably isn't growing very much, but it's a very important market, especially in aerospace and defense. The position in the market has been carved out by an offering from Ventec that didn't exist on the market—cleaner products, and perhaps more importantly, an attractive price point.
I've certainly seen insulated metal substrate (IMS) products that Ventec has developed take a very large market share and a vital part of our sector now. IMS was a market that existed in the past, but that market has massively grown. Instead of just being low tech or consumer products for lighting, there's a whole range of products for real thermal management solutions being used in all application sectors.
You can see these specializations, but you can also map them onto the sector map as well. The approach of taking sectors like automotive—maybe low-loss and perhaps aerospace—and bringing products into those markets makes a lot of sense. And what I've certainly seen is that the Ventec approach is different to many other traditional base laminators who have large equipment serving a big market and standardize products in huge volume. What I see with Ventec is much greater flexibility.
We see that flexibility through the entire Ventec supply-chain model—not just the manufacturing, but the global distribution as well. Everything is geared for high-mix and high-specialization. That's what brings the value to the customers; for me, that is Ventec's key differentiator.
Now, let's look at low-loss materials, which is an area I've been very involved in for many years. I visited the TPCA Show 2018 in Taipei recently, and there were two themes for the entire three-day conference: 5G infrastructure and artificial intelligence (AI). In fact, the 5G infrastructure is coming, and it's going to be very important for nearly everything else. So, the Internet of Things (IoT) and the Industrial Internet of Things (IIoT) are all going to be built around 5G infrastructure. That is going to require materials that have low loss, for antennas largely. We have a product range now with tec-speed 20.0 that plays into the market very strongly.
The key for me is having the right product mix in the right niches—I say niche again—but these are large niches, and these are niches that will grow even further. If I look back 20 or 30 years, low loss was a very small niche market, but the whole requirement has moved into that space now. If you're a player in that space, you will then take advantage of the growth, whereas the traditional FR-4 markets that were mentioned will still be there, but they're not very exciting.
There will be big producers with larger and larger volumes and economies of scale serving those markets. The real leading-edge companies will be serving these so-called niches or specialization markets that have room for considerable growth, and of course technical content. That's really where I come from, which is why it's exciting for me to be involved in a company developing all of these technological solutions for specialized markets.
Page 1 of 2
---
Suggested Items
09/26/2023 | GlobalFoundries
GlobalFoundries (GF) announced it has applied for U.S. CHIPS and Science Act Funding, with two full applications submitted to the CHIPS Program Office of the U.S. Department of Commerce.
09/25/2023 | HyRel
HyRel Technologies, a global provider of quick turn semiconductor modification solutions, proudly announces that it earned the prestigious AS9100 certification.
09/18/2023 | RTX
RTX business Collins Aerospace has been selected by BAE Systems as the provider for Large Area Display technology to be integrated into the cockpits of future Eurofighter Typhoon aircraft.
09/18/2023 | IPC
IPC Day France: Aerospace Electronics is an aerospace-focused networking event featuring key industry experts from NASA and Airbus and will take place on October 2, 2023 . 
09/14/2023 | CONFIDEE
CONFIDEE, a leading PCB partner, proudly announces its recent achievement of AS9120 certification. This prestigious certification highlights the company's commitment to excellence, quality, and customer satisfaction, making it a preferred choice for all defence and aerospace needs.