Books

Featured Books

pcb007 Magazine

Latest Issues

Current Issue

The Registration Sweet Spot

Registration is underrated and underappreciated. The key is to ensure proper registration from layer to layer across the entire printed circuit board. It's a holistic process requiring anticipation, prediction, precise attention at each step, and detailed data tracking and monitoring.

High-reliability Fabrication

In this month's issue, our expert contributors discuss the latest in technologies, trends, complexities and resources regarding high-reliability fabrication.

Finding Ultra

New demands on PCB fabrication, namely advanced packaging, ultra high density interconnect (UHDI), and new specialty materials, are converging, changing the landscape of our business. Is it time to start paying close attention to this convergence?

Columns

Latest Columns

||| MENU
Schmoll and Burkle: Lasers and Drills for GreenSource
December 14, 2018 | Patty Goldman, I-Connect007
Estimated reading time: 1 minute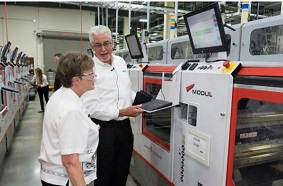 While at GreenSource Fabrication, Burkle Automation Technology's Dave Howard introduced me to the Schmoll equipment as well as other items that Burkle installed at the facility. One unit of great interest was the Impex inspection machine which can do sophisticated non-destructive cross-sections using a very fine fiber probe. We then enjoyed a discussion while touring the line, which is excerpted here. Also present at times and adding to our technical discussion were one Burkle engineer, Evan Howard, and two Schmoll application engineers, Jens Baensch and James Verheul.
Patty Goldman: Dave, tell me a little bit about your background.
Dave Howard: I'm originally from England. Many years ago, I was brought over to the U.S. by the company that I worked for at the time, and I've been here ever since. I am now with Burkle America and in addition to Burkle Lamination Presses we also represent the Schmoll drills and other equipment.
Goldman: We are standing in front of the 16 single-spindle drills lined up in two rows facing each other (Figure 1).
Howard: Yes, these single-spindle drills have lots of bells and whistles on them including linear motors in all axes, high-speed spindles, precision depth control, and automatic loaders.
Figure 1: The double line of Schmoll single-spindle drills at GreenSource Fabrication. Click to watch the video.
To read the full version of this article which originally appeared in the October 2018 issue of PCB007 Magazine, click here.

---
Suggested Items
09/15/2023 | TRI
Test Research, Inc. (TRI), the leading test and inspection systems provider for the electronics manufacturing industry, will join productronica 2023, which will be held at Messe München Center from November 14 – 17, 2023.
09/15/2023 | UK Space Agency
The proposals from the UK Space Agency follow a review into the UK's approach to setting the amount of an operator's liability in licences for orbital operations, a key commitment of the government's National Space Strategy.
09/14/2023 | MediaTek
MediaTek and TSMC announced that MediaTek has successfully developed its first chip using TSMC's leading-edge 3nm technology, taping out MediaTek's flagship Dimensity system-on-chip (SoC) with volume production expected next year.
09/14/2023 | MKS' Atotech
MKS' Atotech, a leading surface finishing brand of MKS Instruments, will participate in the upcoming IPCA Expo at Bangalore International Exhibition Centre (BIEC) and showcase its latest PCB manufacturing solutions from September 13 – 15.
09/12/2023 | Business Wire
Comtech launched its new blended, resilient, integrated, digital, global, end-to-end (BRIDGE) connectivity solutions. Comtech's BRIDGE solutions provide portable, adaptable, full-service communications networks that can be established in a matter of hours and help "bridge the gap" for traditional satellite and terrestrial infrastructures.