Books

Featured Books

smt007 Magazine

Latest Issues

Current Issue

Chips Don't Float

In Europe and the U.S., legislation is under way to revitalize PCB fabrication and packaging. What is the status of this work, and how specifically does this change the industry landscape for EMS companies? What will help keep us afloat?

Flying High With Digital Twin

The opportunity to use manufacturing simulation as a test bed for job planning and process optimization brings continuous improvement into the modern age. This may be an all-or-nothing type of project, but it's worth the investment.

Artificial Intelligence

In this issue, we (and AI) explored how and when artificial intelligence plays a role in manufacturing today. Whether on the factory floor, or in the front office, AI applications are emerging and changing how we approach planning, processes and problem solving.

Columns

Latest Columns

||| MENU
Defense Speak Interpreted: PERM—Pb-free Electronics Risk Management
December 18, 2018 | Dennis Fritz, Fritz Consulting
Estimated reading time: 4 minutes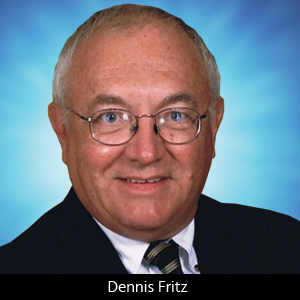 In this column, we explore PERM—the Pb-free Electronics Risk Management Consortium. No, the group members do not all have curly hair! The name was chosen around 2008 by a group of engineers from aerospace, defense, and harsh environment (ADHE) organizations. Two points: first, the team used the chemical designation "Pb" for the element "lead" to differentiate the effort from the "leads" on electronic components mounted on boards. Second, the word "risk" was intentionally emphasized because of the different solder performance properties between Pb-free formulations in commercial electronics and the traditional tin-lead eutectic solder still used by many ADHE companies. Also, the switch to pure tin component finishes creates the possibility for tin whiskers.
The origins of PERM date well before the 2006 implementation of RoHS to a defense-directed study group—the Executive Lead-free Integrated Process Team (ELF-IPT). The Aerospace Industries Association (AIA) administered this loosely organized ELF-IPT body of 500 individuals into teams. There were two principal activities: first, research into and member education about the differences between the two solder families; and the second activity was the promulgation of standards concerning the continued use of Pb solder with the possible conversion to Pb-free. The standards were issued through the former Government Electronics Industry Association (GEIA) where AIA was responsible for many GEIA standards besides electronics.
In 2012, AIA passed the research, communications, and advocacy activities of PERM to IPC-Association Connecting Electronics Industries while SAE International adopted the PERM standards. PERM activities today are best summed up in Figure 1.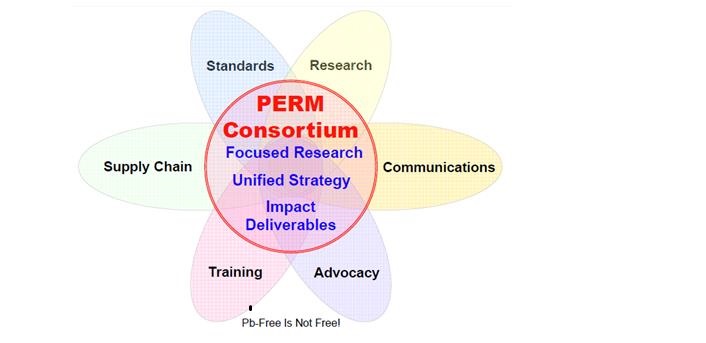 Figure 1: PERM Consortium focus.
A major continued focus of PERM has been detailed engineering knowledge to convert from Pb-containing eutectic solder to Pb-free. In 2009, PERM supported an effort funded by the U.S. Department of Defense (DoD) to enumerate the ADHE industry knowledge gaps and estimate the cost to solve these issues. The total estimate at that time was about $110 million over three intense years of project work. Conveniently, the total effort was broken up into over 100 "bite-size chunks" varying from $100,000 to $5 million. Unfortunately, with the DoD budget cuts from 2009– 2012, this "Manhattan Project" for solder conversion was never funded, even in part. However, individual companies and universities continued smaller scale work on these bite-size chunks.
After taking over the public face of PERM, IPC completed a "Manhattan re-baseline" in 2014 and estimated that about $40 million remained to complete the knowledge base for the conversion to Pb-free. Again, this did not receive funding, although aerospace companies were solicited, besides Defense.
Currently, the IPC Government Relations group has resurrected the Manhattan Project funding issue and proposed to request $15 million in fiscal year (FY) 2020 of congressionally-directed funding to jumpstart Manhattan Project work including an initial formal project review immediately. IPC is currently soliciting interested parties to participate in conference calls and to come to Capitol Hill early in 2019 to get Manhattan funding into the 2020 Federal budget.
In other Pb-free activities, PERM members worked together to issue IPC/PERM-2901—"Pb-free Design and Assembly Implementation Guide"—in February 2018. This guide for the present eutectic solder users covers:
Pb-free solders and solder joints
Tin whiskers
Printed board defects
Product qualification
Manufacturing processes
Supply chain control
Obsolescence management
COTS assembly, selection, and use
Configuration management
The IPC/PERM-2901 "Pb-free Design and Assembly Implementation Guide" is available for purchase from IPC.
To get a better understanding of current ADHE attitudes toward Pb-free, PERM worked with IPC staff to issue and tabulate "IPC/PERM Pb-free Industry Needs Survey—April 2018" with 76 ADHE respondents. Some striking conclusions:
60% of respondents say their company has a Pb-free control plan
30% of companies train employees on Pb-free solder risks
30% have delivered some Pb-free assemblies already, but almost 50% do not anticipate lead-free delivery for at least 10 years
50% think they have Pb-free COTS (commercially off the shelf) subassemblies in their products
55% think they will have to deliver legacy Pb-based solder parts for at least 20 more years to keep existing defense electronics working
Almost 40% have seen tin whiskers on some part in their assemblies
PERM also shares knowledge of industry tin whisker efforts—first, the nearly completed "IPC-TR-587 Conformal Coating Material and Application 'State of the Industry' Assessment Report," and second, the "Tin Whisker Mitigation by SMT Reflow/Results of an Industry Round Robin" spearheaded by Dave Pinsky of Raytheon. In this study, IPC-PERM-WP-022, the coverage of pure-tin component leads by solder—Pb-free or especially eutectic—mitigates the tin-whisker formation risk on the component lead.
To better educate members, PERM is always looking for parallel industry activity. Meetings have been held in conjunction with such subscription consortia as AREA at SUNY Binghamton and CAVE3 at Auburn University. Progress reports to PERM have been given by the NASA/DoD Pb-free Solders Round 3 Testing Group, which has recently also been transferred to IPC supervision under John Perry.
One interesting sister industry is automotive. Thermal cycle testing of engine and brake controllers is now proposed for -40°C to +150°C—an even wider thermal cycle testing than the military specification for defense electronics, which is -55°C to +125°C.
While the general public thinks that all electronics are now produced with Pb-free solders, the members of the PERM Council are busy working to ensure that the harsh environment advantages of Pb-containing solders are not lost with the eventual conversion to Pb-free.
Dennis Fritz was a 20-year direct employee of MacDermid Inc. and has just retired after 12 years as a senior engineer at (SAIC) supporting the Naval Surface Warfare Center in Crane, Indiana. He was elected to the IPC Hall of Fame in 2012.
---
Suggested Items
09/28/2023 | Nolan Johnson, I-Connect007
The practical question around CHIPS Act development and electronics assembly is, "Will this change how we do business?" Indium Corporation's Dr. Andy Mackie sat down with Nolan Johnson to share what he sees as emerging answers to that question from his perspective as an expert in electronics assembly and packaging, and as a participant in standards development through IPC, JEDEC, and SEMI.
09/27/2023 | Nihon Superior Co. Ltd.
Nihon Superior Co. Ltd. is pleased to announce that Keith Sweatman, the company's Senior Technical Advisor, will deliver a presentation titled "A Path to Ductile Low-Temperature Solders for Mass Production of Electronic Assemblies" at the upcoming SMTA International conference and exposition.
09/27/2023 | Hentec Industries/RPS Automation
Hentec Industries/RPS Automation, a leading manufacturer of selective soldering, lead tinning and solderability test equipment, is pleased to announce that Kyocera International has finalized the purchase of a Hentec/RPS Odyssey 1325 robotic hot solder dip component lead tinning machine. 
09/26/2023 | Conecsus Metals México
Conecsus Metals México, an innovative environmental technology and recycling company, will exhibit at the SMTA Foro Tecnico & Expo, Guadalajara, Jalisco, México, on Wednesday, October 25, 2023, beginning at 11:00 a.m.
09/21/2023 | Thermaltronics USA, Inc.
Thermaltronics USA, Inc., a globally acclaimed manufacturer of Precision Soldering Robots and innovative Curie point soldering systems, is excited to announce its participation in the highly anticipated SMTA Guadalajara Expo & Tech Forum, scheduled to take place from October 25-26, 2023.