Books

Featured Books

pcb007 Magazine

Latest Issues

Current Issue

The Registration Sweet Spot

Registration is underrated and underappreciated. The key is to ensure proper registration from layer to layer across the entire printed circuit board. It's a holistic process requiring anticipation, prediction, precise attention at each step, and detailed data tracking and monitoring.

High-reliability Fabrication

In this month's issue, our expert contributors discuss the latest in technologies, trends, complexities and resources regarding high-reliability fabrication.

Finding Ultra

New demands on PCB fabrication, namely advanced packaging, ultra high density interconnect (UHDI), and new specialty materials, are converging, changing the landscape of our business. Is it time to start paying close attention to this convergence?

Columns

Latest Columns

||| MENU
Printed Circuits Installs Burkle High-Temp Lamination Press
January 9, 2019 | Printed Circuits
Estimated reading time: 1 minute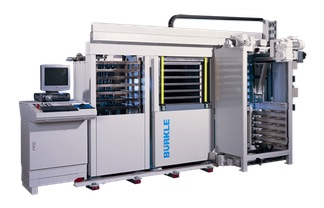 Flex and rigid-flex circuit board manufacturer Printed Circuits has purchased and installed a new Burkle high-temperature vacuum lamination press. The new press is heated and cooled with oil. Added to their existing line, the new press offers vacuum lamination temperatures up to 625ºF. 
"A number of our customers have asked us to expand our capabilities to accommodate some of the newer materials on the market," said Matt Tannehill, executive VP. "Some of their development applications require higher operating temperatures in service than our current materials can provide, or sometimes the materials we want to use need to be laminated at higher temperatures. Either way, we are excited to offer this new capability to our customers."
Ken Tannehill added, "We've had Burkle presses in production for over 30 years now. They offer state-of-the-art lamination technology and absolute day in day out reliability and dependability, which is ideal for our operation."
The new press has six openings, full vacuum, hot oil heating and cooling operated by the Burkle Process Technologies Control Center—computer controlled ramp-up, cool down, pressure, and vacuum settings for customized lamination recipes that are ideal for today's advanced technology applications. 
To learn more about Burkle Lamination presses and systems, watch the video here: 
About Printed Circuits

Printed Circuits is a US manufacturer of multilayer flex and rigid flex printed circuit boards with over 40 years of experience building circuits typically used in high reliability applications such as medical, military and commercial electronics where customers place a premium on reliability, package density, and weight.
---
Suggested Items
11/29/2023 | Anaya Vardya -- Column: Standard of Excellence
To sustain a standard of excellence, it's equally important to look at both what we're doing today as well as what we'll do in the future. In other words, plan ahead. In that spirit, I thought it would be prudent to peek into the future and talk about what a printed circuit board fabrication facility with a "standard of excellence" will look like five years from now.
11/27/2023 | PRNewswire
Since its isolation in 2004, graphene has received widespread attention as a 'wonder' material, with the reported potential to enable a whole host of next-generation technologies, some of which would not be out of place in the latest sci-fi blockbuster.
11/24/2023 | PRNewswire
Superconductors are materials that offer no resistance to electrical current flowing through them. Combining their study with spintronics, which deals with the intrinsic spin of electrons and their use in electronics, has paved the way for the new field of superconducting spintronics.
11/21/2023 | ACN Newswire
Researchers of RIKEN at Japan's state-of-the-art synchrotron radiation facility, SPring-8, and their collaborators, have developed a faster and simpler way to carry out segmentation analysis, a vital process in materials science.
11/17/2023 | SHENMAO
SHENMAO Technology is proud to commemorate its 50th anniversary. Founded in 1973, SHENMAO has witnessed the evolution of Taiwan's electronics industry, playing a pivotal role in shaping the landscape of solder materials and setting new industry stanards.