Books

Featured Books

pcb007 Magazine

Latest Issues

Current Issue

Finding Ultra

New demands on PCB fabrication, namely advanced packaging, ultra high density interconnect (UHDI), and new specialty materials, are converging, changing the landscape of our business. Is it time to start paying close attention to this convergence?

Developing a Strategy

A solid strategy is a critical part of success. This month, we asked some of the top industry leaders and business strategy "gurus" to share their thoughts on developing strategies.

Winning With TQM

In this issue, we explore how TQM has entered the DNA of continuous improvement disciplines, and the role leadership transformation plays in this. If you've ever competed against a TQM company, you understand their winning advantage.

Columns

Latest Columns

||| MENU
Printed Circuits Installs Burkle High-Temp Lamination Press
January 9, 2019 | Printed Circuits
Estimated reading time: 1 minute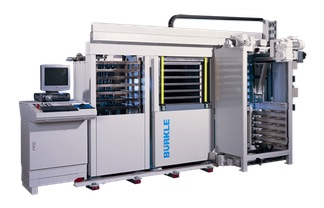 Flex and rigid-flex circuit board manufacturer Printed Circuits has purchased and installed a new Burkle high-temperature vacuum lamination press. The new press is heated and cooled with oil. Added to their existing line, the new press offers vacuum lamination temperatures up to 625ºF. 
"A number of our customers have asked us to expand our capabilities to accommodate some of the newer materials on the market," said Matt Tannehill, executive VP. "Some of their development applications require higher operating temperatures in service than our current materials can provide, or sometimes the materials we want to use need to be laminated at higher temperatures. Either way, we are excited to offer this new capability to our customers."
Ken Tannehill added, "We've had Burkle presses in production for over 30 years now. They offer state-of-the-art lamination technology and absolute day in day out reliability and dependability, which is ideal for our operation."
The new press has six openings, full vacuum, hot oil heating and cooling operated by the Burkle Process Technologies Control Center—computer controlled ramp-up, cool down, pressure, and vacuum settings for customized lamination recipes that are ideal for today's advanced technology applications. 
To learn more about Burkle Lamination presses and systems, watch the video here: 
About Printed Circuits

Printed Circuits is a US manufacturer of multilayer flex and rigid flex printed circuit boards with over 40 years of experience building circuits typically used in high reliability applications such as medical, military and commercial electronics where customers place a premium on reliability, package density, and weight.
---
Suggested Items
09/26/2023 | Kirk Thompson, Isola Group
Despite being a leader in R&D investment in semiconductors and packaging with greater than $50 billion per year, the U.S. has seen its market share decrease to less than 3% in areas like advanced packaging and advanced substrates. The cause for this market share erosion was a laser focus in Asian countries to attract semiconductors and advanced packaging investment through ecosystem development and incentives. If the U.S. is serious about changing the momentum to onshore advanced packaging and advanced substrates, an ecosystem approach to innovation and manufacturing incentives must be employed. It is not enough to have the most innovative technology if the supply chain and manufacturing economics do not deliver competitive commercial opportunities.
09/21/2023 | Dymax
Dymax, a leading manufacturer of light-curing materials and equipment, will exhibit in booth 1526 at SMTA International 2023 in Minneapolis, MN, from October 10-11.
09/20/2023 | I-Connect007 Editorial Team
Panasonic's Darren Hitchcock spoke with the I-Connect007 Editorial Team on the complexities of moving toward ultra HDI manufacturing. As we learn in this conversation, the number of shifting constraints relative to traditional PCB fabrication is quite large and can sometimes conflict with each other.
09/20/2023 | Andy Shaughnessy, Design007
Z-zero founder Bill Hargin has been studying stackup design techniques for years. He developed the company's PCB stackup planning software, and he wrote an I-Connect007 eBook, The Printed Circuit Designer's Guide to… Stackups: The Design within the Design. In this interview, Bill shares his thoughts on designing rigid-flex stackups, the challenges they bring, and what rigid board designers need to know about designing stackups in 3D. "Flexperts" Mark Finstad of Flexible Circuit Technologies and Nick Koop of TTM Technologies also offer insight into the many tradeoffs that rigid-flex designers face.
09/19/2023 | Nolan Johnson -- Column: Nolan's Notes
When I stop to consider the dynamics in our industry at this moment, I keep coming back to the idea of "convergence." Aspects of our industry historically thought of as distinct and separate are blurring the lines and overlapping. As I look back on our coverage in the past five years, I see convergence taking place, moving like a glacier—slow and steady but with formidable force. In this issue of PCB007 Magazine, the three areas of convergence we consider are materials, advanced packaging, and UHDI.