Books

Featured Books

smt007 Magazine

Latest Issues

Current Issue

Chips Don't Float

In Europe and the U.S., legislation is under way to revitalize PCB fabrication and packaging. What is the status of this work, and how specifically does this change the industry landscape for EMS companies? What will help keep us afloat?

Flying High With Digital Twin

The opportunity to use manufacturing simulation as a test bed for job planning and process optimization brings continuous improvement into the modern age. This may be an all-or-nothing type of project, but it's worth the investment.

Artificial Intelligence

In this issue, we (and AI) explored how and when artificial intelligence plays a role in manufacturing today. Whether on the factory floor, or in the front office, AI applications are emerging and changing how we approach planning, processes and problem solving.

Columns

Latest Columns

||| MENU
Saki's AOI Systems are First to be Certified by Panasonic for APC-MFB2 System
January 28, 2019 | Saki Corporation
Estimated reading time: 2 minutes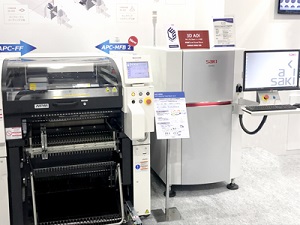 Saki Corporation, an innovator an innovator in the field of automated optical and x-ray inspection and measurement equipment, announces that SAKI's automated optical inspection (AOI) systems are the first AOI systems certified to support Panasonic's latest Advanced Process Control-Mounted Feedback (APC-MFB2 ) system. Field tests conducted using SAKI's 3D AOI systems to provide feedback data to Panasonic's APC-MFB2 system resulted in maximization of overall equipment effectiveness (OEE) through increases in process stability and yield. The entire lineup of SAKI 3D AOI systems, in all available image resolutions, including 7µm, 12µm, and 18µm, were certified.
SAKI's 3D AOI system inspects and measures the printed circuit board during the assembly process and feeds measurement results for the components' actual location to the Panasonic NPM series pick-and-place system to ensure mounting position accuracy. The system uses measurement results from SAKI's 3D AOI to analyze placement offset trends and optimize performance to improve SMT production-line process repeatability, accuracy, and yield. APC-MFB2 is an extension of Panasonic's APC-MFB and handles multiple package types such as small-outline and grid array packages.
"We are honored to enter this successful partnership with Panasonic Smart Factory Solutions," said Yoshihiro Akiyama, CTO for SAKI Corporation. "SAKI has always focused on the quality of the data and the accuracy of the measurements that our equipment communicates to the other systems in the SMT line. Thanks to APC-MFB2, feedback can be independent of general variations often found in the components. The process is constantly monitored by a built-in self-diagnostic functionality in the AOI software, elevating machine accuracy and repeatability to the highest level. This is a very important aspect for yield improvement, not only in the pre-reflow process, but in the entire SMT line for meeting M2M connection requirements."
SAKI will be exhibiting this new breakthrough technology for Smart Factory, along with its 3D AOI, SPI, AXI, 2D bottom-side AOI, and award-winning Saki Self-Programming Software, at IPC APEX Expo, January 29-31, San Diego, California, in booth #1407.
About Saki Corporation
Since its inception in 1994, Saki has led the way in the development of automated recognition through robotic vision technology. Saki's 3D automated solder paste, optical, and x-ray inspection systems (SPI, AOI, AXI) have been recognized to provide the stable platform and advanced data capture mechanisms necessary for true M2M communication, improving production, process efficiency, and product quality. Saki Corporation has headquarters in Tokyo, Japan, with offices, sales, and support centers around the world. 
---
Suggested Items
09/27/2023 | Nihon Superior Co. Ltd.
Nihon Superior Co. Ltd. is pleased to announce that Keith Sweatman, the company's Senior Technical Advisor, will deliver a presentation titled "A Path to Ductile Low-Temperature Solders for Mass Production of Electronic Assemblies" at the upcoming SMTA International conference and exposition.
09/27/2023 | Hentec Industries/RPS Automation
Hentec Industries/RPS Automation, a leading manufacturer of selective soldering, lead tinning and solderability test equipment, is pleased to announce that Kyocera International has finalized the purchase of a Hentec/RPS Odyssey 1325 robotic hot solder dip component lead tinning machine. 
09/26/2023 | Conecsus Metals México
Conecsus Metals México, an innovative environmental technology and recycling company, will exhibit at the SMTA Foro Tecnico & Expo, Guadalajara, Jalisco, México, on Wednesday, October 25, 2023, beginning at 11:00 a.m.
09/21/2023 | Thermaltronics USA, Inc.
Thermaltronics USA, Inc., a globally acclaimed manufacturer of Precision Soldering Robots and innovative Curie point soldering systems, is excited to announce its participation in the highly anticipated SMTA Guadalajara Expo & Tech Forum, scheduled to take place from October 25-26, 2023.
09/20/2023 | ULT AG
At this year's productronica, the world's leading trade show for electronics manufacturing, ULT will present a brand new extraction solution for solder fumes and vapor.