Books

Featured Books

smt007 Magazine

Latest Issues

Current Issue

Economic Headwinds

This issue takes stock of the current economic outlook and how companies are using current conditions to move themselves through technological evolutions, workforce shifts, and financial changes. Even with these headwinds, there's forward progress to be made.

Attracting New Talent

To get different results in staffing, you must change how you define, promote and recruit your job opportunities. How do you become magnetic to high-quality early-career candidates?

Test and Inspection

Test and inspection methods are undergoing rapid change. In this issue, we consider the influence of AOI, AI, and human eyes. How exactly are these pieces of the puzzle changing the role of test and inspection?

Columns

Latest Columns

||| MENU
Saki's AOI Systems are First to be Certified by Panasonic for APC-MFB2 System
January 28, 2019 | Saki Corporation
Estimated reading time: 2 minutes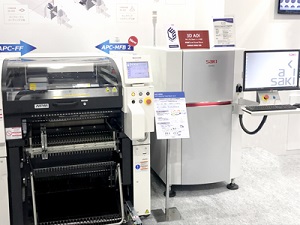 Saki Corporation, an innovator an innovator in the field of automated optical and x-ray inspection and measurement equipment, announces that SAKI's automated optical inspection (AOI) systems are the first AOI systems certified to support Panasonic's latest Advanced Process Control-Mounted Feedback (APC-MFB2 ) system. Field tests conducted using SAKI's 3D AOI systems to provide feedback data to Panasonic's APC-MFB2 system resulted in maximization of overall equipment effectiveness (OEE) through increases in process stability and yield. The entire lineup of SAKI 3D AOI systems, in all available image resolutions, including 7µm, 12µm, and 18µm, were certified.
SAKI's 3D AOI system inspects and measures the printed circuit board during the assembly process and feeds measurement results for the components' actual location to the Panasonic NPM series pick-and-place system to ensure mounting position accuracy. The system uses measurement results from SAKI's 3D AOI to analyze placement offset trends and optimize performance to improve SMT production-line process repeatability, accuracy, and yield. APC-MFB2 is an extension of Panasonic's APC-MFB and handles multiple package types such as small-outline and grid array packages.
"We are honored to enter this successful partnership with Panasonic Smart Factory Solutions," said Yoshihiro Akiyama, CTO for SAKI Corporation. "SAKI has always focused on the quality of the data and the accuracy of the measurements that our equipment communicates to the other systems in the SMT line. Thanks to APC-MFB2, feedback can be independent of general variations often found in the components. The process is constantly monitored by a built-in self-diagnostic functionality in the AOI software, elevating machine accuracy and repeatability to the highest level. This is a very important aspect for yield improvement, not only in the pre-reflow process, but in the entire SMT line for meeting M2M connection requirements."
SAKI will be exhibiting this new breakthrough technology for Smart Factory, along with its 3D AOI, SPI, AXI, 2D bottom-side AOI, and award-winning Saki Self-Programming Software, at IPC APEX Expo, January 29-31, San Diego, California, in booth #1407.
About Saki Corporation
Since its inception in 1994, Saki has led the way in the development of automated recognition through robotic vision technology. Saki's 3D automated solder paste, optical, and x-ray inspection systems (SPI, AOI, AXI) have been recognized to provide the stable platform and advanced data capture mechanisms necessary for true M2M communication, improving production, process efficiency, and product quality. Saki Corporation has headquarters in Tokyo, Japan, with offices, sales, and support centers around the world. 
---
Suggested Items
12/04/2023 | Transition Automation
Transition Automation, Inc. recently received a large order for Advanced Holder and Blade Assemblies compatible with DEK printers from Rotec BV in Belgium.
11/30/2023 | AIM
AIM Solder, a leading global manufacturer of solder assembly materials for the electronics industry, is pleased to announce its new NC259FPA Ultrafine No Clean Solder Paste, which it revealed recently during the Productronica Germany trade show.
11/27/2023 | Real Time with...productronica
Koh Young's Harald Eppinger talks about the company's technology for the semiconductor and advanced packaging market and how they address the challenges introduced by reflective components and micro solder deposits.
11/27/2023 | HyRel
HyRel Technologies, a global provider of quick turn semiconductor modification solutions, announces the achievement of International Traffic in Arms Regulations (ITAR) registration.
11/24/2023 | Mek (Marantz Electronics)
Mek (Marantz Electronics), a leader in Automated Optical Inspection (AOI) solutions, used last weeks' Productronica show in Munich to proudly introduce the SpectorBOX X series, a modular full 3D AOI system for THT solder joints and THT components.