Books

Featured Books

smt007 Magazine

Latest Issues

Current Issue

Economic Headwinds

This issue takes stock of the current economic outlook and how companies are using current conditions to move themselves through technological evolutions, workforce shifts, and financial changes. Even with these headwinds, there's forward progress to be made.

Attracting New Talent

To get different results in staffing, you must change how you define, promote and recruit your job opportunities. How do you become magnetic to high-quality early-career candidates?

Test and Inspection

Test and inspection methods are undergoing rapid change. In this issue, we consider the influence of AOI, AI, and human eyes. How exactly are these pieces of the puzzle changing the role of test and inspection?

Columns

Latest Columns

||| MENU
Award-winning Koh Young Process Optimizer
February 18, 2019 | Dan Beaulieu
Estimated reading time: 12 minutes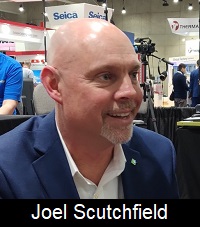 Joel Scutchfield, sales director with Koh Young America, discusses the company's outlook and new product offerings for 2019 including their Koh Young Process Optimizer (KPO), which won an award at IPC APEX EXPO 2019 for the process control software category.
Dan Beaulieu: Joel, can you tell me a bit about your company?
Joel Scutchfield: Koh Young is the market leader in inspection system technology. We manufacture both SPI and AOI systems plus a complete suite of software for smart factory realization. We also provide inspection solutions for specialty applications such as pin and case inspection. From a supplier perspective, we have a remarkably diverse portfolio to help manufacturers. Again, we're leading the way in the Industry 4.0 initiative by applying the 3D information that we've collected and analyzed with our proprietary AI engine. Our plan is to improve our customers' condition from an automation and communication standpoint for our equipment as well as for our partner equipment sets.
Beaulieu: For people who might not be that familiar, can you explain the term "smart factory?"
Scutchfield: Sure. Smart factories are about improving things at the speed of business and using the information and data available to pass from system to system. In our world, it involves utilizing the unique 3D data that we have collected. This information is essential to smart factories. The first thing you must be comfortable with before you can apply data is to ensure it is accurate, meaningful, and repeatable. It must be information that can be used to make a decision—whether by a human or an AI engine.
We quantify it as true 3D, which consists getting the right kind of information, parametric, objective, and data the right way by using the subsystems and algorithms to ensure that it is reliable and something that we have high confidence in. Then, getting the right amount of data is important because big data theory must be statistically relevant. Next, we feed that information into our AI engine to apply the analytics involved in creating tools such as our Koh Young Process Optimizer (KPO), which won at award at IPC APEX EXPO 2019. That tool is designed to elevate the closed-loop control of the print process.
We have been building solder paste inspection systems since 2002. We are the leader in the introduction of the moiré fringes concept for that technology. We have had closed-loop capability with all the usual suspects on the printer side for many years or things like X shift, Y shift, theta, and clean cycle. Now, these tools within KPO involve three elements that provide very specific functionality. The first is our process analyzer PAN. We automatically provide a design of experiments behind the scenes using our AI machine-learning modeling to provide recommendations to the user for speed, pressure, and release in the print process. We can now reduce the DOE time from a manual perspective down to about a two-hour process by collecting 15–17 boards worth of data, which would typically take anywhere from 24–38 hours by an experienced engineer.
The second piece is that in the diagnostic module, once those conditions and settings are applied, it continues to monitor the ongoing process and raises any red flags when anomalies occur far beyond what we would typically track in the past. Then, it gives the operator a warning that something is amiss and recommends what to look at to make that correction. The third piece is something that allows us to completely close with the process so that the data being monitored can be used to adjust the printer for those variables without any operator intervention.
Beaulieu: Is all the data you're collecting for AI used internally your customer, or does it go to a brain database where everybody can access what you've learned about the technology?
Scutchfield: Right now, it's internal to our systems and what we are doing. As we move forward, and through initiatives such as CFX and Hermes at the show, there's certainly an opportunity to share that data as we go forward. I think that's really what the initiative is looking for. Today, we're using it to make systems as efficient as possible to maximize the functionality of SPI, AOI, and mounters by monitoring placement results, and then feeding the data to the mounter for the nozzle, spindle, feeder, and other related issues. The data will be used to ensure efficiency in those same conditions up and down the line.
Beaulieu: So, who do you primarily work with?
Scutchfield: We work with everyone. As the market leader, we have a "who's who" of partners. We have many early adopters on the SPI side that bring us in early to conversations on what's coming next that we need to prepare for with SPI or AOI. We have about 54% of the global SPI market, and roughly a third of the global AOI market. We recently celebrated our 13,000th system installation with a customer base spanning automotive, EMS, medical, military, aerospace, industrial, and other sectors.
Beaulieu: Do you use robotics or line measurements?
Scutchfield: We are using robotics in our technology and our approach with the systems, but that's the extent of it now. In terms of working with robotic systems for load and unload of our systems, definitely. I have some conversations going on right now with a customer that wants to use robotic load and unload in a dual-lane environment.
Beaulieu: I can imagine. I've been to companies like GreenSource Fabrication where the whole thing is automated, so it's going to be your kind of product.
Scutchfield: That's what we're going for—full automation from the board build to the back end of the process.
Beaulieu: With 54% SPI market share, how do you stay on top? Do you have people chasing your heels?
Scutchfield: When one out of every two SPI machines sold in the world belongs to Koh Young, we certainly have people chasing us. When you look around this show, you can see it's a saturated market. I don't know the exact number of AOI companies represented here, but I think somebody said it's over 20 companies. So, we must continue to evolve and make improvements to stay on top. Much of this is driven from the smart factory initiative. The use of our KPO tools that involve linking SPC, real-time, and remote monitoring between the AOI and SPI allows the user to have information readily available at any time. It also gives good direction on production status, and how to quickly apply corrections.
With all the big data that's available—plus the data that we collect—we must be conscious of the amount. We need to boil it down for the user and give them the top-five heavy hitters that would potentially allow them to make immediate, actionable changes. Having a lot of data is great, but being able to manage it is the key, which is what these Koh Young tools are doing.
Page 1 of 2
---
Suggested Items
11/30/2023 | AIM
AIM Solder, a leading global manufacturer of solder assembly materials for the electronics industry, is pleased to announce its new NC259FPA Ultrafine No Clean Solder Paste, which it revealed recently during the Productronica Germany trade show.
11/27/2023 | Real Time with...productronica
Koh Young's Harald Eppinger talks about the company's technology for the semiconductor and advanced packaging market and how they address the challenges introduced by reflective components and micro solder deposits.
11/27/2023 | HyRel
HyRel Technologies, a global provider of quick turn semiconductor modification solutions, announces the achievement of International Traffic in Arms Regulations (ITAR) registration.
11/24/2023 | Mek (Marantz Electronics)
Mek (Marantz Electronics), a leader in Automated Optical Inspection (AOI) solutions, used last weeks' Productronica show in Munich to proudly introduce the SpectorBOX X series, a modular full 3D AOI system for THT solder joints and THT components.
11/21/2023 | Pete Starkey, I-Connect007
Productronica 2023 played host to the IPC World Hand Soldering Competition, bringing talented regional solder champions from all over the globe to compete for the title of World Champion. Each competitor was given sixty minutes to assemble a complex printed circuit board with their performance judged in accordance with IPC-A-610 Class 3 criteria. Each competitor's efforts were rated on the merits of the results achieved, scored on the quality of the assembly process, the electrical functionality of the assembly and the speed at which the assembly was produced.