Books

Featured Books

smt007 Magazine

Latest Issues

Current Issue

Economic Headwinds

This issue takes stock of the current economic outlook and how companies are using current conditions to move themselves through technological evolutions, workforce shifts, and financial changes. Even with these headwinds, there's forward progress to be made.

Attracting New Talent

To get different results in staffing, you must change how you define, promote and recruit your job opportunities. How do you become magnetic to high-quality early-career candidates?

Test and Inspection

Test and inspection methods are undergoing rapid change. In this issue, we consider the influence of AOI, AI, and human eyes. How exactly are these pieces of the puzzle changing the role of test and inspection?

Columns

Latest Columns

||| MENU
Automation and the Smart Factory: Introduction to Industry 4.0
March 20, 2019 | Happy Holden, I-Connect007
Estimated reading time: 4 minutes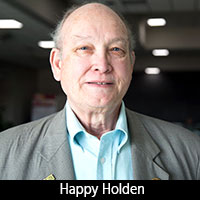 Editor's Note: Parts of this article include excerpts from and expansions of Automation and Advanced Procedures in PCB Fabrication.
There's a lot of talk about automation, but I find that there is very little available on automation planning. This is one of my specialties. I started by studying for an MSEE in control theory, which went well with my bachelor's degree in chemical engineering because I specialized in process control and IC manufacturing.
Before we get started, remember that the benefits will be derived only if certain cardinal principles are observed. This article briefly outlines the background of computer-integrated manufacturing (CIM) and its evolution to Industry 4.0 and smart factories.
The characteristics of successful automation application in manufacturing depend on how well business and technical management understand and promote the strategies, tactics, and philosophies used in modern manufacturing. Successful automation implementation can be enhanced in any company, small or large, by reviewing the philosophies of CIM, automation, management roles, mechanization, SPC, TQC, Lean, MRP, and DFM.
Computer-integrated Manufacturing (CIM)
The strategies outlined here are considered CIM, but the current vocabulary now is "Industry 4.0" or "smart factories." Products include various software, computer, networking, interface, and measurement systems. At that time, HP had been in the automation business longer than any other company. It all started with requests from the government and others for automated test and measurement systems. Because of the need to automate various measurement instruments and systems, HP created the first machine-to-machine, plug-and-play protocol called HP Interface Bus (HP-IB). This was later formalized into the IEEE-488 communication standard.
CIM architecture was defined as early as 1980 when the CASA/SME published a presentation of computer-integrated manufacturing to provide a common set of terms for its members. The ring surrounding the wheel represents various influencing factors for the development of CIM such as expertise as a human factor, productivity as an economic factor, and computer technology as a technological factor.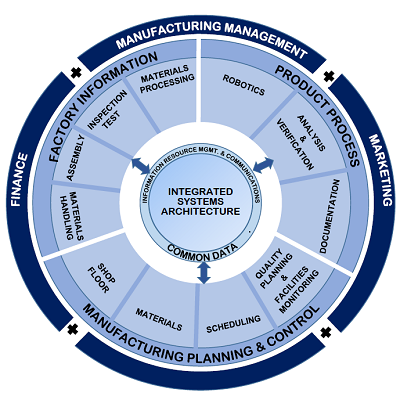 The wheel itself contains four functions, including engineering design, manufacturing planning, production control, and factory automation (Figure 1). If the individual functions are connected to each other and operate with a common database, an integrated system architecture is created and represented by the hub of the wheel. This development has resulted in the realization that CIM, apart from factory automation and functions, is indirectly related to the operational performance, such as design (product/process), and production planning and control.
Additionally, CIM is linked to common business administrative tasks such as manufacturing management, strategic planning, finance, marketing, and human resource management. A further innovation was the addition of information resource management and communications between the different functions. Therefore, a common database alone is insufficient for achieving integration. The all-embracing nature of the CIM wheel reflects the idea promoted by CASA/SME that CIM must be viewed as a concept embracing the company as a whole.
The Outer Ring
The common business administrative tasks related to CIM are located on the outer ring of the wheel. They primarily form the company's connection to the outside world. Data processing applications can be found in the most diverse areas. Most software systems applied in these areas were originally self-styled developments, which are increasingly being replaced with standard commercial software packages. Currently, this software is installed primarily on mainframes. Overlaps of its functionality exist mainly with the software of the production planning and control.
The Inner Ring
Functions related to the operational performance of the company are located on the inner ring of the wheel. Data processing applications for the development and design area are CAD simulations; analysis programs, such as the finite element method (FEM); and drawing storage and management, such as group technology (GT).
The types of data found in this area are diverse, including drawings, technical specifications, and bills of materials (BOMs). Moreover, data in manufacturing companies is often disorderly. There may be several types of part numbers and BOMs, or more than one GT or CAD system, each with its own computer internal representation of geometric data. The applied software rarely runs on the same hardware, resulting in many different hardware systems.
The second group of applications on the inner ring of the wheel is attributed to process planning, production planning, and control. It comprises tasks—such as routing generation, resource planning, material requirements planning, capacity planning, order distribution, supervision—and planning of quality assurance—such as quality process and resource planning. In the United States, software in the production planning and control area mostly runs on large clients or servers, although the software itself is more frequently supplied by several software houses and not by the computer vendor.
As in the common business administrative area, the software packages, which are integrated within themselves, have a modular structure and their single components can also be bought and applied. Therefore, a company rarely purchases and installs all modules of such a package. This results in functional overlaps and data redundancy. One example of this would be material requirements, and planning and purchasing systems.
The third group on the inner ring includes the automation of manufacturing installations. Examples include robots, numerically controlled machines, flexible manufacturing systems, and computer-aided measuring and testing methods. This area is characterized by the extreme heterogeneity of the systems involved, the diversity of which being much more pronounced than in the previously mentioned groups of functions.
To read the full article, which appeared in the March 2019 issue of SMT007 Magazine, click here.
---
Suggested Items
12/01/2023 | Silicon Mountain
Silicon Mountain, a leading electronic manufacturing company, is pleased to announce its participation in the 3rd Annual Idaho Manufacturing Industry Trade Show & Conference, hosted by the Idaho Manufacturing Alliance.
11/30/2023 | BUSINESS WIRE
Ciena, a U.S.-based networking systems, services and software company, is adding domestic manufacturing through an expanded agreement with global diversified manufacturer Flex.
11/30/2023 | Keysight Technologies, Inc.
Keysight Technologies, Inc. announces that Arbe has selected the E8719A Radar Target Solution (RTS) to test the Arbe 4D imaging radar chipset for automotive applications.
11/29/2023 | TT Electronics
TT Electronics, a global provider of custom power solutions and engineered technologies, has announced that its Power and Control business has officially opened its new state-of-the-art research, development and manufacturing facility.
11/29/2023 | Dana Korf -- Column: Dana on Data
November's issue of Design007 Magazine had an excellent theme that evolved around design simplification. There were exceptionally good articles about how to reduce over-constrained or needlessly complex designs. One significant time-consuming category is the creation of many design files and drawings which lead to lengthy creation and interpretation time along with the considerable time to resolve conflicting or erroneous information.