Books

Featured Books

smt007 Magazine

Latest Issues

Current Issue

Chips Don't Float

In Europe and the U.S., legislation is under way to revitalize PCB fabrication and packaging. What is the status of this work, and how specifically does this change the industry landscape for EMS companies? What will help keep us afloat?

Flying High With Digital Twin

The opportunity to use manufacturing simulation as a test bed for job planning and process optimization brings continuous improvement into the modern age. This may be an all-or-nothing type of project, but it's worth the investment.

Artificial Intelligence

In this issue, we (and AI) explored how and when artificial intelligence plays a role in manufacturing today. Whether on the factory floor, or in the front office, AI applications are emerging and changing how we approach planning, processes and problem solving.

Columns

Latest Columns

||| MENU
Top 10 Most-Read SMT007 Articles for March
April 1, 2019 | I-Connect007
Estimated reading time: 2 minutes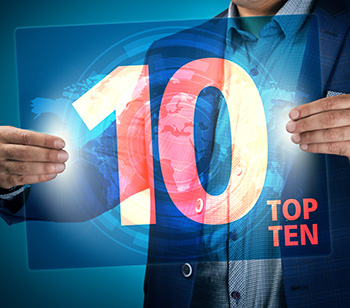 Starting today, we will take a look back at the most popular SMT007 news, articles, interviews, and columns. These are the top 10 most-read SMT007 articles for the month of March. Check them out.
1. RTW IPC APEX EXPO 2019: Aculon on Technology Developments and Partnership with Henkel
Aculon CEO Edward Hughes and Editor Pete Starkey discuss surface modification technologies based on nanochemistry. Of particular interest to electronics technologists are recent developments in waterproofing treatments for assemblies, and how Aculon's strategic partnership with Henkel opens up new opportunities.
2. Accelerating and Disrupting Innovation: The Tesla Story
The time was right for Tesla to bring new thinking into the concept of electric transportation when the company observed the quantum shift in battery technology from lead-acid to lithium-ion that had been driven by developments in portable consumer electronics.
3. Automation and the Smart Factory: Introduction to Industry 4.0
The characteristics of successful automation application in manufacturing depend on how well business and technical management understand and promote the strategies, tactics, and philosophies used in modern manufacturing. This article briefly outlines the background of computer-integrated manufacturing (CIM) and its evolution to Industry 4.0 and smart factories.
4. Two Full CFX Demo Lines at IPC APEX EXPO 2019
During IPC APEX EXPO, Editor Dan Feinberg spoke with David Bergman, IPC VP of standards and technology, about CFX, IPC's Connected Factory Exchange software for machine-to-machine communication. With more than companies now supporting CFX, IPC set up two full lines for demonstration at the show.
5. Digi-Key's Dave Doherty: Tweaking the Supply Chain
In an interview with I-Connect007, Digi-Key COO Dave Doherty discusses supply chain disruptions and shortages and shares a number of ways in which Digi-Key is helping to smooth out the delivery of components even with the current turmoil.
6. RTW IPC APEX EXPO 2019: Five-year Standard Committee Collaboration on JS-001
David Hillman from Collins Aerospace and IPC's Teresa Rowe speak with Editor Dan Feinberg about how a seemingly simple question resulted in years of committee work to develop the JS-001 standard on the use of conformal coatings and avoiding tin whiskers.
7. Stephanie Martin: Component Supply Challenges from the Catbird Seat
Vexos Senior Vice President for Global Supply Stephanie Martin gives the I-Connect007 editorial team a wide-ranging and insightful overview of the current parts supply situation from the perspective of procurement at a contract manufacturer.
8. Jennie Hwang: Get Ready for Disruptive Technologies
At IPC APEX EXPO 2019, Dr. Jennie S. Hwang, a columnist, author, and all-around an expert in PCB assembly, discusses some of the changes she has seen since joining the industry, and disruptive technologies that technologists we are going to have to face in the near future. Are you ready for the future?
9. RTW IPC APEX EXPO 2019: Reducing Voiding in Reflow Soldering
Chris Nash, product manager for PCB assembly solder paste at Indium Corporation, speaks with Kelly Dack and highlights Indium's take on three important aspects of reliability: thermal, mechanical, and electrical. He talks about challenges of all three aspects, which include solder voiding, and how Indium helps the industry address these issues through its solder paste formulations.
10. Industry Outlook from IPC's Sharon Starr
Sharon Starr, IPC's director of market research, provides updates on the EMS and PCB industry outlook, benefits of IPC membership and participation, plans to expand the EMS statistical program, and new studies being published.
---
Suggested Items
09/21/2023 | Thermaltronics USA, Inc.
Thermaltronics USA, Inc., a globally acclaimed manufacturer of Precision Soldering Robots and innovative Curie point soldering systems, is excited to announce its participation in the highly anticipated SMTA Guadalajara Expo & Tech Forum, scheduled to take place from October 25-26, 2023.
09/20/2023 | ULT AG
At this year's productronica, the world's leading trade show for electronics manufacturing, ULT will present a brand new extraction solution for solder fumes and vapor.
09/20/2023 | Hentec Industries/RPS Automation
Hentec Industries/RPS Automation, a leading manufacturer of selective soldering, component lead tinning and solderability test equipment, announces that it has added assembly and production staff members to its team to accommodate its recent increase in sales and order demand.
09/19/2023 | SMTA
SMTA is honored to announce Qais Qasaimeh, a graduate student at Auburn University, has been selected as the winner of the 2023 Charles Hutchins Educational Grant.
09/14/2023 | SHENMAO
SHENMAO America, Inc. is proud to introduce its latest innovation in response to the growing demand for ultra-thin packages in the electronics industry.