Books

Featured Books

pcb007 Magazine

Latest Issues

Current Issue

Finding Ultra

New demands on PCB fabrication, namely advanced packaging, ultra high density interconnect (UHDI), and new specialty materials, are converging, changing the landscape of our business. Is it time to start paying close attention to this convergence?

Developing a Strategy

A solid strategy is a critical part of success. This month, we asked some of the top industry leaders and business strategy "gurus" to share their thoughts on developing strategies.

Winning With TQM

In this issue, we explore how TQM has entered the DNA of continuous improvement disciplines, and the role leadership transformation plays in this. If you've ever competed against a TQM company, you understand their winning advantage.

Columns

Latest Columns

||| MENU
SEMI's Cristina Sandoval on Mentoring and Retaining Young Talent
April 16, 2019 | Nolan Johnson, I-Connect007
Estimated reading time: 4 minutes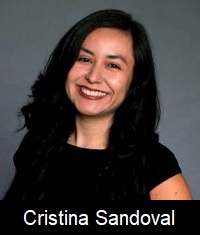 Cristina Sandoval, manager of workforce development and university initiatives for the SEMI Foundation, discusses how two new programs, as well as a long-running high school STEM outreach program, are aiming to address the skills gap within the industry. Sandoval also explains SEMI's efforts to prepare students to enter the workforce and continuing to develop talent as young professionals join the industry.
Nolan Johnson: Can you tell me what you do at SEMI and what your program is about?
Cristina Sandoval: I manage two new key workforce development programs—the SEMI Mentoring Program and the University Connections Program. I also support our diversity and inclusion initiatives with Leslie Tugman, our VP of global workforce development and diversity.
We created these new programs based on SEMI member feedback from an industry survey driven by SEMI president and CEO Ajit Manocha. Our Workforce Development and Diversity Inclusion Councils, consisting of SEMI member companies, helped create the vision and direction for these programs.
Johnson: So, this started with some survey information from members. What did you find out, and what are you trying to achieve strategically with these programs?
Sandoval: Our overarching goal is to address the talent shortage in the industry, and there are two main components to our strategy. First, SEMI is working to change student perceptions about our industry and generate more excitement about career opportunities. Our industry is competing for talent against recognized consumer-facing companies with much higher recognition. Meanwhile, our member companies struggle with a lack of awareness among students about the significant contributions our industry makes to technology and innovation.
The second component is to reach talent that the industry hasn't tapped yet. We're reaching out to groups of students who may have no or little awareness of our programs or industry so that they can see the many opportunities available to them.
Johnson: That seems to be a very common theme in the industry right now. Some other sectors of the marketplace are facing a quiet crisis because most of their workforce is 55 and above and/or ready to retire. Then, the demographic drops all the way down to 30 and below. Many companies are facing a skills and staffing gap, which could be a threat to their survival. You're seeing the same issues within the SEMI membership as well?
Sandoval: Yes, companies want us to not only help diversify their talent pipeline but also increase it because they are facing a shortage of incoming workers too.
Johnson: Young people today may be receiving perspective from their teachers, parents, and so forth based on experiences back in the '90s, for example. Our industry doesn't operate like that today, and we need different skills. What are some of the changes in the workforce skill set that you're looking for?
Sandoval: SEMI is addressing the skills gap in the workforce via our new SEMI Works Program. Part of this initiative focuses on training and certifications to help provide the right skill sets to incoming and returning workers in our industry.
The SEMI University and Mentoring programs put more emphasis on a less acknowledged but vital skill set commonly lacking among students—the soft skills gap. Many students aren't confident in key skills, such as networking, self-presentation, interviewing, and resume building. When you combine a lack of interview skills and industry awareness with an inability to network, the result is a pool of students unsure about how to engage our industry or seek out lesser-known opportunities.
SEMI's university program hosts professional development sessions on campus to help students with those soft skills, and SEMI's mentoring program connects students to people who are senior within the industry who can help fortify those skills and connect them internally to their organizations.
Johnson: I didn't expect that. A lot of traditional thinking is that to prepare students for this industry, you load them up with STEM, but you're not doing that.
Sandoval: SEMI does have programs that focus on exposing students to STEM, but many of our programs do both. For example, SEMI's High Tech U (HTU) three-day STEM immersion high school gives students a view into a "day in the life" through hands-on interactive modules that also includes a soft skills component. This unique combination of STEM plus soft skills helps our programs stand strong. In fact, SEMI HTU is the longest running STEM immersion program in the country, going on 18 years.
Our mentoring and university programs target the existing technical talent pool of electrical, mechanical, and chemical engineers and bridge the gap to get them to come into the industry.
And I have seen the impact of the mentoring program personally. My brother recently graduated with a chemical engineering degree, but he wasn't aware of all the different career opportunities that he could pursue within the industry.
SEMI connected him to an industry mentor who helped him figure different career paths, but more importantly, helped him overcome his greatest challenge—interviewing. His mentor completely changed his perception of our industry and his career options. While my brother ultimately did not end up at a SEMI member company at this time, he has identified several companies within the industry that he will keep on his radar when he decides to look for his next opportunity.
To read the full article, which appeared in the April 2019 issue of PCB007 Magazine, click here.
---
Suggested Items
09/25/2023 | HyRel
HyRel Technologies, a global provider of quick turn semiconductor modification solutions, proudly announces that it earned the prestigious AS9100 certification.
09/25/2023 | StenTech
StenTech Inc., the leading multinational SMT Printing Solutions company, is pleased to announce plans to exhibit at the SMTA Guadalajara Expo, scheduled to take place Oct. 25-26, 2023 at the Expo Guadalajara in Guadalajara, Jalisco, Mexico.
09/25/2023 | Camtek
Camtek Ltd., together with FormFactor, Inc., are pleased to announce that they have entered into an agreement for the acquisition by Camtek of FormFactor, Inc.'s FRT Metrology business for $100 million in cash, subject to customary purchase price adjustments.
09/22/2023 | IPC
Join fellow EMS leaders in the region on Oct 5, 2023, 4:30 - 8:00pm EDT, to share industry pain points and solutions. Our focus for this meeting is how companies profitably reach the next level of revenue. Following a presentation on the current EMS market and revenue tiers in the industry, participants will discuss how to reach the next level and grow their business. Discussion will pull from direct experience, questions, and ideas. From there, the conversation goes where you, the leaders, take it. Every roundtable ends in unique takeaways.  
09/21/2023 | Intraratio
Intraratio, a provider of enterprise software solutions, is pleased to announce its participation in the SMTA Guadalajara Expo and Tech Forum 2023.