BAE Systems' Joint Strike Fighter Underpins Advanced Manufacturing Growth in South Australia
May 21, 2019 | BAE Systems
Estimated reading time: 1 minute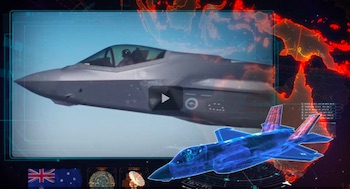 BAE Systems Australia has celebrated the production of the 15,000th titanium part produced at Edinburgh Parks in South Australia for the world's largest defence program, the F-35 Joint Strike Fighter.
The range of parts produced in Australia have delivered 500 tail sets which, together with the aft fuselage and horizontal tail sets, make up the rear section of each jet which BAE Systems produces across its global enterprise.
BAE Systems Australia supplies F-35 components to both its UK business and to Victorian manufacturer Marand.
Production of vertical tail parts at Edinburgh Parks will continue for another two decades, possibly further depending on global sales of the Joint Strike Fighter aircraft.
Securing decades of work on the global F-35 program has underpinned the company's investment in bespoke titanium machining facilities at Edinburgh Parks, which was also supported by the South Australian Government.
As well as manufacturing a range of products for the F-35 Joint Strike Fighter, the company also produces bespoke components for other critically important Defence programs including the Nulka decoy and the Evolved Sea Sparrow Missile.
BAE Systems Australia Managing Director Defence Delivery, Andrew Gresham said:
"Australia's strength is in the ability of manufacturers to excel in the production of highly specialised products.
"We are undertaking very complex and advanced manufacturing in a way that is cost effective and globally competitive.
"Digitisation will be the next big step change to further improve our competitiveness by allowing us to collaborate seamlessly with our suppliers and partners in real time.
"This will mean that we can identify and resolve issues faster, improve risk management and optimise production."
---
Suggested Items
11/30/2023 | PRNewswire
Hi Sharp, a leading maker of video surveillance systems, is globally announcing its expansion into AI and cloud-based technologies for video capture.
11/29/2023 | Airbus
Airbus has signed a contract with the Spanish Ministry of Defence for the development and acquisition of SIRTAP, a High Performance Tactical UAS that will reinforce the tactical capabilities of the Spanish Army and the Air and Space Force.
11/28/2023 | Real Time with...productronica
Marc Aicheler and Pete Starkey discuss TSK's horizontal vacuum systems, including vacuum etching process equipment. Aicheler details the benefits of a vacuum etch in managing challenges such as etchant puddling, etc. Aicheler also teases at a vacuum alkaline etchant systems as well.
11/27/2023 | Andrew Kelley, XACTPCB LTD
While previous industrial revolutions have introduced factories, mass production, and computer-controlled systems, the advent of Industry 4.0 and the concept of the Smart factory have ushered in a new era in PCB manufacturing. For the PCB industry it is a very ambitious and aspirational objective to evolve from disconnected processes to an integrated system with automated data capture, real-time data analysis, process visualization, autonomous control, and self-correcting processes. 
11/20/2023 | BUSINESS WIRE
OSI Systems, Inc. announced that its Optoelectronics and Manufacturing division has received orders totaling approximately $5 million to provide electronic assemblies to a leading motion control and fluid technology OEM.