NASA Awards Artemis Contract for Lunar Gateway Power, Propulsion
May 27, 2019 | NASA
Estimated reading time: 2 minutes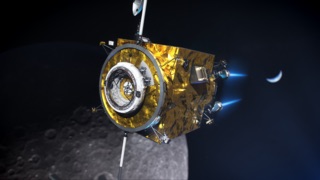 In one of the first steps of the agency's Artemis lunar exploration plans, NASA announced the selection of Maxar Technologies, formerly SSL, in Westminster, Colorado, to develop and demonstrate power, propulsion and communications capabilities for NASA's lunar Gateway.
Image Caption: The power and propulsion element of NASA's Gateway is a high-power, 50-kilowatt solar electric propulsion spacecraft – three times more powerful than current capabilities.
"The power and propulsion element is the foundation of Gateway and a fine example of how partnerships with U.S. companies can help expedite NASA's return to the Moon with the first woman and next man by 2024," said NASA Administrator Jim Bridenstine. "It will be the key component upon which we will build our lunar Gateway outpost, the cornerstone of NASA's sustainable and reusable Artemis exploration architecture on and around the Moon."
The power and propulsion element is a high-power, 50-kilowatt solar electric propulsion spacecraft – three times more powerful than current capabilities. As a mobile command and service module, the Gateway provides a communications relay for human and robotic expeditions to the lunar surface, starting at the Moon's South Pole.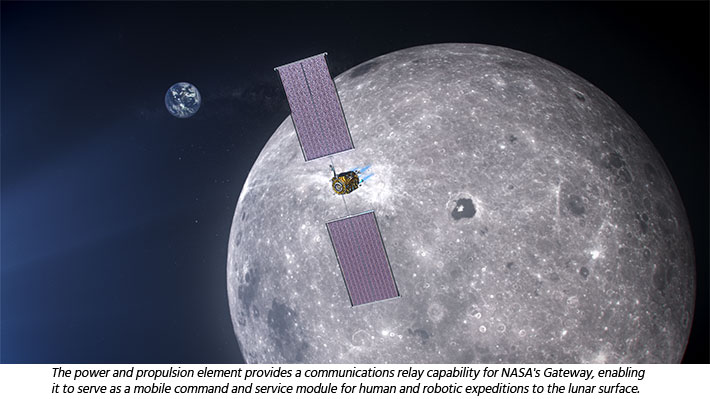 This firm-fixed price award includes an indefinite-delivery/indefinite-quantity portion and carries a maximum total value of $375 million. The contract begins with a 12-month base period of performance and is followed by a 26-month option, a 14-month option and two 12-month options.
Spacecraft design will be completed during the base period, after which the exercise of options will provide for the development, launch, and in-space flight demonstration. The flight demonstration will last as long as one year, during which the spacecraft will be fully owned and operated by Maxar. Following a successful demonstration, NASA will have the option to acquire the spacecraft for use as the first element of the Gateway. NASA is targeting launch of the power and propulsion element on a commercial rocket in late 2022. 
"We're excited to demonstrate our newest technology on the power and propulsion element. Solar electric propulsion is extremely efficient, making it perfect for the Gateway," said Mike Barrett, power and propulsion element project manager at NASA's Glenn Research Center in Cleveland. "This system requires much less propellant than traditional chemical systems, which will allow the Gateway to move more mass around the Moon, like a human landing system and large modules for living and working in orbit."  
Charged with returning to the Moon within five years, NASA's lunar exploration plans are based on a two-phase approach: the first is focused on speed – landing on the Moon by 2024 – while the second will establish a sustained human presence on and around the Moon by 2028. We then will use what we learn on the Moon to prepare to send astronauts to Mars.
NASA announces the first partnership of its kind with MAXAR Technologies to power the future lunar orbiting station.
---
Suggested Items
09/21/2023 | Matt Stevenson -- Column: Connect the Dots
PCB prototyping is a critical juncture during an electronic device's journey from concept to reality. Regardless of a project's complexity, the process of transforming a design into a working board is often enlightening in terms of how a design can be improved before a PCB is ready for full production.
09/20/2023 | I-Connect007 Editorial Team
Panasonic's Darren Hitchcock spoke with the I-Connect007 Editorial Team on the complexities of moving toward ultra HDI manufacturing. As we learn in this conversation, the number of shifting constraints relative to traditional PCB fabrication is quite large and can sometimes conflict with each other.
09/19/2023 | IDC
Asia/Pacific spending on Artificial Intelligence (AI) ), including software, services, and hardware for AI-centric systems will grow to $78.4 billion in 2027, according to International Data Corporation's latest Worldwide Artificial Intelligence Spending Guide.
09/13/2023 | Intel
Intel Corporation announced that it has agreed to sell an approximately 10% stake in the IMS Nanofabrication business to TSMC. TSMC's investment values IMS at approximately $4.3 billion, consistent with the valuation of the recent stake sale to Bain Capital Special Situations.
09/13/2023 | BAE Systems
The UK Ministry of Defence (MOD) has awarded BAE Systems a contract to develop its Striker II Helmet Mounted Display (HMD) for the Royal Air Force (RAF) Typhoon fleet. The contract, valued at £40m, will create and sustain more than 200 highly-skilled jobs at BAE Systems' sites in Kent and Lancashire working directly on the Striker II programme. In total, the Typhoon programme sustains more than 20,800 jobs across the UK.