Books

Featured Books

smt007 Magazine

Latest Issues

Current Issue

Economic Headwinds

This issue takes stock of the current economic outlook and how companies are using current conditions to move themselves through technological evolutions, workforce shifts, and financial changes. Even with these headwinds, there's forward progress to be made.

Attracting New Talent

To get different results in staffing, you must change how you define, promote and recruit your job opportunities. How do you become magnetic to high-quality early-career candidates?

Test and Inspection

Test and inspection methods are undergoing rapid change. In this issue, we consider the influence of AOI, AI, and human eyes. How exactly are these pieces of the puzzle changing the role of test and inspection?

Columns

Latest Columns

||| MENU
Smart Factory Transitions Are Attainable—With a Plan
June 4, 2019 | Nolan Johnson, I-Connect007
Estimated reading time: 3 minutes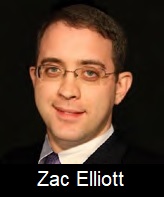 In his white paper A Generalized Approach Can Help All Manufacturers Move to Smart Factories, Zac Elliott, technical marketing engineer at Mentor, a Siemens company, outlines a structured organization for smart factory implementation. While there can be one set of challenges to overcome when building a smart factory on a greenfield site, firms restricted to pre-existing facilities face a different set of hurdles.
I-Connect007 Managing Editor Nolan Johnson caught up with Elliott to get his thoughts on how things have proceeded since the paper was published, and to talk strategies for smaller firms and brownfield companies.
Nolan Johnson: Zac, there are a lot of shops still using mostly manual processes, and facing a potential transition to becoming an Industry 4.0 facility? The first question is: are they too late to even participate?
Zac Elliott: It is not too late to participate in the smart factory transformation, but it is due time to start developing a strategy for your business. As discussed in the white paper, trends in the electronics industry are accelerating the pace of change for manufacturers. As businesses are pushed to evolve, there are many opportunities to implement smart factory operational improvements. Having a sound strategy means embracing the change and moving the business further, faster.
Johnson: That's good news for our colleagues, I'm sure. How do they get started on such a process? If a company has to wait until they've changed everything to get the pieces to provide a return, that's a daunting prospect. What's the best strategy? What do they do first? Do they concentrate on the equipment on the floor? The ERP? Something else?
Elliott: The best strategy will go after quick wins in order to gain traction and realized returns early in the overall smart factory evolution. While most businesses in the industry have similar challenges, every factory is unique in terms of expertise, equipment, existing capabilities, and so on. A proven methodology is to use lean manufacturing tools like value steam mapping to identify waste in business and manufacturing processes and then to define the improved future state.
Once the future state is identified, a plan should be developed which prioritizes implementation phases based on the ROI of the various improvements. In the beginning, look at one-, three-, and five-year windows and focus on building a foundation which will consistently show a return along the way. Finally, adapt the plan over time as progress is made, technology improves, and challenges change.
As an example, consider the implementation of a manufacturing execution system on the shop floor. A phased approach could first address electronic work instructions as step towards a paperless factory. In this initial phase, some initial investment will be made in engineering effort, computer hardware, and implementation, but there is an immediate return realized by removing wasteful paper documentation. A next phase could be electronic data collection. Now, this added functionality is only an incremental improvement and investment that builds on what was implemented in the initial phase. Finally, machine data collection and process control may be implemented to complete the MES implementation. With this approach, each phase builds upon the previous with additional value and return.
Johnson: You wrote this white paper in 2018. A year or so on, how do you see the smaller shops plugging into your three-tiered factory infrastructure? For example, if I'm a single-facility shop, do I need enterprise-level apps? And how does that look different than a multilocation company?
Elliott: Do not get hung up on the top tier being "enterprise only." The top tier is simply where high-level business requirements are managed. Without the corporate overhead, smaller shops are actually enabled to adapt and change more quickly than their enterprise counterparts. Although technology budgets may not be as large, smaller companies can eschew costly enterprise-grade solutions, which are usually more generalized, in lieu of purpose-built solutions streamlined for the electronics industry.
Specialized solutions can offer SMB manufacturers a streamlined implementation, focus on their industry, and ultimately more return sooner. Best in breed solutions available today offer a mix both of flexibility for good coverage of business processes and specialization to simplify implementation.
To read the full article, which appears in the June 2019 issue of SMT007 Magazine, click here.
---
Suggested Items
12/01/2023 | Silicon Mountain
Silicon Mountain, a leading electronic manufacturing company, is pleased to announce its participation in the 3rd Annual Idaho Manufacturing Industry Trade Show & Conference, hosted by the Idaho Manufacturing Alliance.
12/01/2023 | IPC
The Wiring Harness Manufacturer's Association (WHMA) is accepting nominations for three recognition awards — Hall of Builders, Hall of Fame and Volunteer Excellence.
12/01/2023 | SEMI
Aiming to reduce global semiconductor ecosystem carbon emissions, SEMI and the Semiconductor Climate Consortium (SCC) have created the Energy Collaborative (EC) to understand and clear roadblocks to the installation of low-carbon energy sources in the Asia-Pacific region.
12/01/2023 | Mycronic AB
Mycronic AB has received an order for an SLX mask writer from an existing customer in Asia. The order value is in the range of USD 5-7 million. Delivery of the system is planned for the second quarter of 2024.
11/29/2023 | HyRel
HyRel Technologies, a global provider of quick turn semiconductor modification solutions, is pleased to announce a strategic partnership with EQC Southeast as its manufacturers' representative.