AI, Robots, Data Software Helping Create New Approach for Planning Cities of the Future
June 20, 2019 | Purdue University
Estimated reading time: 2 minutes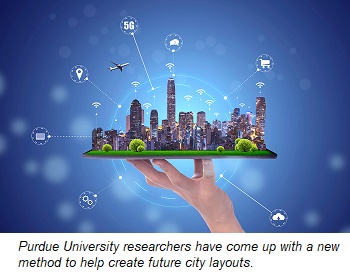 Artificial intelligence and robots are playing significant roles as planners develop the cities of the future. The architecture, engineering and construction (AEC) industry is facing a major shift in balancing the massive amounts of data available through advanced technologies.
The system they use, called building information modeling (BIM), takes all the data points and information to develop plans at all stages of construction—from planning to maintenance to demolition. Purdue University researchers have come up with a novel way to approach the data, simplify the BIM software and help in creating future city layouts.
The Purdue team created a new method for better understanding and using industry foundation classes (IFC), which is the term given to the data used to create the BIM software.
"It normally requires a large amount of effort when manually interpreting IFC data due to its large number of entities and the complex connections between one entity and another," said Jiansong Zhang, an assistant professor in Purdue's Polytechnic Institute, who leads the research team. "Our technology helps BIM software developers create IFC-based solutions for any task in the life cycle of an AEC project."
Zhang said the new technology allows for full software development based on IFC data. "We created a visualization algorithm and implemented it based on the new method we developed," said Zhang, who also leads Purdue's Automation and Intelligent Construction Lab​. "The new method can help eliminate missing or inconsistent information during software development."
The data covers all sectors, functions and life cycle phases of software development for construction projects.
Zhang and his team are working with the Purdue Research Foundation Office of Technology Commercialization on patenting and licensing the technology. They are looking for partners interested in licensing it.
The work aligns with Purdue's Giant Leaps celebration of the university's global advancements made in artificial intelligence as part of Purdue's 150th anniversary. It is one of the four themes of the yearlong celebration's Ideas Festival, designed to showcase Purdue as an intellectual center solving real-world issues.
About Purdue Research Foundation Office of Technology Commercialization           
The Purdue Research Foundation Office of Technology Commercialization operates one of the most comprehensive technology transfer programs among leading research universities in the U.S. Services provided by this office support the economic development initiatives of Purdue University and benefit the university's academic activities through commercializing, licensing and protecting Purdue intellectual property. The office is managed by the Purdue Research Foundation, which received the 2016 Innovation and Economic Prosperity Universities Award for Innovation from the Association of Public and Land-grant Universities. For more information on licensing a Purdue innovation, contact the Office of Technology Commercialization at otcip@prf.org. For more information about funding and investment opportunities in startups based on a Purdue innovation, contact the Purdue Foundry at foundry@prf.org.The Purdue Research Foundation is a private, nonprofit foundation created to advance the mission of Purdue University.  
---
Suggested Items
09/26/2023 | Kirk Thompson, Isola Group
Despite being a leader in R&D investment in semiconductors and packaging with greater than $50 billion per year, the U.S. has seen its market share decrease to less than 3% in areas like advanced packaging and advanced substrates. The cause for this market share erosion was a laser focus in Asian countries to attract semiconductors and advanced packaging investment through ecosystem development and incentives. If the U.S. is serious about changing the momentum to onshore advanced packaging and advanced substrates, an ecosystem approach to innovation and manufacturing incentives must be employed. It is not enough to have the most innovative technology if the supply chain and manufacturing economics do not deliver competitive commercial opportunities.
09/25/2023 | StenTech
StenTech Inc., the leading multinational SMT Printing Solutions company, is pleased to announce plans to exhibit at the SMTA Guadalajara Expo, scheduled to take place Oct. 25-26, 2023 at the Expo Guadalajara in Guadalajara, Jalisco, Mexico.
09/22/2023 | ACN Newswire
Nanofiber Quantum Technologies Inc. raised $8.5m from leading venture capital investors. Phoenix Venture Partners (PvP) in the US, and Japan's JAFCO Group Co Ltd, SPARX Group Co Ltd, Keio Innovation Initiative, Inc. (KII), and Waseda University Ventures (WUV) financed the round through convertible notes.
09/26/2023 | Joe Fjelstad -- Column: Flexible Thinking
Despite what some seem to believe, rigid-flex circuits are not a new technology. In fact, they are more than a half-century old. At the time of the invention, my friend Thomas Sterns was working at Sanders Associates, the pioneering flex circuit manufacturer. Like many products in the first decades of printed circuit technology, they were working on a military application. The objective was to provide a reliable method for reducing the size, bulk, weight, and questionable reliability of wire harness assemblies while simultaneously reducing cost and assuring that human error might be minimized. These were all vitally important concerns for military and aerospace products.
09/21/2023 | ViTrox
ViTrox, which aims to be the world's most trusted technology company, is pleased to announce the addition of Hayden Dalton to our team as a Field Support Engineer who based in Milwaukee, WI, effective August 21, 2023.