Books

Featured Books

smt007 Magazine

Latest Issues

Current Issue

Economic Headwinds

This issue takes stock of the current economic outlook and how companies are using current conditions to move themselves through technological evolutions, workforce shifts, and financial changes. Even with these headwinds, there's forward progress to be made.

Attracting New Talent

To get different results in staffing, you must change how you define, promote and recruit your job opportunities. How do you become magnetic to high-quality early-career candidates?

Test and Inspection

Test and inspection methods are undergoing rapid change. In this issue, we consider the influence of AOI, AI, and human eyes. How exactly are these pieces of the puzzle changing the role of test and inspection?

Columns

Latest Columns

||| MENU
Comparing Soldering Results of ENIG and EPIG Post-steam Exposure
September 11, 2019 | Jon Bengston and Richard DePoto, Uyemura International USA
Estimated reading time: 2 minutes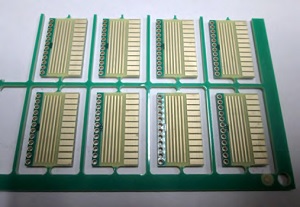 Abstract
Electroless nickel immersion gold (ENIG) is now a well-regarded finish used to enhance and preserve the solderability of copper circuits. Electroless palladium immersion gold (EPIG) is a new surface finish also for enhancing and preserving solderability but with the advantage of eliminating electroless nickel from the deposit layer. This feature has become increasingly important with the increasing use of high-frequency PCB designs whereby nickel's magnetic properties are detrimental. We examine these two finishes and their respective soldering characteristics as plated and after steam aging and offer an explanation for the performance deviation.
Comparing the results of steam-age test data shows a clear benefit of EPIG over ENIG. After even a short duration exposure to steam, ENIG finishes failed to solder. Much longer steam exposures produced little to no effect on EPIG plated samples. Rapid oxidation of the electroless nickel phosphorous layer when stressed with heat and moisture explains the superior EPIG result.
The ability to demonstrate excellent solderability following steam exposure represents increased fabrication reliability under nonideal storage conditions.
Introduction
Assessing the solderability of a given final finish can range from a simple solder dip as coated or plated to quite complicated procedures involving the final finish type, solder alloy, flux characteristics, test preconditioning, soldering apparatus (wetting balance), and part geometries. Focusing on two types of solderable finishes and one preconditioning procedure allows the clear reporting of results and expectations that those finishes afford.
Morris, Lukaszewski, and Genthe describe a need for verification methods for accelerated testing of electronics. Specific to soldering operations, steam aging of PCBs before solder wick testing is seen as not only quick and inexpensive but also a reliable shelf-life predictor. Eight hours of steam aging is reported to be equivalent to 12 months of shelf-life exposure for tin-lead (60/40) systems only.
There are many solderable surface finishes used on copper printed circuit boards that range from thin organic coatings to heavy metal plates, such as 1–3 microns of gold plate. Plated tin-lead or molten tin-lead coatings (HASL) are early predecessors of the diversified finishes that are available today. These leaded alloys consistently show high resistance to steam aging and solder quality retention. Most other PCB coatings do not fare well after steam exposure. Currently, all other final surface finishes for PCBs fail to maintain acceptable solderability performance after one-hour steam exposure.
Of the many solderable finishes available, two are tested here. One—ENIG—has been available for over 20 years. It has a track record of robust soldering performance and is generally ascribed a 12-month shelf life before its soldering performance begins to degrade. EPIG, on the other hand, is a new finish with EPIG test results showing very good solder wetting and force values. The overall shelf life has yet to be determined. However, test results in this article comparing ENIG performance to EPIG performance under steam exposure stress will shed light on this question.
Steam exposure is not the only approach to determine how well a finish will hold up to environmental conditions. Other tests include thermal cycling, which shows the effect of multiple solder applications; real-time environmental exposure, which yields the most reliable data; and mixed flowing gas testing, a precise chamber test where gas type and concentration are stringently controlled. Meanwhile, steam exposure provides a quick, reliable, and inexpensive indicator of soldering shelf life.
To read the full article, which appeared in the September 2019 issue of SMT007 Magazine, click here.
---
Suggested Items
11/30/2023 | AIM
AIM Solder, a leading global manufacturer of solder assembly materials for the electronics industry, is pleased to announce its new NC259FPA Ultrafine No Clean Solder Paste, which it revealed recently during the Productronica Germany trade show.
11/27/2023 | Real Time with...productronica
Koh Young's Harald Eppinger talks about the company's technology for the semiconductor and advanced packaging market and how they address the challenges introduced by reflective components and micro solder deposits.
11/27/2023 | HyRel
HyRel Technologies, a global provider of quick turn semiconductor modification solutions, announces the achievement of International Traffic in Arms Regulations (ITAR) registration.
11/24/2023 | Mek (Marantz Electronics)
Mek (Marantz Electronics), a leader in Automated Optical Inspection (AOI) solutions, used last weeks' Productronica show in Munich to proudly introduce the SpectorBOX X series, a modular full 3D AOI system for THT solder joints and THT components.
11/21/2023 | Pete Starkey, I-Connect007
Productronica 2023 played host to the IPC World Hand Soldering Competition, bringing talented regional solder champions from all over the globe to compete for the title of World Champion. Each competitor was given sixty minutes to assemble a complex printed circuit board with their performance judged in accordance with IPC-A-610 Class 3 criteria. Each competitor's efforts were rated on the merits of the results achieved, scored on the quality of the assembly process, the electrical functionality of the assembly and the speed at which the assembly was produced.