Books

Featured Books

pcb007 Magazine

Latest Issues

Current Issue

Finding Ultra

New demands on PCB fabrication, namely advanced packaging, ultra high density interconnect (UHDI), and new specialty materials, are converging, changing the landscape of our business. Is it time to start paying close attention to this convergence?

Developing a Strategy

A solid strategy is a critical part of success. This month, we asked some of the top industry leaders and business strategy "gurus" to share their thoughts on developing strategies.

Winning With TQM

In this issue, we explore how TQM has entered the DNA of continuous improvement disciplines, and the role leadership transformation plays in this. If you've ever competed against a TQM company, you understand their winning advantage.

Columns

Latest Columns

||| MENU
SMTAI 2019: Happy Holden's On-the-Scene Report
October 3, 2019 | Happy Holden, I-Connect007
Estimated reading time: 2 minutes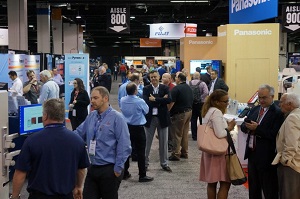 Last week concluded the 2019 SMTAI conference in Rosemont, Illinois. Overall, I think the show was successful and covered all aspects of SMT processes.
Professional development courses were held on Sunday and Monday, which were useful for anyone new to SMT and those wishing to increase their specific knowledge. Technical sessions started on Monday and ran through Thursday. Monday was also set aside for the Women's Leadership Program, and mid-day, we received another update on the IPC's Weak Microvia Interface Program investigating the root causes of a new reliability failure in stacked microvias. IPC will work with the European Space Agency on their HDI space qualification study.
Tuesday saw the first keynote delivered by Adam Steltzner, Ph.D., from NASA's Jet Propulsion Laboratory (JPL) who talked about, "The Right Kind of Crazy: A True Story of Teamwork, Leadership, and High-Stakes Innovation." Adam gave a very interesting and entertaining presentation about how his team at JPL came up with the soft-landing method, also called "the sky crane," for the last Mar's Curiosity Rover—a real problem never tackled before for a 900-kg vehicle the size of an automobile. They also had no way to test it completely on the Earth—only through simulations.
The Young Professionals Program started on Tuesday, and the exhibition opened the same day; both continued through Wednesday. Further, Wednesday continued with a keynote by W. Michael Hawes, D.Sc., from Lockheed Martin Space with "To the Moon and Back: Orion's Next Jump Into Deep Space." Dr. Hawes provided a review of NASA's Orion Program to go back to the moon and stay this time.
At the exhibition, there was enough representation of vendors present to showcase the latest technologies (e.g., SMT pick-and-place equipment by Panasonic, Fuji; solder paste materials by Indium and Kester, etc.). There was a relatively large number of X-ray and optical inspection equipment vendors offering more or less the same functional products. Unlike Nordson and Koh Young, most of the vendors are new in the X-ray inspection sector.
Laserssel offers a unique selective solder reflow equipment. Compared with conventional reworking with a hot air gun (for both array and peripheral packages and soldering iron (for peripheral packages) at prolonged heating, Laserssel's equipment enables fast and effective rework of assembled devices with minimum impact to neighboring devices. Also, Kurtz Ersa showed a fixture-free board routing technique that uses strong magnetic tooling pins precisely placed on a routing table by a robotic arm. Multiple pins are digitally placed around four corners of the panel to make it square, and some pins are placed under the panel for support during routing operation.
I also noted that many vendors sported banners stating that they were compliant with IPC-Connected Factory Exchange (CFX). Smart factory automation has increased in applications. One particular new exhibitor was Seica S.p.A. of Italy, which makes AOI inspection equipment for SMT assembly and bare boards. What caught my eye was their small connection box—the ShoeBox—that will enable older equipment to connect into the new IPC-CFX network. The ShoeBoxes, one as a monitor and one as a master, utilize the Raspberry Pi computer and its 40-pin general-purpose input/output (GPIO) to provide analog-digital lighting power, timing, and message control for existing equipment via two different wireless radio and one power line channels to an Ethernet local area network (LAN) of 10/100 Mbps for Modbus or IPC-CFX protocols.
The exhibits closed on Wednesday with a gala of apps and refreshments. I hope to see many of you next year.
---
Suggested Items
09/21/2023 | Thermaltronics USA, Inc.
Thermaltronics USA, Inc., a globally acclaimed manufacturer of Precision Soldering Robots and innovative Curie point soldering systems, is excited to announce its participation in the highly anticipated SMTA Guadalajara Expo & Tech Forum, scheduled to take place from October 25-26, 2023.
09/20/2023 | ULT AG
At this year's productronica, the world's leading trade show for electronics manufacturing, ULT will present a brand new extraction solution for solder fumes and vapor.
09/20/2023 | Hentec Industries/RPS Automation
Hentec Industries/RPS Automation, a leading manufacturer of selective soldering, component lead tinning and solderability test equipment, announces that it has added assembly and production staff members to its team to accommodate its recent increase in sales and order demand.
09/19/2023 | SMTA
SMTA is honored to announce Qais Qasaimeh, a graduate student at Auburn University, has been selected as the winner of the 2023 Charles Hutchins Educational Grant.
09/14/2023 | SHENMAO
SHENMAO America, Inc. is proud to introduce its latest innovation in response to the growing demand for ultra-thin packages in the electronics industry.