Books

Featured Books

smt007 Magazine

Latest Issues

Current Issue

Economic Headwinds

This issue takes stock of the current economic outlook and how companies are using current conditions to move themselves through technological evolutions, workforce shifts, and financial changes. Even with these headwinds, there's forward progress to be made.

Attracting New Talent

To get different results in staffing, you must change how you define, promote and recruit your job opportunities. How do you become magnetic to high-quality early-career candidates?

Test and Inspection

Test and inspection methods are undergoing rapid change. In this issue, we consider the influence of AOI, AI, and human eyes. How exactly are these pieces of the puzzle changing the role of test and inspection?

Columns

Latest Columns

||| MENU
December Issue of SMT007 Magazine Available Now
December 2, 2019 | I-Connect007 Editorial Team
Estimated reading time: Less than a minute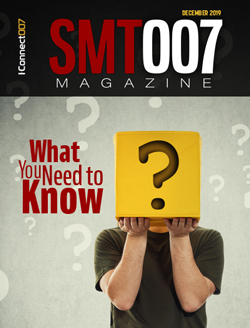 No matter your age or experience level, we all need to be continuous learners. In this issue, we have gathered content that provides insight into the newest and highest impact topics. To help further your expertise, the December issue of SMT007 Magazine offers perspectives in the form of interviews, columns, and articles for some of the things you need to know today!
The December 2019 issue of SMT007 Magazine is now on the virtual newsstand, and available for delivery in your e-mailbox by subscribing here. Download the PDF to your library for a handy future reference.
---
Suggested Items
11/30/2023 | Tim Haag -- Column: Tim's Takeaways
I am, at heart, a die-hard "Star Trek" fan. When I was a kid, I was all about phasers, warp drive, and cool stuff like that. However, these days, I tend to put a higher value on production and storytelling. But like any fan (I'm avoiding "Trekkie" because, frankly, it's kind of embarrassing), I have certain moments from the hundreds (if not thousands) of hours filmed for the various TV shows and movies that are among my favorites. One of those moments is in "Star Trek III, The Search for Spock," when our heroes steal the Starship Enterprise from space dock.
11/27/2023 | PRNewswire
Since its isolation in 2004, graphene has received widespread attention as a 'wonder' material, with the reported potential to enable a whole host of next-generation technologies, some of which would not be out of place in the latest sci-fi blockbuster.
11/20/2023 | Marcy LaRont, PCB007 Magazine
Productronica has concluded and I have wrapped up my first two weeks back on the I-Connect007 team. I'm exhausted, and I am looking forward to bit of a "lie in" as they say around here. It's time to be home. It was a great week in Munich. The show had 42,000 visitors, all descending on 88,000 square meters of show space over eight sprawling halls, to see some 1,400 exhibitors, representing 45 countries worldwide and all parts of the PCB/SMT provider supply chain. It appears the show has regained pre-pandemic levels of engagement, and we congratulate them.
11/13/2023 | Dan Beaulieu -- Column: It's Only Common Sense
We have spent a great deal of time listing all the things that great salespeople should be doing. Now it's time to reverse that and learn through the mistakes of others. So, I sat down this week and listed some of the more common and, dare I say, damaging mistakes that salespeople make.
11/09/2023 | Nolan Johnson, I-Connect007
Rob Sleezer is associate professor of integrated engineering at Minnesota State, and lead for the Twin Cities Engineering (TCE), a two-year engineering professional school with a non-traditional approach to the curriculum. That new approach just might turn out more industry-savvy graduates than traditional programs.