Books

Featured Books

pcb007 Magazine

Latest Issues

Current Issue

Finding Ultra

New demands on PCB fabrication, namely advanced packaging, ultra high density interconnect (UHDI), and new specialty materials, are converging, changing the landscape of our business. Is it time to start paying close attention to this convergence?

Developing a Strategy

A solid strategy is a critical part of success. This month, we asked some of the top industry leaders and business strategy "gurus" to share their thoughts on developing strategies.

Winning With TQM

In this issue, we explore how TQM has entered the DNA of continuous improvement disciplines, and the role leadership transformation plays in this. If you've ever competed against a TQM company, you understand their winning advantage.

Columns

Latest Columns

||| MENU
The CPCA and China's Electronic Circuit Industry: Past and Future
December 11, 2019 | Wang Longji, CPCA
Estimated reading time: 2 minutes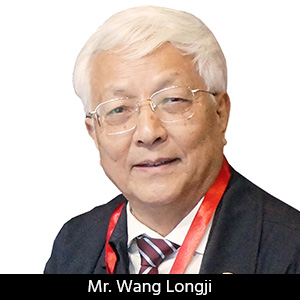 Wang Longji is the honorary secretary-general of the China Printed Circuit Association. He is a senior engineer and an industry leader and used to be the production manager of the first imported PCB manufacturing line in China. Mr. Wang is also a well-known child actor and a "national treasure;" one of his most famous characters was San Mao in "The Winter of Three Hairs."
"If you want to have great achievements, you need to end your anxiety first." I often wonder: what is the purpose of living in this world? What is the meaning of human life? After thinking seriously about it, I realize that the meaning of life is to constantly encounter difficulties on the way and solve them. This is true for people, and running a business can use the same philosophy. If we do not meet difficulties and are not able to solve them, whether people or enterprises, life will be meaningless.
Over the past two years, great changes have taken place in the pattern of our manufacturing industry and the external environment. These changes have brought pains, but I believe right now is the best opportunity for the development of the industry. In this article, I will review the development of the China Printed Circuit Association (CPCA) and China's electronic circuit industry in the past 30 years as well as the future of the industry landscape in China.
Arduous Pioneering
Fifty years ago, I entered the printed circuit industry (renamed the electronic circuit industry in 2015) when it was still in its infancy in China. At that time, our predecessors—professors like Yao Shouren, Li Shihao, Gu Changyin, and Wang Tiezhong—were leading young people to study hard in the lab on single-sided, double sided, and multilayer printed circuit boards (PCBs). The earliest professional "circuit workshop" in China was in the Shanghai No. 20 Radio Factory, which consisted of less than 40 people, and all of the circuit boards were produced manually. I also returned to Shanghai from the Fuzhou Military Region. Fortunately, I did not go to the Film Bureau or Shanghai Film Studios (I could return to the Wang Longji literary and art circles at that time), but instead, went to the circuit workshop in the Shanghai No. 20 Radio Factory. Since then, I have fallen in love with this industry.
In the 1960s—without information, equipment, and technology—we manually produced single-sided PCBs for seven-tube and eight-tube semiconductor radios. At that time, the width of the line was about 0.8 mm, and the aperture was over 1.0 mm. They were the simplest, low-level PCBs, but they made headlines in major domestic newspapers at that time.
To read this entire article, which appeared in the November issue of PCB007 Magazine, click here or download the PDF to your library.

---
Suggested Items
09/22/2023 | IPC
Join fellow EMS leaders in the region on Oct 5, 2023, 4:30 - 8:00pm EDT, to share industry pain points and solutions. Our focus for this meeting is how companies profitably reach the next level of revenue. Following a presentation on the current EMS market and revenue tiers in the industry, participants will discuss how to reach the next level and grow their business. Discussion will pull from direct experience, questions, and ideas. From there, the conversation goes where you, the leaders, take it. Every roundtable ends in unique takeaways.  
09/21/2023 | Intraratio
Intraratio, a provider of enterprise software solutions, is pleased to announce its participation in the SMTA Guadalajara Expo and Tech Forum 2023.
09/21/2023 | SEMI
The SEMI Semiconductor Climate Consortium (SCC) issued its first report of the semiconductor ecosystem's greenhouse gas (GHG) emissions profile, an in-depth analysis of the semiconductor value chain's carbon footprint and priority-ranked carbon emission sources for the industry to address.
09/20/2023 | PDR
PDR is set to showcase its cutting-edge IR-E3 Series of SMD/BGA IR rework systems, as well as its industry-leading X-ray solutions.
09/20/2023 | Hentec Industries/RPS Automation
Hentec Industries/RPS Automation, a leading manufacturer of selective soldering, component lead tinning and solderability test equipment, announces that it has added assembly and production staff members to its team to accommodate its recent increase in sales and order demand.