Books

Featured Books

smt007 Magazine

Latest Issues

Current Issue

Chips Don't Float

In Europe and the U.S., legislation is under way to revitalize PCB fabrication and packaging. What is the status of this work, and how specifically does this change the industry landscape for EMS companies? What will help keep us afloat?

Flying High With Digital Twin

The opportunity to use manufacturing simulation as a test bed for job planning and process optimization brings continuous improvement into the modern age. This may be an all-or-nothing type of project, but it's worth the investment.

Artificial Intelligence

In this issue, we (and AI) explored how and when artificial intelligence plays a role in manufacturing today. Whether on the factory floor, or in the front office, AI applications are emerging and changing how we approach planning, processes and problem solving.

Columns

Latest Columns

||| MENU
The Future of the World Is Truly in the Hands of Our Youth
December 13, 2019 | Barry Matties, I-Connect007
Estimated reading time: 1 minute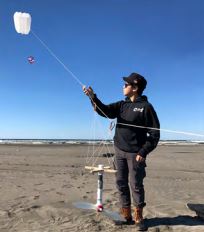 The investments we make in our youth now will pay off for generations to come. We have to support and help wherever we can. At I-Connect007, we are proud to once again sponsor the STEM Outreach Program at the upcoming IPC APEX EXPO 2020. This year, IPC plans to double the number of participating students to 200. It should be a great event.
Another way we support our youth at I-Connect007 is by sharing the stories of young people who are doing amazing things. The following interview tells the story of 14-year-old Dylan Nguyen. Dylan is an avid kite flier in the master class and is often a featured flier at kite festivals along with his younger brother, Cardin, who is age 12.
Dylan started kite flying about four years ago. Now, he and his family can be found participating in and volunteering at kite events. Dylan also believes in giving back to the community. For example, he learned to sew beautiful, handcrafted delta kites so that he could give them away to kids at the 2019 Washington State International Kite Festival. During the same festival, he also co-organized an event to set a new world record with stack kites.
Dylan is also a great student, musician, and creative thinker. Recently, he shared with me the details of his school science fair project, "Kite: Powering the Future," which solved a problem that he faced. Dylan is a leader with a bright future, and the world is lucky to have him and other kids like him.
Barry Matties: Dylan, tell us about your recent STEM project.
Dylan Nguyen: At the 2018 Washington State International Kite Festival, I streamed music all day while flying. The issue was that I often found my phone running low on battery and had to go on long walks to the sound tent to recharge it. Then, I remembered a scene from the movie "Big Hero Six," where a little turbine flies in the air. I thought, "That's aerial energy!" Later, I read an article about a large part of Africa and India that does not have electricity but does have a lot of wind. I thought, "What if I build an airborne wind energy system tethered to a kite to convert wind energy into electrical energy?"
To read this entire interview, which appeared in the November 2019 issue of SMT007 Magazine, click here.
---
Suggested Items
09/18/2023 | IPC
IPC Day France: Aerospace Electronics is an aerospace-focused networking event featuring key industry experts from NASA and Airbus and will take place on October 2, 2023 . 
09/15/2023 | TRI
Test Research, Inc. (TRI), the leading test and inspection systems provider for the electronics manufacturing industry, will join productronica 2023, which will be held at Messe München Center from November 14 – 17, 2023.
09/13/2023 | I-Connect007 Editorial Team
For this month's issue on rigid-flex design, we spoke with instructor Kris Moyer, who teaches the IPC class "PCB Design for Flex and Rigid-Flex Boards." In this wide-ranging interview, Kris breaks down the hurdles facing rigid-flex designers and offers a variety of solutions for rigid board designers taking on their first rigid-flex circuits. He also provides a few horror stories to illustrate what happens if you don't follow sound design practices, rules, and standards. And, as Kris points out, "Your fabricator is your friend."
09/13/2023 | IPC
In conjunction with NEPCON Vietnam 2023, IPC hosted its popular IPC Hand Soldering and Rework Competition in Hanoi, Vietnam on September 6-8, 2023.
09/13/2023 | Hentec Industries/RPS Automation
Hentec Industries/RPS Automation, a leading manufacturer of selective soldering, lead tinning and solderability test equipment, is pleased to announce that Sinclair Manufacturing has purchased Pulsar solderability testing and Photon steam aging systems for installation in their Chartley, Massachusetts facility.