Books

Featured Books

smt007 Magazine

Latest Issues

Current Issue

Attracting New Talent

To get different results in staffing, you must change how you define, promote and recruit your job opportunities. How do you become magnetic to high-quality early-career candidates?

Test and Inspection

Test and inspection methods are undergoing rapid change. In this issue, we consider the influence of AOI, AI, and human eyes. How exactly are these pieces of the puzzle changing the role of test and inspection?

Chips Don't Float

In Europe and the U.S., legislation is under way to revitalize PCB fabrication and packaging. What is the status of this work, and how specifically does this change the industry landscape for EMS companies? What will help keep us afloat?

Columns

Latest Columns

||| MENU
The Future of the World Is Truly in the Hands of Our Youth
December 13, 2019 | Barry Matties, I-Connect007
Estimated reading time: 1 minute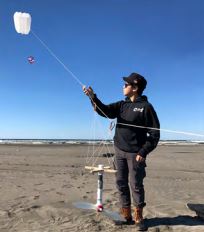 The investments we make in our youth now will pay off for generations to come. We have to support and help wherever we can. At I-Connect007, we are proud to once again sponsor the STEM Outreach Program at the upcoming IPC APEX EXPO 2020. This year, IPC plans to double the number of participating students to 200. It should be a great event.
Another way we support our youth at I-Connect007 is by sharing the stories of young people who are doing amazing things. The following interview tells the story of 14-year-old Dylan Nguyen. Dylan is an avid kite flier in the master class and is often a featured flier at kite festivals along with his younger brother, Cardin, who is age 12.
Dylan started kite flying about four years ago. Now, he and his family can be found participating in and volunteering at kite events. Dylan also believes in giving back to the community. For example, he learned to sew beautiful, handcrafted delta kites so that he could give them away to kids at the 2019 Washington State International Kite Festival. During the same festival, he also co-organized an event to set a new world record with stack kites.
Dylan is also a great student, musician, and creative thinker. Recently, he shared with me the details of his school science fair project, "Kite: Powering the Future," which solved a problem that he faced. Dylan is a leader with a bright future, and the world is lucky to have him and other kids like him.
Barry Matties: Dylan, tell us about your recent STEM project.
Dylan Nguyen: At the 2018 Washington State International Kite Festival, I streamed music all day while flying. The issue was that I often found my phone running low on battery and had to go on long walks to the sound tent to recharge it. Then, I remembered a scene from the movie "Big Hero Six," where a little turbine flies in the air. I thought, "That's aerial energy!" Later, I read an article about a large part of Africa and India that does not have electricity but does have a lot of wind. I thought, "What if I build an airborne wind energy system tethered to a kite to convert wind energy into electrical energy?"
To read this entire interview, which appeared in the November 2019 issue of SMT007 Magazine, click here.
---
Suggested Items
11/30/2023 | PRNewswire
VPT, Inc., a HEICO company, VPT, Inc., a trusted provider of power conversion solutions for aerospace and defense, proudly announces its latest achievement of obtaining SAE AS9100 Revision D certification. SAE AS9100 Revision D enhances VPT's existing suite of certifications, including MIL-PRF-38534, MIL-STD-883, J-STD-001 (Space), IPC-A-610, and IPC-A-600, further cementing our commitment to excellence in quality and reliability.
11/29/2023 | TRI
Test Research, Inc. (TRI), the industry's leading provider of Test and Inspection systems for the electronics manufacturing industry, is pleased to announce the expansion of its Malaysian office, which opened in 2010.
11/29/2023 | Dana Korf -- Column: Dana on Data
November's issue of Design007 Magazine had an excellent theme that evolved around design simplification. There were exceptionally good articles about how to reduce over-constrained or needlessly complex designs. One significant time-consuming category is the creation of many design files and drawings which lead to lengthy creation and interpretation time along with the considerable time to resolve conflicting or erroneous information.
11/27/2023 | IPC
IPC welcomes the actions outlined today by the U.S. Government "to strengthen supply chains critical to America's economic and national security."
11/22/2023 | TTM Technologies, Inc.
TTM Technologies, Inc., a leading global manufacturer of technology solutions including mission systems, radio frequency (RF) components and RF microwave/microelectronic assemblies and printed circuit boards (PCBs) was honored with three awards at the IPC China Electronics Manufacturing Annual Conference held in Shanghai on October 27, 2023.