Books

Featured Books

pcb007 Magazine

Latest Issues

Current Issue

The Registration Sweet Spot

Registration is underrated and underappreciated. The key is to ensure proper registration from layer to layer across the entire printed circuit board. It's a holistic process requiring anticipation, prediction, precise attention at each step, and detailed data tracking and monitoring.

High-reliability Fabrication

In this month's issue, our expert contributors discuss the latest in technologies, trends, complexities and resources regarding high-reliability fabrication.

Finding Ultra

New demands on PCB fabrication, namely advanced packaging, ultra high density interconnect (UHDI), and new specialty materials, are converging, changing the landscape of our business. Is it time to start paying close attention to this convergence?

Columns

Latest Columns

||| MENU
Accurate Circuit Engineering Staying Ahead of the COVID-19 Curve
April 20, 2020 | Andy Shaughnessy, Design007 Magazine
Estimated reading time: 6 minutes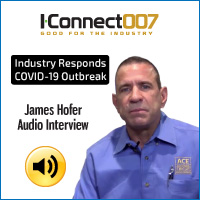 On April 16, Andy Shaughnessy spoke with Accurate Circuit Engineering's James Hofer. James provided an update on the company's responses to the challenges of fabricating PCBs while much of the country is under COVID-19 quarantine.
James explained that he is dedicated to keeping his employees safe and healthy while continuing to meet the needs of his customers, many of whom are medical and military OEMs. He also discussed his current workload, which includes one customer developing a ventilator that can serve four patients at the same time.
James said that Accurate Circuit Engineering enforces the regulations that require mandatory hand-washing every half-hour, and the company makes its own hand sanitizer for employees to use at home. He also explained how locating masks has now become a regular part of his workweek.
I-Connect007 continues to deliver original reporting and coverage of the electronics design, electronics manufacturing, and contract manufacturing industries, including up-to-date information from the companies, associations, and supply chains globally. Find the latest news and information at www.iconnect007.com, and on our new topic bulletin board, "Industry Leaders Speak Out: Responses to COVID-19 outbreak," found here.
Related Content: 
AUDIO TRANSCRIPT:
Andy Shaughnessy: This is Andy Shaughnessy for I-Connect007. I'm speaking with James Hofer, the general manager of Accurate Circuit Engineering. Welcome, James. How are things going?

James Hofer: Fine. It's the best it can be, considering the situation right now.

Shaughnessy: Right. You are in California, and I know you have had some of the stronger lockdown laws for the general public. How has this affected your business model, or has it?

Hofer: It's difficult for our business model because we are a manufacturing facility. We certainly can't have our employees work from home doing manufacturing. However, we've had to put in place social distancing measures inside the facility and other requirements to keep our employees safe. I spend a lot more of my time dealing with, "How am I going to stay ahead of the curve with COVID?" rather than technology upkeep and speaking with my customers. The nice thing about that is that it's a bit of trade-off; about one-third of our customers are also shut down. That takes about one-third of my regular work off my plate, so I can focus on the health and safety of our employees. That's the biggest change to our business model. Our focus right now is entirely on how to stay ahead of the COVID curve.

Shaughnessy: Do you have military and medical customers among your customers?

Hofer: We do a lot of aerospace and defense industry products. I'm really excited to say that one of our customers is working on a new ventilator that should allow up to four patients to be connected to one ventilator, which is huge. That would reduce the requirement of ventilators by 25% if this goes through. The reason they're with us is that we specialize in quick-turn. Obviously, they're trying to get these things up, tested, and out as soon as possible when they're needed most, which is now.

Shaughnessy: Wow. That's great.

Hofer: I'm really pleased to say that this does make us an essential business, and our employees are essential in our new business world. Our employees all have an ID with a picture, saying they're an essential business worker and where our company is located, then my cellphone, and the controller's cellphone in case there's ever a checkpoint or a stop. I understand nowadays that police are stopping folks in their cars if they don't see a mask on them or just making sure that they're not headed up to some sort of leisure activity. I certainly wouldn't be doing that in this environment.

Shaughnessy: That's great about the ventilators that can do four patients at once. That's one of these silver linings that are going to come out of this.

Hofer: Yes. Leaps forward in technology are always helpful. Some of the work we do for Tesla now goes into ventilators instead of electric cars. That's helpful as well.

Shaughnessy: Do you have any messages you'd like to send out to your customers?

Hofer: Yes. We're going to be here as long as we can be, and I have taken it a personal responsibility to stay ahead of the COVID curve. I've implemented measures that some governors have not even implemented in their states, including mandatory washing your hands every 30 minutes, at our facility. We were challenged with finding masks. I spend several hours each week hunting down masks, getting them ordered, and I'm trying to get them in here. I have initiated programs that allow our employees to have enough masks not only here at work but also at home because safety really has to start at home to be safe at work. We make our own hand sanitizer and send it home with employees. Now that hand sanitizers are starting to come back, my gosh, I just got a five-gallon jug of hand sanitizer from one company, and four went. I have one-gallon bottles from another, and I'm waiting for three cases of 16-oz. hand sanitizer.

Shaughnessy: It's the new currency, right?

Hofer: Yes. I'm telling you. We're back-ordered on our Lysol. The good news is the only thing we don't need around here is toilet paper.

Shaughnessy: One of life's little victories.

Hofer: We have plenty of that. We're going to be here. We're currently operating at two shifts. We used to have a very small third shift. I brought that into the second shift because I really think third-shift workers have a harder time getting a full amount of sleep. I don't want anybody having any reduced immunities or stress that might lead to less safety for them. Again, I'm proud to say that we have no confirmed cases here at Accurate Circuit Engineering. That's my goal at the end of this all: to walk away and say, "Everybody here was safe and healthy."

Shaughnessy: Great. What would you say is your greatest concern right now?

Hofer: It's the economy. Obviously, even when this is over, things will be much different than they used to be. The governor was on TV the other day, saying if you go to a restaurant, it might have 50% fewer tables, and employees will wearing masks and gloves. Let's face it: 50% fewer tables means 100% more cost for the customer. The economy will eventually affect our work in not only military and aerospace but in other industries. My biggest fear is when it's all done, how much will the difference be for us? While we're busy now, I don't expect that will be the case at the end of the year.

Shaughnessy: Do you have any final message you'd like to share with everyone?

Hofer: Practice social distancing, wash your hands frequently, and stay safe. Wear your mask, and stop throwing your gloves in parking lots.

Shaughnessy: Is that really a problem? Are people throwing their gloves in the parking lots?

Hofer: Oh my gosh, you guys should see the Costco parking lots. I was at the bank the other night, right next to the grocery store. As I drove through, I could see like eight or 10 pairs of gloves on the ground. I thought, "In this world, where we're so concerned about plastic straws, we're really throwing pairs of neoprene and latex gloves on the ground, so they can wash down the sewers and end up in our oceans?" I can't wait to see a fish that has a glove surrounding it. It will look like a little high five swimming through the ocean.

Shaughnessy: I appreciate you taking the time to talk with us. I know you have a lot on your plate. Thanks for speaking with us. We appreciate it.

Hofer: You got it. Have a great day, and I look forward to another year.

Shaughnessy: Again, this is Andy Shaughnessy for I-Connect007. I've been speaking with James Hofer, general manager of Accurate Circuit Engineering. Thanks for listening.
---
Suggested Items
12/05/2023 | HANZA
HANZA AB has signed an agreement to acquire all shares in Orbit One AB, a Swedish company that offers contract manufacturing of electronics and electromechanics. Orbit One has annual sales of approximately SEK 1.1 billion with an operating profit (EBITA) of approximately SEK 70 million.
12/05/2023 | IPC
Electronics industry sentiment improved during November with demand sentiment also taking a solid step up over the last 30 days per IPC's November 2023 Global Sentiment of the Electronics Supply Chain Report.
12/05/2023 | Robert Erickson and Lorena Villanueva, IPC
About 200 kilometers (125 miles) north of Mexico City lies Queretaro, an area rich in history, with stone streets and public squares, and which twice has been the country's capital. But it's also quickly becoming a global capital of electronics manufacturing, especially aeronautics, and was the location for the first IPC Day Mexico this past June.
12/04/2023 | USPAE
Seven microelectronics firms received nearly $10 million in combined funding to commercialize technologies of interest to the U.S. military services as winners of the Defense Business Accelerator (DBX) Microelectronics Challenge. This groundbreaking initiative is funded by the Department of Defense (DoD) and led by the U.S. Partnership for Assured Electronics (USPAE).
11/30/2023 | BUSINESS WIRE
Nordson Electronics Solutions, a global leader in electronics manufacturing technologies, is pleased to announce the release of the new ASYMTEK Select Coat® SL-1040 conformal coating system.