Books

Featured Books

smt007 Magazine

Latest Issues

Current Issue

Economic Headwinds

This issue takes stock of the current economic outlook and how companies are using current conditions to move themselves through technological evolutions, workforce shifts, and financial changes. Even with these headwinds, there's forward progress to be made.

Attracting New Talent

To get different results in staffing, you must change how you define, promote and recruit your job opportunities. How do you become magnetic to high-quality early-career candidates?

Test and Inspection

Test and inspection methods are undergoing rapid change. In this issue, we consider the influence of AOI, AI, and human eyes. How exactly are these pieces of the puzzle changing the role of test and inspection?

Columns

Latest Columns

||| MENU
Synapse Installs Two Universal Instruments Fuzion Production Lines
May 6, 2020 | Universal Instruments
Estimated reading time: 1 minute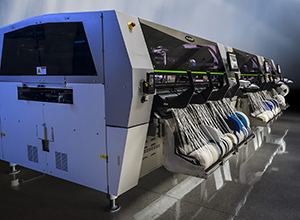 Synapse Electronique, a Canadian original-equipment electronics manufacturer and EMS provider, has integrated two Universal Instruments Fuzion® Platform production lines in its Shawinigan, Quebec facility. Each line includes a Fuzion2-60™ and FuzionXC2-37™ Platform, providing both the performance to meet Synapse's long-term OEM throughput requirements and the flexibility to support stringent contract-manufacturing demands.
Synapse Electronique specializes in manufacturing electronic circuitry, providing efficient integrated electronic systems to North American and European markets. Synapse develops electronic products and subsystems as an original-equipment manufacturer, as well as providing contract-manufacturing services to customers spanning a wide range of markets. Synapse delivers value to its customers by combining well-established know-how, high-tech equipment and an experienced staff in design for manufacturing and testability.
The new two-machine lines include complementary Fuzion® Platforms that combine for an expansive capability set. Fuzion2-60 features two high-speed FZ30™ placement heads delivering up to 66,500 cph. When paired with the FuzionXC2-37, the line handles a non-restrictive component range from 01005 to 150mm square. Each line also supports up to 372 8mm feeder inputs plus 20 tray components.
"The ability to do new product introductions on one machine is really a huge advantage, particularly with our significant NPI demand," said Synapse Electronique President, Luc Gélinas. "The FuzionXC2-37 is a game-changer that enables us to run a single-machine NPI with flexible feeder setup. Additionally, the family setup option allows us to maximize utilization while achieving our cycle time goals."
Gélinas noted, "While we'll initially dedicate one line to our OEM production and the other to EMS, the Fuzion solution perfectly fits our manufacturing environment and has the versatility to adapt as needed. That's why we were able to purchase two identical lines."  He continued, "The alternative solutions required three to four machines to match the feeder inventory of the two-Fuzion lines. Moreover, the Fuzion solution offered the lowest cost per feeder input."
"Synapse advanced its manufacturing model with a high-performance, flexible Fuzion solution that is well-suited to high-mix demands," commented Universal Instruments Vice President of Customer Operations, Brad Bennett. "Fuzion was designed to thrive in these environments and the impact should be substantial. We look forward to a continued and productive partnership with Synapse."
---
Suggested Items
12/01/2023 | Silicon Mountain
Silicon Mountain, a leading electronic manufacturing company, is pleased to announce its participation in the 3rd Annual Idaho Manufacturing Industry Trade Show & Conference, hosted by the Idaho Manufacturing Alliance.
11/30/2023 | BUSINESS WIRE
Ciena, a U.S.-based networking systems, services and software company, is adding domestic manufacturing through an expanded agreement with global diversified manufacturer Flex.
11/30/2023 | Keysight Technologies, Inc.
Keysight Technologies, Inc. announces that Arbe has selected the E8719A Radar Target Solution (RTS) to test the Arbe 4D imaging radar chipset for automotive applications.
11/29/2023 | TT Electronics
TT Electronics, a global provider of custom power solutions and engineered technologies, has announced that its Power and Control business has officially opened its new state-of-the-art research, development and manufacturing facility.
11/29/2023 | Dana Korf -- Column: Dana on Data
November's issue of Design007 Magazine had an excellent theme that evolved around design simplification. There were exceptionally good articles about how to reduce over-constrained or needlessly complex designs. One significant time-consuming category is the creation of many design files and drawings which lead to lengthy creation and interpretation time along with the considerable time to resolve conflicting or erroneous information.