Books

Featured Books

smt007 Magazine

Latest Issues

Current Issue

Chips Don't Float

In Europe and the U.S., legislation is under way to revitalize PCB fabrication and packaging. What is the status of this work, and how specifically does this change the industry landscape for EMS companies? What will help keep us afloat?

Flying High With Digital Twin

The opportunity to use manufacturing simulation as a test bed for job planning and process optimization brings continuous improvement into the modern age. This may be an all-or-nothing type of project, but it's worth the investment.

Artificial Intelligence

In this issue, we (and AI) explored how and when artificial intelligence plays a role in manufacturing today. Whether on the factory floor, or in the front office, AI applications are emerging and changing how we approach planning, processes and problem solving.

Columns

Latest Columns

||| MENU
Synapse Installs Two Universal Instruments Fuzion Production Lines
May 6, 2020 | Universal Instruments
Estimated reading time: 1 minute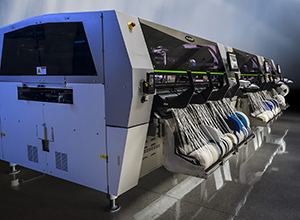 Synapse Electronique, a Canadian original-equipment electronics manufacturer and EMS provider, has integrated two Universal Instruments Fuzion® Platform production lines in its Shawinigan, Quebec facility. Each line includes a Fuzion2-60™ and FuzionXC2-37™ Platform, providing both the performance to meet Synapse's long-term OEM throughput requirements and the flexibility to support stringent contract-manufacturing demands.
Synapse Electronique specializes in manufacturing electronic circuitry, providing efficient integrated electronic systems to North American and European markets. Synapse develops electronic products and subsystems as an original-equipment manufacturer, as well as providing contract-manufacturing services to customers spanning a wide range of markets. Synapse delivers value to its customers by combining well-established know-how, high-tech equipment and an experienced staff in design for manufacturing and testability.
The new two-machine lines include complementary Fuzion® Platforms that combine for an expansive capability set. Fuzion2-60 features two high-speed FZ30™ placement heads delivering up to 66,500 cph. When paired with the FuzionXC2-37, the line handles a non-restrictive component range from 01005 to 150mm square. Each line also supports up to 372 8mm feeder inputs plus 20 tray components.
"The ability to do new product introductions on one machine is really a huge advantage, particularly with our significant NPI demand," said Synapse Electronique President, Luc Gélinas. "The FuzionXC2-37 is a game-changer that enables us to run a single-machine NPI with flexible feeder setup. Additionally, the family setup option allows us to maximize utilization while achieving our cycle time goals."
Gélinas noted, "While we'll initially dedicate one line to our OEM production and the other to EMS, the Fuzion solution perfectly fits our manufacturing environment and has the versatility to adapt as needed. That's why we were able to purchase two identical lines."  He continued, "The alternative solutions required three to four machines to match the feeder inventory of the two-Fuzion lines. Moreover, the Fuzion solution offered the lowest cost per feeder input."
"Synapse advanced its manufacturing model with a high-performance, flexible Fuzion solution that is well-suited to high-mix demands," commented Universal Instruments Vice President of Customer Operations, Brad Bennett. "Fuzion was designed to thrive in these environments and the impact should be substantial. We look forward to a continued and productive partnership with Synapse."
---
Suggested Items
09/26/2023 | GlobalFoundries
GlobalFoundries (GF) announced it has applied for U.S. CHIPS and Science Act Funding, with two full applications submitted to the CHIPS Program Office of the U.S. Department of Commerce.
09/22/2023 | GlobalFoundries
The U.S. Department of Defense (DoD) has awarded GlobalFoundries (Nasdaq: GFS) (GF) a new 10-year contract for a supply of securely manufactured, U.S.-made semiconductors for use across a wide range of critical aerospace and defense applications. 
09/25/2023 | APCT
APCT, a leading name in the PCB and electronics industry, is delighted to announce the appointment of Peter Austin as its President and CEO, effective September 1. Peter takes the reins from former CEO, Steve Robinson, who has retired after years of dedicated service to the company.
09/22/2023 | Happy Holden, I-Connect007
Ever since high density interconnect (HDI) was created in 1982 by Hewlett-Packard to package its first 32-bit computer powered by a single chip, it has continued to evolve and provide the solutions for miniaturized products. The leading edge of HDI technology became the process used for organic flip-chip packaging for the semiconductor industry. The two distinct markets—IC substrates and product-system integration—are now colliding and utilizing the same ultra-HDI manufacturing processes.
09/21/2023 | KIC
KIC, a renowned pioneer in thermal process and temperature measurement solutions for electronics manufacturing, is thrilled to announce its participation in the upcoming SMTA Guadalajara Expo & Tech Forum.