Books

Featured Books

smt007 Magazine

Latest Issues

Current Issue

Chips Don't Float

In Europe and the U.S., legislation is under way to revitalize PCB fabrication and packaging. What is the status of this work, and how specifically does this change the industry landscape for EMS companies? What will help keep us afloat?

Flying High With Digital Twin

The opportunity to use manufacturing simulation as a test bed for job planning and process optimization brings continuous improvement into the modern age. This may be an all-or-nothing type of project, but it's worth the investment.

Artificial Intelligence

In this issue, we (and AI) explored how and when artificial intelligence plays a role in manufacturing today. Whether on the factory floor, or in the front office, AI applications are emerging and changing how we approach planning, processes and problem solving.

Columns

Latest Columns

||| MENU
MacDermid Alpha Promotes ALPHA® SnCX Plus 07 Alloy as New Solution for Moderately Complex Assemblies
May 11, 2020 | MacDermid Alpha Electronics Solutions
Estimated reading time: 1 minute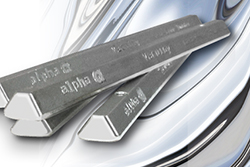 The Assembly Solutions division of MacDermid Alpha Electronics Solutions, a world leader in the production of electronics soldering and bonding materials, promotes its ALPHA SnCX Plus 07 silver free and lead free wave solder alloy as a new solution for moderately complex assemblies.
ALPHA SnCX Plus 07 is a high performance, low cost wave and selective soldering alloy for use on simple to moderately complex dual-sided assemblies. The alloy exhibits high mechanical reliability and excellent hole fill properties enabling best-in-class performance for moderately complex assemblies. Being silver free, ALPHA SnCX Plus 07 is a cost-effective alternative to silver-bearing alloys and can significantly reduce an assembler's total cost of ownership without sacrificing soldering and reliability performance.
"ALPHA SnCX Plus 07 delivers superior performance over many of the popular tin copper solder alloys. Many companies assembling dual-sided, multi-layer boards up to 2.4 mm thick are already realizing the benefits of using SnCX Plus 07," said Bernice Chung, Portfolio Manager for Wave Solder Assembly Solutions at MacDermid Alpha. "Many of our customers have realized substantial cost savings after switching from other popular SnCu based alloys to ALPHA SnCX Plus 07, particularly in the areas of dross reduction and energy savings, as a result of being able to use lower pot temperatures. All assemblers should consider the value that switching to ALPHA SnCX Plus 07 could create for their process."
For more information on ALPHA SnCX Plus 07 please visit MacDermidAlpha.com
About MacDermid Alpha Electronics Solutions
Through the innovation of specialty chemicals and materials under our Alpha, Compugraphics, Kester and MacDermid Enthone brands, we provide solutions that power electronics interconnection. We serve all global regions and every step of device manufacturing within each segment of the electronics supply chain. The experts in our Semiconductor Solutions, Circuitry Solutions, and Assembly Solutions divisions collaborate in design, implementation, and technical service to ensure success for our partner clients. Our solutions enable our customers' manufacture of extraordinary electronic devices at high productivity and reduced cycle time. Find out more at MacDermidAlpha.com.
---
Suggested Items
09/27/2023 | Nihon Superior Co. Ltd.
Nihon Superior Co. Ltd. is pleased to announce that Keith Sweatman, the company's Senior Technical Advisor, will deliver a presentation titled "A Path to Ductile Low-Temperature Solders for Mass Production of Electronic Assemblies" at the upcoming SMTA International conference and exposition.
09/27/2023 | Hentec Industries/RPS Automation
Hentec Industries/RPS Automation, a leading manufacturer of selective soldering, lead tinning and solderability test equipment, is pleased to announce that Kyocera International has finalized the purchase of a Hentec/RPS Odyssey 1325 robotic hot solder dip component lead tinning machine. 
09/26/2023 | Conecsus Metals México
Conecsus Metals México, an innovative environmental technology and recycling company, will exhibit at the SMTA Foro Tecnico & Expo, Guadalajara, Jalisco, México, on Wednesday, October 25, 2023, beginning at 11:00 a.m.
09/21/2023 | Thermaltronics USA, Inc.
Thermaltronics USA, Inc., a globally acclaimed manufacturer of Precision Soldering Robots and innovative Curie point soldering systems, is excited to announce its participation in the highly anticipated SMTA Guadalajara Expo & Tech Forum, scheduled to take place from October 25-26, 2023.
09/20/2023 | ULT AG
At this year's productronica, the world's leading trade show for electronics manufacturing, ULT will present a brand new extraction solution for solder fumes and vapor.