Books

Featured Books

smt007 Magazine

Latest Issues

Current Issue

Economic Headwinds

This issue takes stock of the current economic outlook and how companies are using current conditions to move themselves through technological evolutions, workforce shifts, and financial changes. Even with these headwinds, there's forward progress to be made.

Attracting New Talent

To get different results in staffing, you must change how you define, promote and recruit your job opportunities. How do you become magnetic to high-quality early-career candidates?

Test and Inspection

Test and inspection methods are undergoing rapid change. In this issue, we consider the influence of AOI, AI, and human eyes. How exactly are these pieces of the puzzle changing the role of test and inspection?

Columns

Latest Columns

||| MENU
MacDermid Alpha Promotes ALPHA® SnCX Plus 07 Alloy as New Solution for Moderately Complex Assemblies
May 11, 2020 | MacDermid Alpha Electronics Solutions
Estimated reading time: 1 minute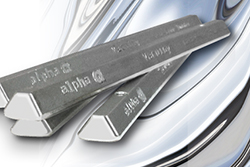 The Assembly Solutions division of MacDermid Alpha Electronics Solutions, a world leader in the production of electronics soldering and bonding materials, promotes its ALPHA SnCX Plus 07 silver free and lead free wave solder alloy as a new solution for moderately complex assemblies.
ALPHA SnCX Plus 07 is a high performance, low cost wave and selective soldering alloy for use on simple to moderately complex dual-sided assemblies. The alloy exhibits high mechanical reliability and excellent hole fill properties enabling best-in-class performance for moderately complex assemblies. Being silver free, ALPHA SnCX Plus 07 is a cost-effective alternative to silver-bearing alloys and can significantly reduce an assembler's total cost of ownership without sacrificing soldering and reliability performance.
"ALPHA SnCX Plus 07 delivers superior performance over many of the popular tin copper solder alloys. Many companies assembling dual-sided, multi-layer boards up to 2.4 mm thick are already realizing the benefits of using SnCX Plus 07," said Bernice Chung, Portfolio Manager for Wave Solder Assembly Solutions at MacDermid Alpha. "Many of our customers have realized substantial cost savings after switching from other popular SnCu based alloys to ALPHA SnCX Plus 07, particularly in the areas of dross reduction and energy savings, as a result of being able to use lower pot temperatures. All assemblers should consider the value that switching to ALPHA SnCX Plus 07 could create for their process."
For more information on ALPHA SnCX Plus 07 please visit MacDermidAlpha.com
About MacDermid Alpha Electronics Solutions
Through the innovation of specialty chemicals and materials under our Alpha, Compugraphics, Kester and MacDermid Enthone brands, we provide solutions that power electronics interconnection. We serve all global regions and every step of device manufacturing within each segment of the electronics supply chain. The experts in our Semiconductor Solutions, Circuitry Solutions, and Assembly Solutions divisions collaborate in design, implementation, and technical service to ensure success for our partner clients. Our solutions enable our customers' manufacture of extraordinary electronic devices at high productivity and reduced cycle time. Find out more at MacDermidAlpha.com.
---
Suggested Items
12/04/2023 | Transition Automation
Transition Automation, Inc. recently received a large order for Advanced Holder and Blade Assemblies compatible with DEK printers from Rotec BV in Belgium.
11/30/2023 | AIM
AIM Solder, a leading global manufacturer of solder assembly materials for the electronics industry, is pleased to announce its new NC259FPA Ultrafine No Clean Solder Paste, which it revealed recently during the Productronica Germany trade show.
11/27/2023 | Real Time with...productronica
Koh Young's Harald Eppinger talks about the company's technology for the semiconductor and advanced packaging market and how they address the challenges introduced by reflective components and micro solder deposits.
11/27/2023 | HyRel
HyRel Technologies, a global provider of quick turn semiconductor modification solutions, announces the achievement of International Traffic in Arms Regulations (ITAR) registration.
11/24/2023 | Mek (Marantz Electronics)
Mek (Marantz Electronics), a leader in Automated Optical Inspection (AOI) solutions, used last weeks' Productronica show in Munich to proudly introduce the SpectorBOX X series, a modular full 3D AOI system for THT solder joints and THT components.