Books

Featured Books

smt007 Magazine

Latest Issues

Current Issue

Chips Don't Float

In Europe and the U.S., legislation is under way to revitalize PCB fabrication and packaging. What is the status of this work, and how specifically does this change the industry landscape for EMS companies? What will help keep us afloat?

Flying High With Digital Twin

The opportunity to use manufacturing simulation as a test bed for job planning and process optimization brings continuous improvement into the modern age. This may be an all-or-nothing type of project, but it's worth the investment.

Artificial Intelligence

In this issue, we (and AI) explored how and when artificial intelligence plays a role in manufacturing today. Whether on the factory floor, or in the front office, AI applications are emerging and changing how we approach planning, processes and problem solving.

Columns

Latest Columns

||| MENU
Indium Corporation Expert Chosen as MMTA Board Vice Chair with Chair Position Commencing in 2021
May 12, 2020 | Indium Corporation
Estimated reading time: 2 minutes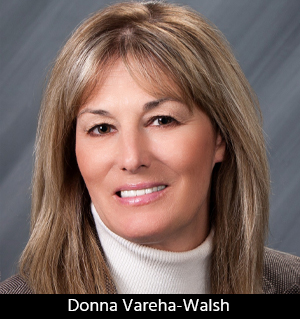 Indium Corporation's Donna Vareha-Walsh, Director of Sales and Global Supply Chain and Trade Compliance, has been selected as the next Chair of the Minor Metals Trade Association (MMTA) Board of Directors.
Elected as current Vice Chair, Vareha-Walsh will take up the Chair position in April 2021. Unanimously approved by the MMTA Board, she will become the MMTA's first female and first American Chair to hold the position. Vareha-Walsh will work closely with current Chair, Simon Boon, and officially step into the Chair position in April 2021 following the AGM in Charleston, USA.
MMTA is the world's largest association involved with minor metals. Its international membership consists of companies actively involved in all aspects of the international minor metals sector. Founded in 1973, MMTA has evolved from covering the markets and applications of just seven elements to 49 metals and organizes a diverse range of international conferences and events.
The MMTA Board of Directors is comprised of employees of MMTA member companies that stand for election and serve on a voluntary basis. The MMTA board creates subcommittees and taskforces to assist with specific tasks, while defining goals and moving projects forward.
"I am honored to be chosen as chairwoman of the board for such a prestigious global organization as the Minor Metals Trade Association," Vareha-Walsh said. "I am honored the directors put their trust in me for the future. I am eager to share my knowledge, as well as Indium Corporation's metals industry leadership and expertise, with my colleagues and MMTA members around the globe."  
Vareha-Walsh is Global Director of Indium Corporation's Metals, Compounds, Solar and Refining Sales, Supply Chain and International Trade Compliance. She is responsible for a global sales team that sells critical raw materials such as indium, gallium, germanium, tin, and compound metal based products, as well as reclaim services refined at Indium Corporation's North American and Korean operations. Additionally, she leads a global supply chain team that sources for the trading business as well as the supply chain for Indium Corporation's global manufacturing operations, and maintains compliance within their international trade activities. Vareha-Walsh is based at Indium Corporation's headquarters in Clinton, NY. She has over 19 years of metals market experience, including Director of Global Procurement for a global premium alloy company and Director of Metallurgical Operations and Procurement for a global tungsten-based business. Additional experience includes responsibilities as a Business Unit Controller, Director of Sales and a New Business Development Manager, International Tax Analyst, and participation in the metals recycling and scrap/reclaim markets. Vareha-Walsh has a bachelor's degree in finance and an MBA, and is a Certified Public Accountant (CPA). Vareha-Walsh is currently a member of MMTA's Management Committee. In 2019, she served as MMTA interim Treasurer for eight months.
Indium Corporation is a premier materials manufacturer and supplier to the global electronics, semiconductor, thin-film, and thermal management markets. Products include solders and fluxes; brazes; thermal interface materials; sputtering targets; indium, gallium, germanium, and tin metals and inorganic compounds; and NanoFoil®. Founded in 1934, the company has global technical support and factories located in China, India, Malaysia, Singapore, South Korea, the United Kingdom, and the USA.
For more information about Indium Corporation, visit www.indium.com or email jhuang@indium.com. You can also follow our experts, From One Engineer To Another® (#FOETA), at www.facebook.com/indium or @IndiumCorp.
---
Suggested Items
09/13/2023 | SMTA
The SMTA is proud to honor the 2023 "Members of Distinction" award recipients who have shown exceptional dedication to the association and the electronics manufacturing industry.
09/22/2023 | Ronald C. Lasky -- Column: Maggie Benson's Journey
Editor's note: Indium Corporation's Ron Lasky continues this series of columns about Maggie Benson, a fictional character, to demonstrate continuous improvement and education in SMT assembly. In this installment, Paul LaCroix tests his math skills in determining how much to spend on a component placement machine and what his earning potential might be.
08/29/2023 | Gen3
Gen3, Global leader in SIR, CAF, Solderability, Ionic Contamination & process optimization equipment, is excited to announce its participation at the 24th European Microelectronics & Packaging Conference (EMPC) taking place Sept. 11-14, 2023 at the Wellcome Genome Campus, Hinxton, near Cambridge, UK.
08/29/2023 | Indium Corporation
Indium Corporation Senior Area Technical Manager Jason Chou will present at SEMICON Taiwan on September 7, in Taipei, Taiwan.
08/24/2023 | IPC
IPC Day Romania: Build Electronics Better with Standards and Solutions, Conference Powered by Flex, which will be held on Sep 27, 2023 at 12:00pm and Sep 28, 2023 at 6:00pm EEST, will provide a unique opportunity to learn about the latest advancements in electronics manufacturing, participate in industry discussions, and network with a community of professionals dedicated to building electronics better.