Books

Featured Books

smt007 Magazine

Latest Issues

Current Issue

Economic Headwinds

This issue takes stock of the current economic outlook and how companies are using current conditions to move themselves through technological evolutions, workforce shifts, and financial changes. Even with these headwinds, there's forward progress to be made.

Attracting New Talent

To get different results in staffing, you must change how you define, promote and recruit your job opportunities. How do you become magnetic to high-quality early-career candidates?

Test and Inspection

Test and inspection methods are undergoing rapid change. In this issue, we consider the influence of AOI, AI, and human eyes. How exactly are these pieces of the puzzle changing the role of test and inspection?

Columns

Latest Columns

||| MENU
Indium Corporation Expert Chosen as MMTA Board Vice Chair with Chair Position Commencing in 2021
May 12, 2020 | Indium Corporation
Estimated reading time: 2 minutes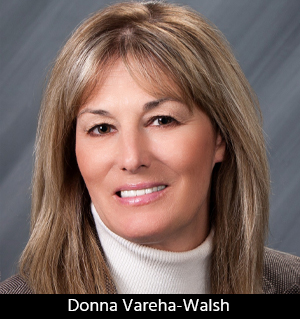 Indium Corporation's Donna Vareha-Walsh, Director of Sales and Global Supply Chain and Trade Compliance, has been selected as the next Chair of the Minor Metals Trade Association (MMTA) Board of Directors.
Elected as current Vice Chair, Vareha-Walsh will take up the Chair position in April 2021. Unanimously approved by the MMTA Board, she will become the MMTA's first female and first American Chair to hold the position. Vareha-Walsh will work closely with current Chair, Simon Boon, and officially step into the Chair position in April 2021 following the AGM in Charleston, USA.
MMTA is the world's largest association involved with minor metals. Its international membership consists of companies actively involved in all aspects of the international minor metals sector. Founded in 1973, MMTA has evolved from covering the markets and applications of just seven elements to 49 metals and organizes a diverse range of international conferences and events.
The MMTA Board of Directors is comprised of employees of MMTA member companies that stand for election and serve on a voluntary basis. The MMTA board creates subcommittees and taskforces to assist with specific tasks, while defining goals and moving projects forward.
"I am honored to be chosen as chairwoman of the board for such a prestigious global organization as the Minor Metals Trade Association," Vareha-Walsh said. "I am honored the directors put their trust in me for the future. I am eager to share my knowledge, as well as Indium Corporation's metals industry leadership and expertise, with my colleagues and MMTA members around the globe."  
Vareha-Walsh is Global Director of Indium Corporation's Metals, Compounds, Solar and Refining Sales, Supply Chain and International Trade Compliance. She is responsible for a global sales team that sells critical raw materials such as indium, gallium, germanium, tin, and compound metal based products, as well as reclaim services refined at Indium Corporation's North American and Korean operations. Additionally, she leads a global supply chain team that sources for the trading business as well as the supply chain for Indium Corporation's global manufacturing operations, and maintains compliance within their international trade activities. Vareha-Walsh is based at Indium Corporation's headquarters in Clinton, NY. She has over 19 years of metals market experience, including Director of Global Procurement for a global premium alloy company and Director of Metallurgical Operations and Procurement for a global tungsten-based business. Additional experience includes responsibilities as a Business Unit Controller, Director of Sales and a New Business Development Manager, International Tax Analyst, and participation in the metals recycling and scrap/reclaim markets. Vareha-Walsh has a bachelor's degree in finance and an MBA, and is a Certified Public Accountant (CPA). Vareha-Walsh is currently a member of MMTA's Management Committee. In 2019, she served as MMTA interim Treasurer for eight months.
Indium Corporation is a premier materials manufacturer and supplier to the global electronics, semiconductor, thin-film, and thermal management markets. Products include solders and fluxes; brazes; thermal interface materials; sputtering targets; indium, gallium, germanium, and tin metals and inorganic compounds; and NanoFoil®. Founded in 1934, the company has global technical support and factories located in China, India, Malaysia, Singapore, South Korea, the United Kingdom, and the USA.
For more information about Indium Corporation, visit www.indium.com or email jhuang@indium.com. You can also follow our experts, From One Engineer To Another® (#FOETA), at www.facebook.com/indium or @IndiumCorp.
---
Suggested Items
12/08/2023 | Indium Corporation
Indium Corporation Senior Area Technical Manager for East China Leo Hu is scheduled to deliver a presentation on the application of new soldering thermal interface materials (TIMs) in advanced packaging at SiP China Conference 2023 on December 13 in Shanghai.
12/06/2023 | Indium Corporation
Indium Corporation is proud to announce the addition of Sales Engineer Meik Fratzel to its European team.
11/30/2023 | Indium Corporation
Indium Corporation is pleased to announce several key hires and promotions within its global Supply Chain Management team to ensure the efficient and timely delivery of materials for its customers. Markus Roas has joined the company as Business Unit Manage.
11/10/2023 | Indium Corporation
Indium Corporation is pleased to announce that Jim McCoy has been promoted to the position of Product Manager for Engineered Solder Materials (ESM). 
10/25/2023 | Indium Corporation
Indium Corporation has earned a Mexico Technology Award for its new low-voiding, Pb-free solder paste,