Books

Featured Books

smt007 Magazine

Latest Issues

Current Issue

Economic Headwinds

This issue takes stock of the current economic outlook and how companies are using current conditions to move themselves through technological evolutions, workforce shifts, and financial changes. Even with these headwinds, there's forward progress to be made.

Attracting New Talent

To get different results in staffing, you must change how you define, promote and recruit your job opportunities. How do you become magnetic to high-quality early-career candidates?

Test and Inspection

Test and inspection methods are undergoing rapid change. In this issue, we consider the influence of AOI, AI, and human eyes. How exactly are these pieces of the puzzle changing the role of test and inspection?

Columns

Latest Columns

||| MENU
Integrated Test Corporation Partners with MIRTEC for Total Quality 3D AOI Solution
May 13, 2020 | Mirtec
Estimated reading time: 1 minute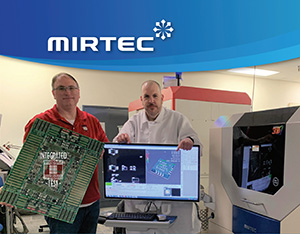 MIRTEC, a 'Leading Global Supplier' of technologically advanced 3D inspection systems to the electronics manufacturing industry, is pleased to announce that Integrated Test Corporation, a leading fabricator of ATE probe and final test PCBs, has selected MIRTEC as their 3D AOI partner with the purchase of an MV-7U OMNI Large Format PCB 3D AOI Machine.
"Operating out of our 39,000 square foot manufacturing facility in Dallas, TX, Integrated Test Corporation offers turn-key design, fabrication and assembly solutions for leading-edge ATE test PCBs. The highly complex nature and size of these PCBs makes the need for Automated Optical Inspection (AOI) an absolute necessity. When we decided to purchase a new 3D AOI machine to fulfill our growing inspection requirements, MIRTEC was the obvious choice. With over 20 years experience in SMT manufacturing, I would highly recommend MIRTEC based on their state-of-the-art 3D Inspection Technology as well as their ease of programming and operation. We have been equally impressed with MIRTEC's fast and effective technical support. In the rare moments in which a problem is encountered, MIRTEC's Technical Service team is lightning quick in both response and resolution." Tom Bruszak – Quality Manager
"Electronic manufacturers are becoming ever more selective in purchasing equipment that will add value to their business and provide them with a much-needed edge in this highly competitive industry," said Brian D'Amico, President of MIRTEC Corp. "With this in mind, an increasing number of manufacturers are relying upon 3D automated optical inspection (AOI) equipment to help increase profitability by improving production yields and reducing costly rework. We are extremely pleased to have been awarded Integrated Test's 3D AOI business. We look forward to a long and prosperous relationship between our two organizations."
MIRTEC's award-winning MV-7U OMNI 3D AOI Machines are configured with the company's exclusive OMNI-VISION® 3D inspection technology which combines a 15 mega pixel CoaXPress Camera System with MIRTEC's revolutionary Digital Tri-Frequency Moiré 3D technology to provide precision inspection of SMT devices on finished PCB assemblies. This proprietary system yields precise height measurement used to detect lifted component and lifted lead defects as well as 3D solder fillet inspection post reflow. Fully configured the MV-7U OMNI machine features four (4) 10 mega pixel Side-View Cameras in addition to the 15 mega Pixel CoaXPress Top-Down Camera and an eight (8) phase COLOR Lighting System.
---
Suggested Items
11/30/2023 | AIM
AIM Solder, a leading global manufacturer of solder assembly materials for the electronics industry, is pleased to announce its new NC259FPA Ultrafine No Clean Solder Paste, which it revealed recently during the Productronica Germany trade show.
11/27/2023 | Real Time with...productronica
Koh Young's Harald Eppinger talks about the company's technology for the semiconductor and advanced packaging market and how they address the challenges introduced by reflective components and micro solder deposits.
11/27/2023 | HyRel
HyRel Technologies, a global provider of quick turn semiconductor modification solutions, announces the achievement of International Traffic in Arms Regulations (ITAR) registration.
11/24/2023 | Mek (Marantz Electronics)
Mek (Marantz Electronics), a leader in Automated Optical Inspection (AOI) solutions, used last weeks' Productronica show in Munich to proudly introduce the SpectorBOX X series, a modular full 3D AOI system for THT solder joints and THT components.
11/21/2023 | Pete Starkey, I-Connect007
Productronica 2023 played host to the IPC World Hand Soldering Competition, bringing talented regional solder champions from all over the globe to compete for the title of World Champion. Each competitor was given sixty minutes to assemble a complex printed circuit board with their performance judged in accordance with IPC-A-610 Class 3 criteria. Each competitor's efforts were rated on the merits of the results achieved, scored on the quality of the assembly process, the electrical functionality of the assembly and the speed at which the assembly was produced.