Books

Featured Books

smt007 Magazine

Latest Issues

Current Issue

Chips Don't Float

In Europe and the U.S., legislation is under way to revitalize PCB fabrication and packaging. What is the status of this work, and how specifically does this change the industry landscape for EMS companies? What will help keep us afloat?

Flying High With Digital Twin

The opportunity to use manufacturing simulation as a test bed for job planning and process optimization brings continuous improvement into the modern age. This may be an all-or-nothing type of project, but it's worth the investment.

Artificial Intelligence

In this issue, we (and AI) explored how and when artificial intelligence plays a role in manufacturing today. Whether on the factory floor, or in the front office, AI applications are emerging and changing how we approach planning, processes and problem solving.

Columns

Latest Columns

||| MENU
Integrated Test Corporation Partners with MIRTEC for Total Quality 3D AOI Solution
May 13, 2020 | Mirtec
Estimated reading time: 1 minute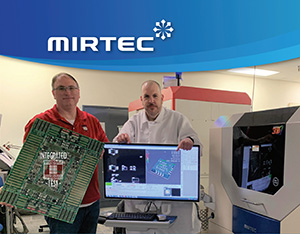 MIRTEC, a 'Leading Global Supplier' of technologically advanced 3D inspection systems to the electronics manufacturing industry, is pleased to announce that Integrated Test Corporation, a leading fabricator of ATE probe and final test PCBs, has selected MIRTEC as their 3D AOI partner with the purchase of an MV-7U OMNI Large Format PCB 3D AOI Machine.
"Operating out of our 39,000 square foot manufacturing facility in Dallas, TX, Integrated Test Corporation offers turn-key design, fabrication and assembly solutions for leading-edge ATE test PCBs. The highly complex nature and size of these PCBs makes the need for Automated Optical Inspection (AOI) an absolute necessity. When we decided to purchase a new 3D AOI machine to fulfill our growing inspection requirements, MIRTEC was the obvious choice. With over 20 years experience in SMT manufacturing, I would highly recommend MIRTEC based on their state-of-the-art 3D Inspection Technology as well as their ease of programming and operation. We have been equally impressed with MIRTEC's fast and effective technical support. In the rare moments in which a problem is encountered, MIRTEC's Technical Service team is lightning quick in both response and resolution." Tom Bruszak – Quality Manager
"Electronic manufacturers are becoming ever more selective in purchasing equipment that will add value to their business and provide them with a much-needed edge in this highly competitive industry," said Brian D'Amico, President of MIRTEC Corp. "With this in mind, an increasing number of manufacturers are relying upon 3D automated optical inspection (AOI) equipment to help increase profitability by improving production yields and reducing costly rework. We are extremely pleased to have been awarded Integrated Test's 3D AOI business. We look forward to a long and prosperous relationship between our two organizations."
MIRTEC's award-winning MV-7U OMNI 3D AOI Machines are configured with the company's exclusive OMNI-VISION® 3D inspection technology which combines a 15 mega pixel CoaXPress Camera System with MIRTEC's revolutionary Digital Tri-Frequency Moiré 3D technology to provide precision inspection of SMT devices on finished PCB assemblies. This proprietary system yields precise height measurement used to detect lifted component and lifted lead defects as well as 3D solder fillet inspection post reflow. Fully configured the MV-7U OMNI machine features four (4) 10 mega pixel Side-View Cameras in addition to the 15 mega Pixel CoaXPress Top-Down Camera and an eight (8) phase COLOR Lighting System.
---
Suggested Items
09/27/2023 | Nihon Superior Co. Ltd.
Nihon Superior Co. Ltd. is pleased to announce that Keith Sweatman, the company's Senior Technical Advisor, will deliver a presentation titled "A Path to Ductile Low-Temperature Solders for Mass Production of Electronic Assemblies" at the upcoming SMTA International conference and exposition.
09/27/2023 | Hentec Industries/RPS Automation
Hentec Industries/RPS Automation, a leading manufacturer of selective soldering, lead tinning and solderability test equipment, is pleased to announce that Kyocera International has finalized the purchase of a Hentec/RPS Odyssey 1325 robotic hot solder dip component lead tinning machine. 
09/26/2023 | Conecsus Metals México
Conecsus Metals México, an innovative environmental technology and recycling company, will exhibit at the SMTA Foro Tecnico & Expo, Guadalajara, Jalisco, México, on Wednesday, October 25, 2023, beginning at 11:00 a.m.
09/21/2023 | Thermaltronics USA, Inc.
Thermaltronics USA, Inc., a globally acclaimed manufacturer of Precision Soldering Robots and innovative Curie point soldering systems, is excited to announce its participation in the highly anticipated SMTA Guadalajara Expo & Tech Forum, scheduled to take place from October 25-26, 2023.
09/20/2023 | ULT AG
At this year's productronica, the world's leading trade show for electronics manufacturing, ULT will present a brand new extraction solution for solder fumes and vapor.