Books

Featured Books

pcb007 Magazine

Latest Issues

Current Issue

Finding Ultra

New demands on PCB fabrication, namely advanced packaging, ultra high density interconnect (UHDI), and new specialty materials, are converging, changing the landscape of our business. Is it time to start paying close attention to this convergence?

Developing a Strategy

A solid strategy is a critical part of success. This month, we asked some of the top industry leaders and business strategy "gurus" to share their thoughts on developing strategies.

Winning With TQM

In this issue, we explore how TQM has entered the DNA of continuous improvement disciplines, and the role leadership transformation plays in this. If you've ever competed against a TQM company, you understand their winning advantage.

Columns

Latest Columns

||| MENU
Dan Beaulieu, Part 2: Marketing in Uncertain Times
June 11, 2020 | Nolan Johnson, I-Connect007
Estimated reading time: 6 minutes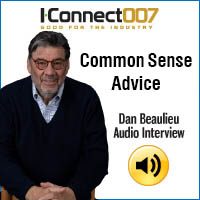 Dan Beaulieu, president of D.B. Management and an I-Connect007 columnist, and Nolan Johnson return for a second conversation on sales and marketing in the current business environment. In this conversation, Nolan asked Dan about the "wait and see" attitude some industry professionals have been leaning on during the second quarter of 2020. Dan replied, "This is when you go into full gear. You have to double down when things are tough."
Dan referred back to his recent columns, discussing how to take advantage of a crisis as a way to return your business to full capacity. He also the recent ventilator wave as an example, making the point that IPC and the U.S. government had to ask who could manufacture ventilator circuit boards and that buyers didn't know who to contact. Dan's advocated for people in marketing and sales to constantly reach out to customers to prevent such a situation.
Dan further discussed some of the most common objections to being aggressive in times of uncertainty. Marketing works, he said, as long as you have the perseverance to always do the marketing work.
Related Links:
Audio Transcript:
Nolan Johnson: Hi, Nolan Johnson here for I-Connect007, and this is part two of our conversation with Dan Beaulieu, president of D.B. Management and an I-Connect007 columnist. Dan, thanks for joining us again.
Dan Beaulieu: My pleasure, Nolan.
Johnson: There's a lot to talk about sales and marketing, especially in this sort of time. We've been seeing some customer sentiment that goes something like, "Maybe things will get better earlier than we thought, so let's just wait and see." Is this a time to wait for things to reopen?
Beaulieu: No. You never wait, Nolan. Never wait. When times are down, this is when you go into full gear. I mean, what else are you going to do? You have to get things going—whether it's lead generation or marketing—and double down when things are getting tough. If things are bad or slow and you fool yourself into thinking, "I can't be selling because of the coronavirus. Nobody can see me," there are always ways. We've done a whole series of ways to sell while you can't visit customers.
There's a thing I read the other day that basically said, and I've used it before, "A crisis is a terrible thing to waste," and if you look through history, all great things happened in crises. I had a list the other day with a whole slew of famous Fortune 500 companies that were launched in very down times because people get more creative. People have needs.
Look at right now, for example. As we speak, new product development is exploding, whether it's ways to decontaminate medical devices or have ventilators with two people on them. I was talking to someone the other day, saying, "Okay, you're going to go back to the factory. You're going to go back to your customer. How are you going to get in there? Supermarkets have doors that open automatically, but your customer doesn't. Where are you going to sit? Are there going to be purification devices? What is going to happen?" All of those are new products.
For example, with the whole ventilator thing that we have talked about, all of a sudden, IPC and the government had to reach out to companies to find people who could build ventilator PCBs. Now, what happened there? Where was the marketing there? People didn't know that. People didn't know who to go to, which means you have to get out there. You must constantly figure out ways to find new customers. That's the bottom line.
Johnson: What are some of the other example objections you might have heard?
Beaulieu: The biggest one is always about money. I think what happens, and maybe this isn't all companies, but in a lot of companies that you and I deal with, the technical companies are founded and run by engineers—people who think two and two equals four. We know marketing people who would say, "Two and two might equal six or seven." They just don't see the rationale to do marketing, so they'll try it for a while. They say, "You beat me up enough, Dan. I know you want to work with my company. I'll let you win," and then every month that goes by when I send an invoice, it's like, "Eh, are these people are going to continue because they don't really sign up to it?"
It starts with the owners. If I get a call from an owner and they are very excited about marketing and I-Connect007, I know it's going to go well. If we have to work too hard in both our businesses and to get that customer, it's not going to work. Why am I saying that? Because it's all about sign-up. It's all about believing in marketing in all ways, by the way. Marketing isn't, "I'm going to buy one ad one time, and we'll see if it works. It didn't work." No, it's not going to work, but people tell me that. I say, "Don't bother. It's not going to work." One ad sitting there flatly on a page or on a website or whatever is not going to work. Marketing is an entire process. It's a frame of mind, and—in many ways—the marketing message is what defines the company.
Some of the other objections involve money, always. There's also the, "We don't have time," or, "It's not working. We've tried it." We'll go into places—and I'm sure you have too—where we'll lay out a whole menu of things we can do, including a whole process of emails, newsletters, columns, content, and different things—especially newsletters. They'll say, "We tried that." "Really, when?" "Five years ago." "And how many did you get out?" "I think we got two out."
Marketing is a steady repetition of getting the message out. I think that's one of the objections. People actually get bored with their message, and they have to stick to their message because the consistency of messaging leads to branding—leads to being known by what message you're getting out there. And new people have to remember that they're not buying their own product.
They have to put themselves in the customer's shoes of what appeals to the customers, not what they like or their spouse or the person in the lab likes. What do customers like? You get that by doing things like content marketing, where you'll be able to study. When you write a column or an article about a certain subject, how many readers do you get? That's a great barometer of which topics work and which don't.
These are all factors that go into marketing, and if people take the opportunity to dig into it and the time to study it, they'll realize that it does work. We have between us a number of very successful clients where we—between D.B. Management, I-Connect007007, and some writers—work with them, and they've been extremely successful, and we prove it. D.B. Management is using some of those success stories as case studies right now. It does work. You just have to have the perseverance and the vision to follow through with marketing, and it will work.
Johnson: Dan, once again, thanks for spending time with us talking about sales and marketing. It's always insightful.
Beaulieu: Thank you, Nolan. I appreciate the opportunity.
Johnson: Once again, I'm Nolan Johnson with I-Connect007 speaking with Dan Beaulieu, I-Connect007 columnist and president of D.B. Management. Thanks for listening.
---
Suggested Items
09/18/2023 | IPC
IPC Day France: Aerospace Electronics is an aerospace-focused networking event featuring key industry experts from NASA and Airbus and will take place on October 2, 2023 . 
09/15/2023 | TRI
Test Research, Inc. (TRI), the leading test and inspection systems provider for the electronics manufacturing industry, will join productronica 2023, which will be held at Messe München Center from November 14 – 17, 2023.
09/13/2023 | I-Connect007 Editorial Team
For this month's issue on rigid-flex design, we spoke with instructor Kris Moyer, who teaches the IPC class "PCB Design for Flex and Rigid-Flex Boards." In this wide-ranging interview, Kris breaks down the hurdles facing rigid-flex designers and offers a variety of solutions for rigid board designers taking on their first rigid-flex circuits. He also provides a few horror stories to illustrate what happens if you don't follow sound design practices, rules, and standards. And, as Kris points out, "Your fabricator is your friend."
09/13/2023 | IPC
In conjunction with NEPCON Vietnam 2023, IPC hosted its popular IPC Hand Soldering and Rework Competition in Hanoi, Vietnam on September 6-8, 2023.
09/13/2023 | Hentec Industries/RPS Automation
Hentec Industries/RPS Automation, a leading manufacturer of selective soldering, lead tinning and solderability test equipment, is pleased to announce that Sinclair Manufacturing has purchased Pulsar solderability testing and Photon steam aging systems for installation in their Chartley, Massachusetts facility.