Books

Featured Books

pcb007 Magazine

Latest Issues

Current Issue

The Registration Sweet Spot

Registration is underrated and underappreciated. The key is to ensure proper registration from layer to layer across the entire printed circuit board. It's a holistic process requiring anticipation, prediction, precise attention at each step, and detailed data tracking and monitoring.

High-reliability Fabrication

In this month's issue, our expert contributors discuss the latest in technologies, trends, complexities and resources regarding high-reliability fabrication.

Finding Ultra

New demands on PCB fabrication, namely advanced packaging, ultra high density interconnect (UHDI), and new specialty materials, are converging, changing the landscape of our business. Is it time to start paying close attention to this convergence?

Columns

Latest Columns

||| MENU
Nova Drilling and Fabrication Expands Capabilities with Excellon Laser Systems
August 10, 2020 | Excellon
Estimated reading time: 1 minute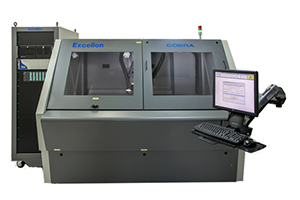 Nova Drilling and Fabrication Services based in Milpitas, California, expands laser capabilities with the addition of two COBRA-II Hybrid UV and CO2 laser systems from Excellon.
Nova Drilling and Fabrication Services, established in 1977, is known today as one of the largest mechanical drilling and routing service providers in North America.  With the continued demand for laser microvias and precision laser milling, Nova decided the time was right to move forward with the investment in the two COBRA-II Hybrid UV and CO2 laser systems.
Mike Doherty, vice president of Nova explained, "In the last few years after moving to a new building in Milpitas, CA, it became evident the demand for laser work continued to increase and having the latest technology lasers was a top priority for the company.  The addition of two new COBRA-II lasers will allow for fast turnaround and high quality product to our customer base.  It is extremely exciting to have this flexibility at the shop and I look forward to showing off our new capabilities."
Mike Sparidaens, vice president of Excellon mentions, "Enhancements in the Cobra-II have yielded great results for our customers. Product quality, speed and ease of use have all been noted, and with such feedback, we know that we're heading in the right direction in improving our position in the market. Nova has benefited from the improved technology of the Cobra-II, and we wish their company continued success.  Furthermore, we are pleased that they have chosen a partnership with Excellon."
Excellon is recognized worldwide as a leader in installed PCB Drilling systems with products ranging from single and multiple station mechanical drilling machines to hybrid laser precision via formation and routing systems.
---
Suggested Items
12/05/2023 | All Flex Solutions
All Flex Solutions has purchased and installed a new inner layer factory in their Rigid Flex Center of Excellence located in Minneapolis. This continues their investments in plants and technology to support customers' needs for capability, speed and increased yield.
12/04/2023 | Horizon Sales
Horizon Sales is pleased to announce the newest addition to its team, Mr. Andre Kundert. Joining the company in November 2023, Andre brings with him two years of invaluable experience in surface mount technology (SMT) and a robust background in the electronics manufacturing industry.
11/30/2023 | PRNewswire
VPT, Inc., a HEICO company, VPT, Inc., a trusted provider of power conversion solutions for aerospace and defense, proudly announces its latest achievement of obtaining SAE AS9100 Revision D certification. SAE AS9100 Revision D enhances VPT's existing suite of certifications, including MIL-PRF-38534, MIL-STD-883, J-STD-001 (Space), IPC-A-610, and IPC-A-600, further cementing our commitment to excellence in quality and reliability.
11/22/2023 | Schweitzer Engineering Laboratories
Schweitzer Engineering Laboratories (SEL), a global leader in products and solutions that protect and control electric power systems, earned the 2023 Top Project of the Year award by the Idaho Business Review last week at Idaho's 2023 Top Projects award ceremony in Boise.
11/22/2023 | PRNewswire
Slenergy, a leading innovator in the renewable energy industry, celebrates significant success in Europe with its ground-breaking iShare-Home one-stop residential energy solution.