BAE Systems Honors Graphic PLC with Supplier Award
August 12, 2020 | Graphic PLC
Estimated reading time: 1 minute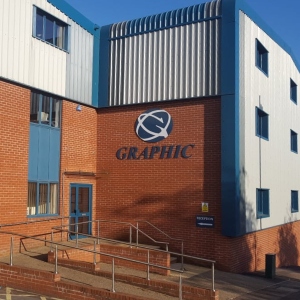 Graphic PLC announced it won an award for exceptional performance and contributions to supply chain success in 2019 for BAE Systems' Electronic Systems sector. Graphic PLC was selected from a pool of more than 2,200 suppliers that worked with the sector in 2019.
"Where people make the difference!"
BAE Systems' Partner 2 Win program is designed to achieve operational excellence and eliminate defects in its supply chain by raising the bar of performance expectations to meet the demand of current and future customers. As part of the program, BAE Systems meets regularly with its suppliers at their locations to transfer best practices to ensure that the components and materials that compose BAE Systems products meet the highest quality standards.
"We are proud to partner with companies – including Graphic PLC – committed to delivering the highest quality products on-time, every time," said Kim Cadorette, vice president of Operations for BAE Systems' Electronic Systems sector. "We look forward to continued collaboration and success."
About Graphic PLC
Graphic is a medium sized company which specialises in manufacturing high quality Rigid and Flex-Rigid printed circuit boards. Our company offers design support though application engineering, prototypes, Quick Turn service and full production facility. All three sites in the Graphic Group are very well equipped to cater for the highest levels of HDI technology. We hold all major international quality accreditations and have also been approved by the export licensing bodies.
---
Suggested Items
12/04/2023 | TrendForce
TrendForce investigations reveal a significant leap in the DRAM industry for 3Q23, with total revenues soaring to US$13.48 billion—marking 18% QoQ growth.
11/30/2023 | PRNewswire
VPT, Inc., a HEICO company, VPT, Inc., a trusted provider of power conversion solutions for aerospace and defense, proudly announces its latest achievement of obtaining SAE AS9100 Revision D certification. SAE AS9100 Revision D enhances VPT's existing suite of certifications, including MIL-PRF-38534, MIL-STD-883, J-STD-001 (Space), IPC-A-610, and IPC-A-600, further cementing our commitment to excellence in quality and reliability.
11/29/2023 | Siemens
Siemens Digital Industries Software set the benchmark for innovation in the field of engineering simulation with the launch of two groundbreaking solutions - HEEDS™ AI Simulation Predictor software and Simcenter™ Reduced Order Modeling software.
11/27/2023 | PRNewswire
Since its isolation in 2004, graphene has received widespread attention as a 'wonder' material, with the reported potential to enable a whole host of next-generation technologies, some of which would not be out of place in the latest sci-fi blockbuster.
11/27/2023 | Wurth Elektronik
HyPerStripes project partners will create a technology platform including manufacturing techniques for roll-to-roll (R2R) processing as well as the integration of electronic components onto very long ("endless"), flexible and stretchable printed circuit boards.