Books

Featured Books

pcb007 Magazine

Latest Issues

Current Issue

Finding Ultra

New demands on PCB fabrication, namely advanced packaging, ultra high density interconnect (UHDI), and new specialty materials, are converging, changing the landscape of our business. Is it time to start paying close attention to this convergence?

Developing a Strategy

A solid strategy is a critical part of success. This month, we asked some of the top industry leaders and business strategy "gurus" to share their thoughts on developing strategies.

Winning With TQM

In this issue, we explore how TQM has entered the DNA of continuous improvement disciplines, and the role leadership transformation plays in this. If you've ever competed against a TQM company, you understand their winning advantage.

Columns

Latest Columns

||| MENU
I-Connect007 Editor's Choice: Five Must-Reads for the Week
November 20, 2020 | Andy Shaughnessy, Design007 Magazine
Estimated reading time: 2 minutes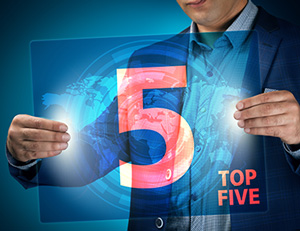 This week, we've covered a variety of bases in our newsletters and websites. In my top five picks, we have news about columnist Tara Dunn moving to Averatek to work with their A-SAP additive processes, and an interview with Audrey Sim regarding the "hybrid" model adopted by the HKPCA for its upcoming Electronic Circuits World Convention.
We also have a compilation of the questions that readers have asked Joe Fjelstad and news about DownStream Technologies adding support for flex, rigid-flex, and embedded component designs. Finally, we share a review of some of KYZEN's new training sessions on cleaning electronic assemblies—virtual courses that pack a lot of information into 15-minute snapshots. Knowing how tight everyone's schedules are now, 15-minute events might be the ticket.
Just Ask Joe Fjelstad: The Exclusive Compilation
Published November 19
Our "Just Ask" series continues to be popular with readers from across the electronics development spectrum, and columnist Joe Fjelstad was happy to answer your queries about topics new and old. There's a thirst for knowledge in our industry, and we'll keep bringing you the experts who have the information you need.
HKPCA's Audrey Sim Details Upcoming Electronic Circuits World Convention
Published November 18

After covering a variety of virtual trade shows this fall, I can't say I'm shocked to see the Hong Kong Printed Circuit Association holding their 2020 Electronic Circuits World Convention as both a virtual and physical show. In this interview, Audrey Sim of HKPCA details this hybrid event, which will be virtual for all three days, while the last day's forum will also be a live event. This might be a great model for trade shows as we move forward. The show takes place from November 30 through December 2.
New DownStream Software Supports Flex, Rigid-Flex, and Embedded Component Designs
Published November 17
Flex and rigid-flex keep marching on, making inroads into many of our military, aerospace, and household devices. Now, DownStream Technologies has added support for flex, rigid-flex, and embedded component designs to their CAM350, DFMStream, and BluePrint-PCB flows. DownStream will now support importation and visualization of flex, rigid-flex, and embedded designs in 2D and 3D.
High-Tech, High-Value Cleaning Answers Made Easy With KYZEN's Tech-2-Tech
Published November 19
This summer, KYZEN introduced its Tech-2-Tech training initiative, a series of 15-minute virtual sessions focused on cleaning electronic assemblies. In this review, Technical Editor Pete Starkey discusses his takeaways from a number of these training sessions, including "the five forces of cleaning" and how surprised he was to learn so much in a quarter of an hour. One upcoming holiday session will cover "Smart pH Employment in Electronic Cleaning: What Is the pH of Eggnog?" 
Tara Dunn Transitions to New Role at Averatek
Published November 19
Tara Dunn recently joined Averatek, the company that created the A-SAP high-density additive manufacturing process. In this interview with Editors Michelle Te and Nolan Johnson, Tara discusses her new role as vice president of marketing and development at Averatek and why she believes that the additive process represents the future of high-density PCB manufacturing.
---
Suggested Items
09/18/2023 | RTX
RTX business Collins Aerospace has been selected by BAE Systems as the provider for Large Area Display technology to be integrated into the cockpits of future Eurofighter Typhoon aircraft.
09/18/2023 | IPC
IPC Day France: Aerospace Electronics is an aerospace-focused networking event featuring key industry experts from NASA and Airbus and will take place on October 2, 2023 . 
09/14/2023 | CONFIDEE
CONFIDEE, a leading PCB partner, proudly announces its recent achievement of AS9120 certification. This prestigious certification highlights the company's commitment to excellence, quality, and customer satisfaction, making it a preferred choice for all defence and aerospace needs.
09/13/2023 | Hentec Industries/RPS Automation
Hentec Industries/RPS Automation, a leading manufacturer of selective soldering, lead tinning and solderability test equipment, is pleased to announce that Sinclair Manufacturing has purchased Pulsar solderability testing and Photon steam aging systems for installation in their Chartley, Massachusetts facility.
09/13/2023 | Vexos
Vexos, a leading global Electronic Manufacturing Services (EMS) and Custom Material Solutions (CMS) provider, is excited to announce the successful acquisition of the cutting-edge manufacturing facility ControlTek.