Your Greatest Competition is Yourself
January 20, 2021 | Barry Matties, I-Connect007
Estimated reading time: 2 minutes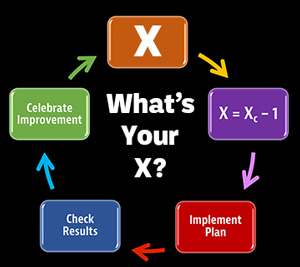 It really doesn't matter who you think your external competitors are, because the only competitor that really matters is you. Of course, you will look externally to stay on top of latest trends, but when it comes to competition, just competing with yourself is a win. When you look at yourself as your greatest competitor you will start with a huge advantage: you already have great intel on how "your competition" thinks. Ask yourself, "What can I do to displace my 'competitor' and create something much better?"
Process efficiency: The first area in which to compete is process efficiency. If you can perform your processes in a more efficient way, you will begin to add capacity, increase employee happiness, enjoy higher productivity, and find greater customer satisfaction. This will lead to more sales and ultimately higher profits.
And when we talk about process efficiency this includes all processes: how you answer phones, make sales, process orders, manufacture your products, do your accounting, shipping, filling out paperwork and every other process step in your business. When doing these tasks in your business, think differently. Think in terms of crushing the competition. Albert Einstein said: "We cannot solve our problems with the same thinking we used when we created them." So, if you are busy chasing your so-called external competition, you will miss the greatest opportunity sitting right in front of you—the opportunity to think differently and compete with yourself.
Use the formula: As we start the new year—what we are calling the year of continuous improvement—it's a good time to start with the simple process improvement formula: X = Xc – 1. When you look at any current process (Xc), the question you want to ask (and have your coworkers ask) is, "How can we reduce (Xc) by (1)?" It could be one day, one hour, one minute, one less piece of material, one less percent of scrap, one less form to fill out, or it could even be lowering a risk factor or other even less tangible things. By reducing (Xc) by (1) we now have a new (X) and the process starts over.
The tricky part can be deciding what to choose for your first (X). In the early phases of process improvement, the common advice is to start with small improvement projects and grow from there. By doing so, you and your team will be able to feel and celebrate the success and benefits gained. X = Xc – 1 is perhaps a new way of thinking for some. In any case, X = Xc – 1 focuses you and your team to really compete with your greatest competitor—yourself.
This article appeared in the January 2021 issue of PCB007 Magazine.
---
Suggested Items
12/04/2023 | PRNewswire
At the annual IBM Quantum Summit in New York, IBM debuted 'IBM Quantum Heron,' the first in a new series of utility-scale quantum processors with an architecture engineered over the past four years to deliver IBM's highest performance metrics and lowest error rates of any IBM Quantum processor to date.
12/04/2023 | Dan Beaulieu -- Column: It's Only Common Sense
Effective problem solving is a crucial skill in both personal and professional life. Whether you're dealing with a complex business challenge or a personal dilemma, a systematic approach can help you find viable solutions. The way you act as a company is determined by the way you solve problems. True leaders are defined by the way they solve problems. As I've said many times, great long-lasting customer relationships are forged by the way they come together as a team to solve problems.
11/30/2023 |
The goal of the collaboration is to promote the standardization of post-quantum cryptography.
11/30/2023 | BUSINESS WIRE
Nordson Electronics Solutions, a global leader in electronics manufacturing technologies, is pleased to announce the release of the new ASYMTEK Select Coat® SL-1040 conformal coating system.
11/30/2023 | Tom Kastner -- Column: Punching Out!
For sellers, the whole process is relatively simple: They may say it's not just about the money, but in truth, it is. Sellers also want a quick process, most of their money upfront, and a reasonable expectation that any deferred compensation will actually be paid. They're usually concerned that the buyer will take good care of their employees, customers, suppliers, and other stakeholders, and that the seller's responsibilities after closing, if any, be acceptable. But what do buyers expect? A lot.