Books

Featured Books

smt007 Magazine

Latest Issues

Current Issue

Economic Headwinds

This issue takes stock of the current economic outlook and how companies are using current conditions to move themselves through technological evolutions, workforce shifts, and financial changes. Even with these headwinds, there's forward progress to be made.

Attracting New Talent

To get different results in staffing, you must change how you define, promote and recruit your job opportunities. How do you become magnetic to high-quality early-career candidates?

Test and Inspection

Test and inspection methods are undergoing rapid change. In this issue, we consider the influence of AOI, AI, and human eyes. How exactly are these pieces of the puzzle changing the role of test and inspection?

Columns

Latest Columns

||| MENU
MacDermid Alpha Launches ALPHA CVP-390V High Reliability Solder Paste for Harsh Operating Conditions
April 14, 2021 | MacDermid Alpha Electronics Solutions
Estimated reading time: 1 minute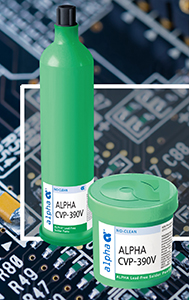 MacDermid Alpha Electronics Solutions, a global leader in specialty materials for electronics, announces the release of ALPHA CVP-390V high reliability solder paste, designed to maximize flexibility in manufacturing and provide excellent electrochemical reliability in harsh operating conditions.
ALPHA CVP-390V is a next generation broad latitude chemistry that delivers consistent print and reflow performance across a wide range of component types and feature sizes. ALPHA CVP-390V exhibits best-in-class electrochemical reliability down to 0.100mm comb spacing against the most challenging automotive SIR profiles. The compatibility with the Innolot alloy and ability to maintain high electrochemical performance in harsh operating conditions on dense assembly designs makes ALPHA CVP-390V ideal for high reliability applications.
"ALPHA CVP-390V represents the continual evolution of our industry leading solder paste portfolio to ensure superior performance and reliability on complex PCB assemblies, comments Paul Salerno, Global Portfolio Manager, SMT at MacDermid Alpha. "Assemblies requiring flexibility across multiple component types and assemblies requiring fine feature printability and increased manufacturing throughput can also benefit from ALPHA CVP-390V."
For more information on ALPHA CVP-390V solder paste please visit MacDermidAlpha.com.
About MacDermid Alpha Electronics Solutions:
Through the innovation of specialty chemicals and materials under our Alpha, Kester, Compugraphics, and MacDermid Enthone brands, MacDermid Alpha Electronics Solutions provides solutions that power electronics interconnection.  We serve all global regions and every step of device manufacturing within each segment of the electronics supply chain.   The experts in our Semiconductor Solutions, Circuitry Solutions, and Assembly Solutions divisions collaborate in design, implementation, and technical service to ensure success for our partner clients.  Our solutions enable our customers' manufacture of extraordinary electronic devices at high productivity 
---
Suggested Items
11/30/2023 | AIM
AIM Solder, a leading global manufacturer of solder assembly materials for the electronics industry, is pleased to announce its new NC259FPA Ultrafine No Clean Solder Paste, which it revealed recently during the Productronica Germany trade show.
11/27/2023 | Real Time with...productronica
Koh Young's Harald Eppinger talks about the company's technology for the semiconductor and advanced packaging market and how they address the challenges introduced by reflective components and micro solder deposits.
11/27/2023 | HyRel
HyRel Technologies, a global provider of quick turn semiconductor modification solutions, announces the achievement of International Traffic in Arms Regulations (ITAR) registration.
11/24/2023 | Mek (Marantz Electronics)
Mek (Marantz Electronics), a leader in Automated Optical Inspection (AOI) solutions, used last weeks' Productronica show in Munich to proudly introduce the SpectorBOX X series, a modular full 3D AOI system for THT solder joints and THT components.
11/21/2023 | Pete Starkey, I-Connect007
Productronica 2023 played host to the IPC World Hand Soldering Competition, bringing talented regional solder champions from all over the globe to compete for the title of World Champion. Each competitor was given sixty minutes to assemble a complex printed circuit board with their performance judged in accordance with IPC-A-610 Class 3 criteria. Each competitor's efforts were rated on the merits of the results achieved, scored on the quality of the assembly process, the electrical functionality of the assembly and the speed at which the assembly was produced.