I-Connect007 Editor's Choice: Five Must-Reads for the Week
May 7, 2021 | Andy Shaughnessy, I-Connect007
Estimated reading time: 3 minutes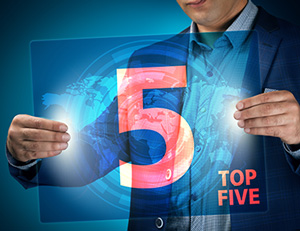 Finally, it's May. The snow has melted, the flowers are beginning to bloom, and summer is just around the corner. We're slowly getting back to normal after the craziest year I can remember.
And our industry is on the move! This week, we bring you a veritable seafood platter of articles and columns about PCB design, fabrication, and assembly. We start with a David Bergman's tribute to his father Dieter, chock-full of personal and professional stories about one of the biggest names in IPC history. There's also a great interview with PRIDE Industries, a nonprofit EMS provider that's also a staffing company that specializes in helping disabled jobseekers. That may be a first in any industry.
Next, Editor Dan Feinberg has a review of the NVIDIA Graphics Processing Technology Conference, in which he breaks down all the talk about AI and explains what it means to our industry in the long term. And we introduce a new column by Suketu Desai of Cadence Design Systems titled "All Systems Go!" Finally, Nolan Johnson has an informative interview with Arlon President Brad Foster, who discusses the company's recent merger with EMC and some of the firm's plans for the future.
Now, finish that meeting and get out in the sun!
A Tribute to Dieter Bergman
Published May 4
It's hard to believe it's been nearly seven years since Dieter Bergman passed away. He was a guiding force at IPC for 40 years, and a constant advocate for PCB designers and the design career in general. He also told great stories; Dieter once told the dirtiest joke I've ever heard that didn't contain profanity. In this article, David Bergman shares a lifetime of stories about his father, including a few fishing tales.   
PRIDE Industries: A Nonprofit EMS and Staffing Firm Moves Into Mil-aero
Published May 4
If PRIDE Industries isn't hiring, they might know someone who is. There are plenty of EMS providers in the world, but PRIDE is the only one that doubles as a staffing company that specializes in finding positions for disabled people, including veterans. In this interview, PRIDE's Tony Lopez and Kat Maudru explain how the company has grown since its founding in a church basement 55 years ago; they recently began sourcing employees for military and aerospace companies.
Exciting Advances From NVIDIA's GPU
Published May 3
Technology Editor Dan Feinberg is accustomed to getting lots of eyeballs on the page for his coverage of the consumer side of the industry—where all these PCBs actually wind up. But this review of the recent NVIDIA Graphics Processing Technology Conference took off like a rocket. Dan's been following NVIDIA for years at the CES show. In this article, he discusses how much of an effect AI will have on the development of new computer platforms, as well as autonomous vehicles. Definitely a good read.
All Systems Go! EM Analysis for Today's System-Level Designs
Published May 3
There's been a lot of interest in system-level design techniques recently, as more designers and engineering begin focusing on the entire product and not just the PCB itself. Well, we now have a column that is dedicated solely to system design. Suketu Desai of Cadence Design Systems recently debuted his new column, "All Systems Go!" Suketu, senior director of product engineering for Cadence's Multiphysics System Analysis Group, will cover the whole enchilada—ICs, PCBs, and the challenges that designers and engineers face in the system-level realm.
Arlon President Discusses Acquisition by EMC
Published May 7
Pandemic or not, mergers and acquisitions certainly haven't been locked down. In this interview with Editor Nolan Johnson, Arlon Electronic Materials President Brad Foster discusses EMC's recent acquisition of Arlon, which now puts EMC, Arlon and Technica on the same team. Brad explains some details of the deal and why the merger is so complementary, as well as EMC's plans to add to Arlon's capacity in the near future.