Books

Featured Books

pcb007 Magazine

Latest Issues

Current Issue

Finding Ultra

New demands on PCB fabrication, namely advanced packaging, ultra high density interconnect (UHDI), and new specialty materials, are converging, changing the landscape of our business. Is it time to start paying close attention to this convergence?

Developing a Strategy

A solid strategy is a critical part of success. This month, we asked some of the top industry leaders and business strategy "gurus" to share their thoughts on developing strategies.

Winning With TQM

In this issue, we explore how TQM has entered the DNA of continuous improvement disciplines, and the role leadership transformation plays in this. If you've ever competed against a TQM company, you understand their winning advantage.

Columns

Latest Columns

||| MENU
Arlon's 84HP Receives Official IPC Validation to IPC-4101E-WAM1/43
June 4, 2021 | Arlon Electronic Materials
Estimated reading time: 1 minute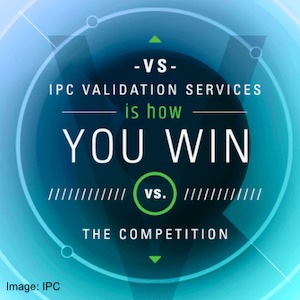 IPC Validation Services officially recognizes Arlon's 84HP prepreg as having passed all tests that meets or exceeds the product performance requirements of IPC-4101E-WAM1/43. By achieving validation to slash sheet 43, Arlon's 84HP prepreg combined with 85HP laminate is distinguished as the most thermally stable, pure polyimide resin system on the market. Specifically, the 84HP/85HP meets the test criteria for less than 1% coefficient of thermal expansion in the Z axis between 50o to 260o C.
Arlon developed 84HP as a prepreg bonding companion to Arlon's 85HP filled pure polyimide resin laminate system. 84HP is designed for use in filling etched areas in polyimide multilayers that contain thick copper metal cores. 84HP is specifically a high resin content 106 prepreg manufactured with the machine orientation to match 85HP laminate and prepreg. 
A proprietary filler is dispersed within the 84HP and 85HP polyimide resin which serves to reduce shrinkage and inhibit crack formation during lamination and through-hole mechanical drilling processes.  CTE (x-y plane) of the 84HP/85HP is 17 ppm matching the CTE of copper. In addition to these slash 43 requirements, 85HP has a thermal conductivity of 0.50 W/mK, which is two times (2X) greater than other pure polyimide CCL materials. This unique formulation has proven benefits such as improved drilling over conventional polyimide resin systems, predictable dimensional stability, and reduction in gouging and glass wicking during hole formation.  
84HP Conforms to IPC4101/40, /41 and is Validated to IPC4101/43 specifications.
To view test results for 84HP's and 85HP's Validation on the IPC Validation Services website, click here. 
---
Suggested Items
09/25/2023 | Alison James
"Electronics systems are at the heart of almost all modern technology. The performance and functionality of these systems have increased at breathtaking speed, chiefly as a result of advancements in semiconductor technology. Semiconductors do not function in isolation," writes Alison James, IPC senior director of government relations, in a 2023 report for the European Commission's Directorate General for Internal Market, Industry, Entrepreneurship. "These electronics systems feature prominently in key sectors like defence, aerospace, space, automotive, medical, and high-performance computing, but electronics are vital to every industry and are central to a variety of EU priorities, including the twin digital and green transitions and Europe's technological sovereignty."
09/22/2023 | Zhen Ding
Zhen Ding Technology Holding Ltd, a Taiwan-based company engaged in the design, development, and manufacturing of printed circuit board (PCBs) including rigid PCBs, flex PCBs, HDIs, substrate-like PCBs (SLP), and rigid-flex PCBs, has posted sales of NT$13.78 billion ($429.15 million at $1:NT$32.12) for August 2023, up by 33.7% from the previous month. Year-on-year, the company's August revenue was down by just 16.65%. 
09/22/2023 | Happy Holden, I-Connect007
Ever since high density interconnect (HDI) was created in 1982 by Hewlett-Packard to package its first 32-bit computer powered by a single chip, it has continued to evolve and provide the solutions for miniaturized products. The leading edge of HDI technology became the process used for organic flip-chip packaging for the semiconductor industry. The two distinct markets—IC substrates and product-system integration—are now colliding and utilizing the same ultra-HDI manufacturing processes.
09/21/2023 | Andy Shaughnessy, I-Connect007
The weather couldn't have been better for PCB West, and PCB designers and manufacturers packed the show floor for much of the exhibition on Wednesday, Sept. 20 in Santa Clara, California. The show floor was sold out, and it was great seeing old friends and meeting new ones.
09/21/2023 | Matt Stevenson -- Column: Connect the Dots
PCB prototyping is a critical juncture during an electronic device's journey from concept to reality. Regardless of a project's complexity, the process of transforming a design into a working board is often enlightening in terms of how a design can be improved before a PCB is ready for full production.